Author Archive
Natalie Alms
Staff Writer, Nextgov/FCW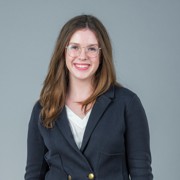 Natalie Alms is a staff writer at Nextogv/FCW covering federal technology policy, service delivery, customer experience and the government's tech workforce. She is a graduate of Wake Forest University and has written for the Salisbury (N.C.) Post. Connect with Natalie on Twitter at
@AlmsNatalie
.
CXO Briefing
Clare Martorana discussed the challenge of building out specific steps to get government agency websites to adopt common standards.
Cybersecurity
The management of the government's IT acquisitions and operations is also on the Government Accountability Office's biennial high risk list update this year, as it has been since 2015.
CXO Briefing
A bill reintroduced Tuesday aims to codify parts of the White House's 2021 executive order on making government services more user-friendly.
---
CXO Briefing
The department's own digital services team will be modeled after other "tour-of-duty" style models in government like the USDS. 
IT Modernization
Making a digital option for the American the Beautiful pass series that would live on mobile phone wallets is a goal of a new bill that would require digital passes in February.
CXO Briefing
IRS Commissioner Danny Werfel told reporters on Thursday that technology will be key to achieving the agency's intentions to transform customer service at the agency and shrink the tax gap.
Emerging Tech
Since the start of the pandemic and an upswing in fraudulent claims in the jobless aid systems, the use of facial recognition in identity checks has spread across states, raising OIG concerns about access and privacy.
CXO Briefing
General Services Administration officials addressed allegations that the agency misrepresented identity proofing standards of Login.gov at a hearing Wednesday, as lawmakers pondered the potential for fraudsters in the system.
CXO Briefing
The decision comes after concerns about implementing the sign-on service during tax season.
CXO Briefing
Lawmakers didn't allocate the $80 billion provided to the IRS in the right way, claims National Taxpayer Advocate Erin Collins, adding that IT modernization and taxpayer services aren't getting the money they need.
CXO Briefing
The guidance seeks to implement the Federal Rotation Cyber Workforce Program created by lawmakers last year as a way to foster new critical skills across government.
IT Modernization
The tax agency intends to add Login this filing season—and as early as next week—as the integration is in final rounds of testing.
By

Aaron Boyd and Natalie Alms
IT Modernization
Jeff King, currently deputy chief information officer at Treasury, will be taking on the role of acting CIO at the IRS.
CXO Briefing
The agency's inspector general blasted GSA officials for claiming that its identity proofing website met NIST guidelines for biometric comparison, charging millions for it, when it did not.
Policy
The White House envisions applications for services like food assistance, Medicaid and other benefits taking 20 minutes, with enrollment coming after just 24 hours.
CXO Briefing
Although some systems were able to meet performance thresholds for all demographic groups, others did show differentials because of issues with obtaining quality photos of people with varying skin tones.
CXO Briefing
A draft of a long-awaited executive order covering digital identity includes a push to make government-owned Login-dot-gov an option for most federal benefits programs.
CXO Briefing
Nominee for IRS commissioner Danny Werfel, a self-professed "government geek," talked customer experience, cybersecurity and IT modernization with senators at a Wednesday hearing.
Emerging Tech
The IRS tapped New America to report on the feasibility of a free, public-facing IRS-hosted tax filing infrastructure for ordinary taxpayers.
CXO Briefing
At the same time, the congressional watchdog cautioned that governmentwide fraud estimates are potentially dicey.