Author Archive
Natalie Alms
Staff Writer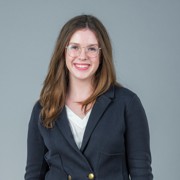 Natalie Alms is a staff writer at FCW covering federal technology policy, service delivery, customer experience and the government's tech workforce. She is a graduate of Wake Forest University and has written for the Salisbury (N.C.) Post. Connect with Natalie on Twitter at
@AlmsNatalie
.
CXO Briefing
At the same time, the congressional watchdog cautioned that governmentwide fraud estimates are potentially dicey.
Emerging Tech
Congress passed a law to ban the popular app on federal government devices as part of the omnibus funding bill. It doesn't look like lawmakers' about national security and TikTok are waning.
Emerging Tech
The fate of the bills in a lame duck session of Congress is uncertain, but a Portman aide says the outgoing senator wants to be active on the subjects even after retiring.
---
News
Sen. Mark Warner (D-Va.) told FCW on Monday that Congress might have more work to do regarding national security implications of popular video-sharing app TikTok in the next session of Congress.
CXO Briefing
The White House says that agencies have made improvements to websites, mobile apps and more. Several experts say that long-term success will depend on the staying power of customer experience as a priority and methodology.
CXO Briefing
A new report from the Partnership for Public Service and Accenture Federal Services outlines the systemic barriers to customer experience, and the collaboration between Congress and the executive branch needed to address them.
Emerging Tech
DOD officials say contractors should increase the use of registered cyber apprenticeships, but some companies argue that federal contract requirements often lock them into education and experience prerequisites.
CXO Briefing
NASA's Elizabeth Kolmstetter will be charged with aligning talent recruitment efforts at the cybersecurity agency during an increasingly tight labor market.
IT Modernization
OMB's customer experience lead said Tuesday that more specifics for life experience projects will be made public in coming weeks.
IT Modernization
Outgoing House Oversight and Reform Committee Chair Carolyn Maloney (D-N.Y.) has a new bill meant to beef up compliance with White House records requirements.
CXO Briefing
A new report also found that chief data officers are looking for more funding, more staff and clarity about how the CDO role intersects with agency CIO shops.
Cybersecurity
The Director of the Office of Personnel Management is navigating the intense competition among federal agencies for in-demand cybersecurity workers.
Cybersecurity
In the last 12 months, more than 769,000 cyber job postings went up in the United States.
Emerging Tech
More than 8 million people applied on the beta version of the site over the weekend, officials said.
Emerging Tech
The Army, the Office of Personnel Management and the Federal Housing Authority are the latest recipients of awards from the Technology Modernization Fund.
Emerging Tech
The National Archives and Records Administration says that a new research agenda will help it understand what people who use the archives need, want and expect – and how the agency can meet those demands.
CXO Briefing
The Office of the National Cyber Director is looking for input in a new request for information and will eventually quiz respondents about their ideas.
Emerging Tech
A pilot project meant to give the federal government a more central role in unemployment insurance delivery, is raising questions inside the Department of Labor and in Congress about the role of identity verification and enforcement authority over states in the system.
CXO Briefing
Modernization and customer experience goals are folded into a new White House National Strategy on Hunger, Nutrition and Health that was released Tuesday.
CXO Briefing
A new report from ACT-IAC recommends changes to the biannual FITARA scorecard, including adding a category measuring IT workforce capabilities.