'Highly Classified' Documents Recovered from Mar-a-Lago Prompt Lawmaker Calls for Assessment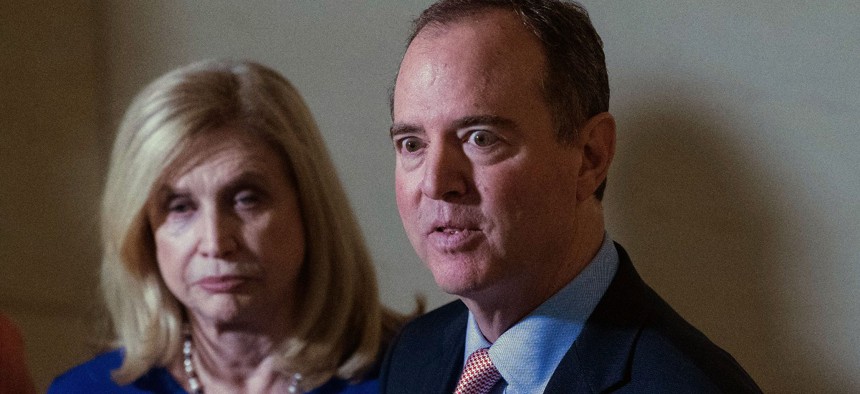 The House lawmakers requested a briefing for a review and damage assessment.
House Committee Chairs Carolyn B. Maloney, D-N.Y., and Adam Schiff, D-Calif., sent a letter to Director of National Intelligence Avril Haines seeking an immediate review and assessment of damages following reports of the FBI's seizure of "highly classified" documents that former President Donald Trump "removed and retained" at his personal residence at the Mar-a-Lago Club in Florida, claiming the former president's conduct has "potentially put our national security at grave risk."  
The chairs of the House Committee on Oversight and Reform and the House Permanent Select Committee on Intelligence asked that Haines request the national counterintelligence executive along with the inspector general of the Intelligence Community and other inspectors general as necessary to conduct a damage assessment on the obtained materials. Maloney and Schiff also requested a classified briefing on the national security assessment as soon as possible. 
"Those entrusted with access to classified information have a duty and an obligation to protect it," the lawmakers said. "Yet, a recently unsealed court-authorized search warrant and the inventory of property recovered at the Mar-a-Lago Club describe numerous classified documents held by former President Trump."
On August 8, the Federal Bureau of Investigation performed a court-authorized search of former President Trump's Mar-a-Lago Club and removed approximately 27 boxes of materials after months of communication between the parties that federal property was potentially "improperly retained" at the end of his administration and stored at the club. 
According to the unsealed search warrant and property log, the materials obtained by the FBI cover 45 different categories, including 11 sets of classified documents that range in level of classification, including some labeled "Top Secret" and "Top Secret/Sensitive Compartmented Information." The chairs indicated that some of the documents may have been related to nuclear weapons. The unsealed documents showed that FBI agents were investigating violations of three federal laws, including the Espionage Act.
On Friday, Trump posted on Truth Social that "it was all declassified."