States need to invest in unemployment systems, Labor secretary tells Congress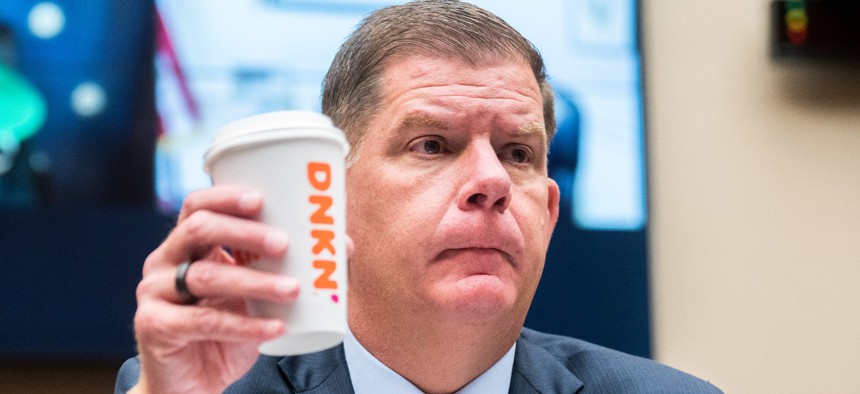 It will take state investments as well as federal money to renovate the unemployment insurance system, Secretary of Labor Marty Walsh told lawmakers last week. But so far, he says, "I actually feel really good where we are in this process," speaking of the department's collaboration with both red and blue states on unemployment insurance fixes.
The hearings, held before the House Education and Labor Committee and Senate Appropriations Committee on June 14 and June 15 come a week after the Government Accountability Office added the unemployment insurance program to its high-risk list, in an unusual off-cycle designation.
Program administrators have faced a list of challenges the past few years, working to deliver benefits to surges of applicants at the start of the pandemic with old tech and simultaneously combat a rise in fraudulent claimants. The improper payment rate for the program was almost 19% in fiscal year 2021, with the main driver being identity theft. 
At the same time, there are known problems that Americans face in actually getting the unemployment benefit when they need it. Last week, a GAO report found racial and ethnic disparities in the program delivery for certain unemployment benefits.
Officials often cite old tech, funding and staffing as chronic issues that have hamstrung the program. Now, the Labor Department is focused on both "short- and long-term issues with the unemployment system," Walsh told Senate lawmakers.
"We're making these investments, but what's going to be needed is other investments, both on the federal level and the state level, to make sure that these systems that are in place in states … make it easier to be able to access the benefit, but also can allow the states to have better protections in place to make sure the people that are accessing these benefits are actually the person that's accessing the benefits," he said.
The Department of Labor received $2 billion to work with in the 2021 American Rescue Plan Act, which it's been using to give states grants for equity efforts such as improving customer service and fraud grants to expand data analytics and get identity verification tools, as well as efforts to create its own modular tech pieces that states can use to modernize. 
The department is also sending out "tiger teams" into states for process improvements in the system, which are working on improving identity verification processes for the system, Walsh said. So far that effort has reached 21 state systems.
The department is requesting $150 million to use for program integrity efforts like identity verification services for states and the development of a central identity service in its fiscal year 2023 budget request. The request also asks for an update to the funding formula for state unemployment administration. 
The department has more than $715 million in grants for states, Walsh said. Still, he noted that states are going to have to "step up."
"I asked for an increase in funding this year, but eventually states are really going to really step up if they really want to make this equitable across the board. When I say step up, I mean making investments," he told lawmakers. 
So far, Walsh said he feels "really good about where we are in this process" because states with both Democratic and Republican governors are working actively with the department on unemployment reform. 
When asked about fraud levels in the House hearing, Walsh pointed to lax controls set by Congress for some of the programs—the unemployment benefit for gig workers at first used only self-certification for eligibility, for example. He also pointed to "antiquated" information technology systems used to deliver benefits, continuing to thank Congress for the money in the American Rescue Plan for unemployment modernization. 
But the federated nature of the program, delivered at the state level, also plays a role, said Walsh, saying that "part of it is that we have 53 different systems in our country."
"What we want to do is make sure that this never happens again," he said. "We're going to need an investment from Congress and states are going to need investments across the country to bring up their systems."