GAO tags unemployment insurance as 'high risk'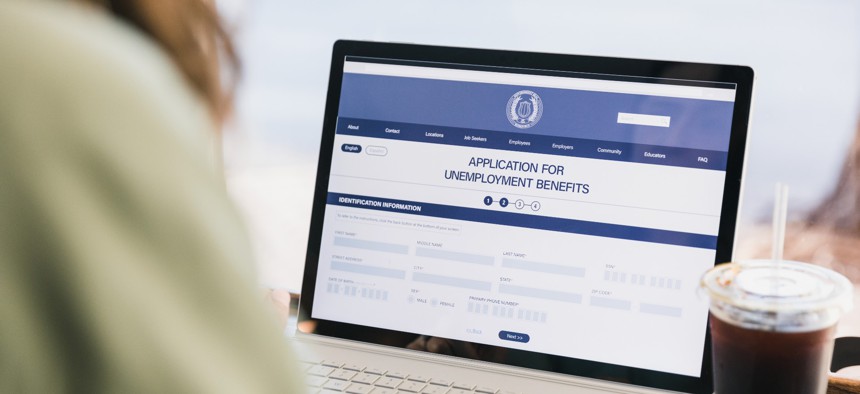 Unemployment insurance has been labeled "high risk" by the Government Accountability Office in an unusual off-cycle addition to the biennial list of poorly performing government programs.
Many of the problems documented in three new reports are already well known. When the pandemic hit, states struggled to deliver benefits to a rush of new applicants and had trouble modifying existing unemployment insurance systems to account for new policies covering gig workers while combating an uptick in fraudulent claims.
The rate of improper payments was nearly 19% in fiscal year 2021, bringing it to $78.1 billion (a number that also includes things like overpayments in addition to fraud). The main driver was identity theft, although improper payments made because of eligibility issues were an existing issue for unemployment before the pandemic.
"Transformation is necessary," GAO auditors wrote. 
The Department of Labor has already established a new office for unemployment insurance modernization specifically, although according to the report, that office is temporary, and received $2 billion for unemployment in the 2021 American Rescue Plan Act. But GAO wants the office to develop and executive a "transformation plan" for the program.
One set of problems center on how well the program is actually reaching Americans that qualify for help when they're unemployed.
There are "substantial racial and ethnic disparities" in the unemployment program created for gig workers in three of the four states studied by GAO, one report states, and these disparities are likely reflected in existing UI programs.
GAO reported that 43% of white people applying in Wisconsin in April 2021 got their benefits, as compared to only 21.9% of Black people, 24.8% of Hispanic people and 27.2% of American Indians and Alaskan Natives.
Americans have also faced hours-long wait times for assistance—sometimes over eight hours for callers in Florida and Wyoming, the report states—website crashes and wait times for first payments well above the three-week standard set by the Labor Department.
Who is to blame—states or the federal government?
The report states that "DOL has had a limited role in monitoring states' practices for customer service," although the watchdog did encourage DOL to give comprehensive information to states on addressing customer service issues.
Underscoring all of this is a recurring list of administrative issues in the program. 
Many states have antiquated technology, which limited their ability to address rocketing levels of claims and implement new programs created by Congress in the pandemic.
Funding is also an issue. Money dedicated for state administration of the program is largely dictated by workload, meaning that it decreases when unemployment is low. It decreased by 21% from fiscal year 2010 to 2019, according to GAO. 
Finally, staffing is also a chronic issue, with state officials telling GAO that they were already experiencing staffing shortages before the pandemic hit.
Angela Hanks, Labor Department acting assistant secretary, wrote in a response included in the report that the department agreed with GAO's recommendation. 
She pointed to several ongoing efforts at the department, including sending "tiger teams" to 18 states so far to help with short-term program fixes and efforts to make the program more equitable, including through a new equity data partnership previously reported on by FCW.