Army Grounds Two Pilots Who Flew Low Over DC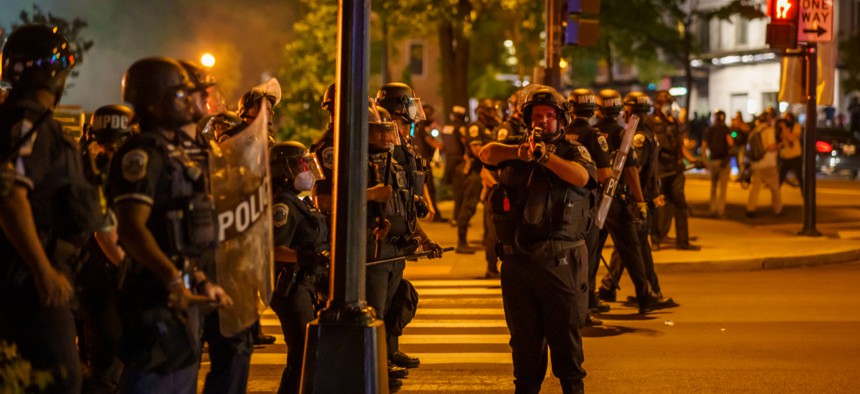 Two U.S. Army National Guard helicopter pilots who flew at rooftop level over the heads of protestors on Monday night have been grounded pending the outcome of an investigation, Army Secretary Ryan McCarthy told reporters on Friday. 
McCarthy also said members of the active military who had been deployed near Washington, D.C., are heading back to their home bases. 
He said the pilots were grounded as part of the normal procedure during an Army investigation. He declined to speak in great detail about the incident, citing the investigation, which they said they hoped to have completed by mid-June.
Footage of the event suggests that maneuver, conducting by a helicopter with medical markings, was intended to disperse a crowd with rotor wash. The maneuver was widely condemned, especially since the helicopter was marked with medical insignia. But on Friday, President Trump tweeted his support for the pilots and described the action as appropriate. 
The problem is not the very talented, low-flying helicopter pilots wanting to save our city, the problem is the arsonists, looters, criminals, and anarchists, wanting to destroy it (and our Country)!

— Donald J. Trump (@realDonaldTrump) June 4, 2020
On Saturday, The New York Times reported that top Pentagon officials had ordered the National Guard to use helicopters to provide a "persistent presence" to disperse protestors. The report does not elaborate on what a "persistent presence" entails. On a Sunday call with reporters, McCarthy explained that he personally had "authorized the utilization of the asset," but said that commanders on the ground would then "apply that mission to observe and report based on the situation." 
To be clear. I did not authorize the use of MEDEVAC helicopters for an observe and report function. I did however, authorize the use of air assets to support operations in accordance with established rules.

— SecArmy (@SecArmy) June 7, 2020
Also on Friday, Washington, D.C., Mayor Muriel Bowser asked Trump to withdraw active-duty troops deployed to the city during the protests. McCarthy said that the presence of the troops was to provide backup to National Guardsmen and law enforcement if needed. That was based on what McCarthy described as a high level of violence that occurred on Sunday night near Lafayette Square. Five Guardsmen were injured by flying bricks in interactions with protestors that night, he said. 
McCarthy said that active-duty troops that had been stationed in or around the nation's capital would indeed be returning to their home bases. The 2nd Battalion of the 504th Infantry Division went back to Fort Bragg, North Carolina, Thursday night around midnight. On Friday, Defense Secretary Esper ordered the 91st Military Police Battalion to return to New York's Fort Drum. 
McCarthy said that members of the 3rd United States Infantry Regiment, or Old Guard, based out of Fort Myer in Arlington, Virginia, would be returning home soon as well. "It is our intention to turn that off as soon as possible."
"We've had four peaceful days  in a row, projecting a fifth," he said. "We are in a very good posture because we've been able to generate enough personnel from a National Guard standpoint to support the operations at present."