Trump Administration Preps Sanctions Against Foreign Election Interference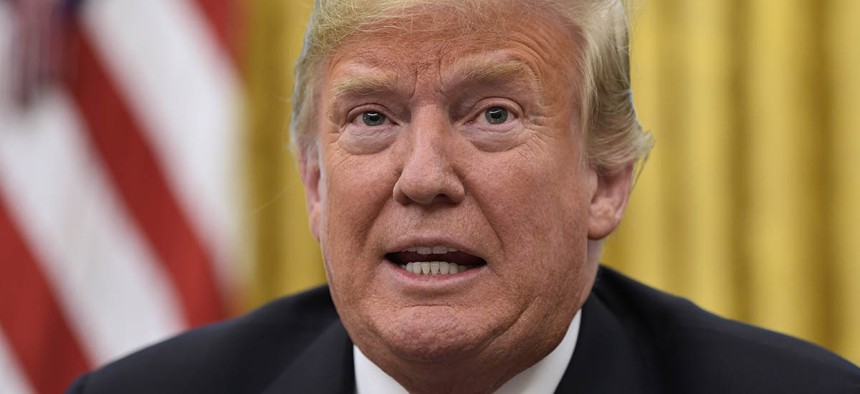 The new executive order describes a process for sanctioning digital interference, propaganda and any other efforts to meddle in U.S. elections.
Nations, organizations and individuals that attempt to influence U.S. elections will face a slate of sanctions under an executive order signed by President Donald Trump Wednesday.
The order, which does not name particular countries, includes both digitally tampering with elections or campaign infrastructure and the sort of digital disinformation campaigns that Russian agents launched on social media in advance of the 2016 presidential contest.
The order is primarily designed to assess interference and design sanctions after an election is concluded but could also be used to impose sanctions if there's evidence of interference during an election campaign, National Security Adviser John Bolton told reporters during a conference call.
"This is intended to be a very broad effort to prevent foreign manipulation of our electoral process," Bolton said.
The order directs the intelligence community to launch a 45-day review after each election for evidence of foreign interference. Anything the intelligence community finds would then be forwarded to the Justice and Homeland Security departments for another 45-day review.
If Justice and Homeland Security determine there's genuine evidence of interference, they'll forward that information to the State and Treasury department for sanctions.
Those sanctions could include blocking foreigners' property in the U.S. and limiting their right to export to the U.S. and access to U.S. financial institutions, Bolton said. The order also directs State and Treasury to develop a system to calibrate how significant the interference is and what sanctions would be appropriate, he said.
The public would most likely learn about the meddling after sanctions are imposed, Bolton said, noting that evidence of the meddling is likely to come from highly classified sources that could burn intelligence sources and methods if it was revealed.
The order comes less than two months before the 2018 midterm elections and after nearly two years during which Trump has failed to consistently acknowledge Russian interference in the 2016 contest.
Bolton insisted Wednesday that Trump's wavering on Russia's 2016 interference and criticism of his unusually friendly relationship with Russian President Vladimir Putin had "zero" influence on the new sanctions authority.
"The president has said repeatedly that he is determined that there not be foreign interference in our political process … and today he signed this executive order, so I think his actions speak for themselves," Bolton said.
The order is weaker than some legislative efforts, including the Cyber Deterrence and Response Act, which passed the House last week and would impose automatic sanctions for election meddling.
A Senate companion to that bill has not been marked up yet.
Another bill, the Defending Elections from Threats by Establishing Redlines, or DETER, Act would also impose automatic sanctions.
That bill's sponsors, Sens. Marco Rubio, R-Fla., and Chris Van Hollen, D-Md., praised the Trump order Wednesday for "recogniz[ing] the threat of election interference," but said the order "does not go far enough to address it.
"We must make sure Vladimir Putin's Russia, or any other foreign actor, understands that we will respond decisively and impose punishing consequences against those who interfere in our democracy," the senators said in a statement.
Director of National Intelligence Dan Coats repeated Wednesday that intelligence officials have not yet seen Russia's intense efforts to upend the 2016 presidential contest repeated in the 2018 midterms. He warned, however, that a full-blown interference effort is "only a keyboard click away."
Coats warned that China, Iran and North Korea also have the capability to interfere in U.S. elections but did not say if the intelligence community has evidence those nations have actually attempted to interfere.
The Trump order bears some similarities to an Obama action from December 2016, which authorized sanctions against nations, individuals and organizations that use digital disinformation or altered information to undermine election processes or institutions.
That action, however, did not describe the same extensive process for identifying election meddling. The first target of the expanded authority was Russia's meddling in the 2016 presidential contest.
The Obama action amended a 2015 executive order that came in the wake of the Sony Pictures Entertainment breach and document release by North Korean hackers. That executive order authorized sanctions for destructive or disruptive cyberattacks or digital theft.