Congress Wants Update on Advanced Computer Research Efforts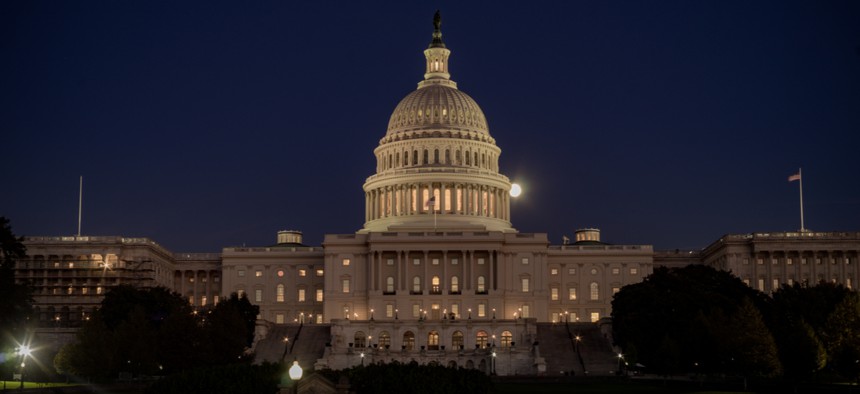 Congress front-loaded the week's hearings, resulting in a particularly busy Tuesday.
The Senate Commerce, Science and Transportation Committee has National Science Foundation and National Institute of Standards and Technology leaders updating the progress they're making implementing the American Innovation and Competitiveness Act. The law requires coordinated efforts to advance cybersecurity, cryptography and advanced computer research.
Here are a few others to watch:
House Version of Election Security Bill Introduced
There's now a House counterpart to a bipartisan election security bill introduced in the Senate earlier this month.
The Senate bill, sponsored by Sens. Marco Rubio, R-Fla., and Chris Van Hollen, D-Md., would require the director of national intelligence to certify whether foreign actors had meddled in each U.S. election within one month afterward. The bill also outlines when outside meddling in an election would prompt U.S. retaliation.
The House version of the Defending Elections from Threats by Establishing Redlines, or DETER, Act, was sponsored by Reps. Ileana Ros-Lehtinen, R-Fla., and Brad Schneider, D-Ill.
Now in the Crypto Wars Ring: Wyden vs. Wray
Sen. Ron Wyden, D-Ore., took FBI Director Christopher Wray to task Thursday for renewing claims made by his predecessor, James Comey, that end-to-end encryption is allowing criminals and terrorists to "go dark" beyond law enforcement's reach.
During his confirmation hearing, Wray told Wyden he had not reached a conclusion on the dangers posed by warrant-proof encryption. Security experts generally say it's impossible to allow police a backdoor into encrypted communication without leaving the same door open for criminal hackers.
"Your stated position parrots the same debunked arguments espoused by your predecessors, all of whom ignored the widespread and vocal consensus of cryptographers," Wyden wrote.
And the Nominees Are:
The White House announced four nominations to flesh out the Federal Trade Commission, which has been operating with two of five commissioners. Republicans Joseph Simmons, Noah Joshua Phillips and Christine Wilson, and Democrat Rohit Chopra could join Terrell Sweeney. Acting Chairwoman Maureen Ohlhausen, however, was nominated to serve as a judge on the U.S. Court of Federal Claims.
A New Cyber Sheriff at the DNC
The Democratic National Committee named former Yahoo information security chief Bob Lord as its chief security officer Thursday and tasked him with defending "against the sort of cyberattacks and intrusions that are unfortunately all too common in today's age."
Lord helped shepherd Yahoo through the response to a data breach that compromised all of its 3 billion users. The breach occurred in the midst of the company's sale to Verizon.
About That Voter Integrity Commission...
Top Democrats want assurances from the Homeland Security Department that it won't be taking up the work of President Donald Trump's now-defunct voter integrity commission.
Trump suggested the department, which is responsible for helping states and localities ensure the cybersecurity of their elections, might also look into voter fraud allegations. Secretary Kirstjen Nielsen said that was outside the Department's scope during a recent hearing.
In a Tuesday letter, Reps. Bennie Thompson, D-Miss., ranking member on the House Homeland Security Committee, and Robert Brady, D-Pa., ranking member on the House Administration Committee, asked Nielsen precisely what the department is doing on voter integrity, if it's diverting any resources and how it's talking with state and local governments about the issue.
The Kushner Clearance Conundrum
Cummings also joined with ranking Democrats on the House Judiciary and Oversight committees in a letter to White House Chief of Staff John Kelly asking about interim and final security clearances among White House staff.
The letter was prompted by consternation over presidential advisor and son-in-law Jared Kushner who reportedly is still working with an interim security clearance and supplemented his clearance questionnaire three times.