Critical Update: Cyber Leadership Has to Come from the Top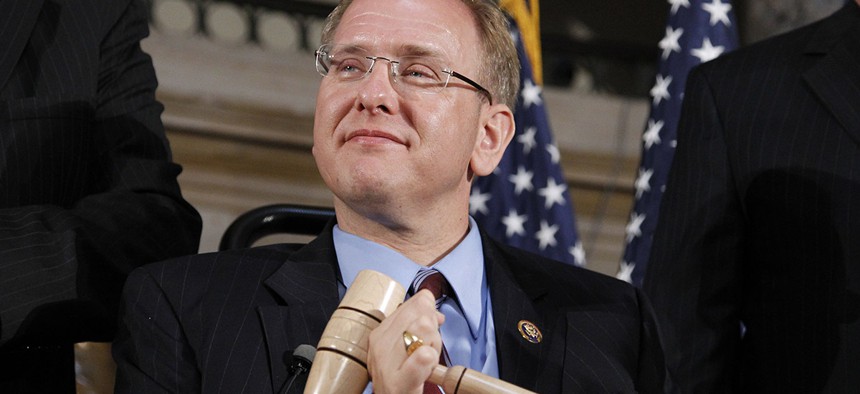 Congressional Cybersecurity Caucus co-founder Rep. Jim Langevin, D-R.I., wants more cabinet secretaries to make cyber a top priority.
The biggest problems in federal cybersecurity start at the top and fixes need to come from the top too, Rep. Jim Langevin, D-R.I., told Nextgov's Critical Update podcast.
When Defense Secretary Ash Carter made cybersecurity a top Pentagon priority during the Obama administration, for example, Carter's subordinates showed the same passion for the issue, said Langevin, who co-founded the Congressional Cybersecurity Caucus.  
"You had everyone, all hands on deck, doing more to step up our cybersecurity at the Pentagon," he said.
By 2018, among other cyber initiatives, the Defense Department had launched five bug bounty contests, which loose troves of ethical hackers to search for vulnerabilities in Pentagon computer systems.
When National Security Adviser John Bolton eliminated the position of White House cybersecurity coordinator in May, by contrast, it marked "an enormous step backward" for federal cyber efforts, Langevin said.
Among other things, the lack of a White House point person on cybersecurity prevents the administration from speaking with a clear and singular voice about issues such as Russian election meddling and foreign efforts to penetrate U.S. critical infrastructure, said Langevin, who has co-sponsored legislation to restore and elevate the cyber coordinator position.
"I'm very concerned about having a lack of coordination and oversight from the top," he said.
Langevin has criticized President Donald Trump for failing to consistently acknowledge Russian government efforts to undermine the 2016 election and for acceding to the elimination of the cyber coordinator position, but he has also praised some Trump administration moves, such as appointing highly qualified Homeland Security cyber officials and continuing Obama-era cyber policies.  
Going forward, Langevin said, he holds out hope the president will make cybersecurity a priority and urge his cabinet secretaries to do the same.
"The president would serve the government well by having his cabinet secretaries around the table and … asking what they're doing to step up their game in preventing cyber vulnerabilities," he said.
On the Ash Carter model, he said, more cabinet secretaries may then make cyber a priority "and their subordinates will make it happen."
You can listen to the full episode below and subscribe through the Apple store or Google Play.