Never mind the degrees – here's skills-based hiring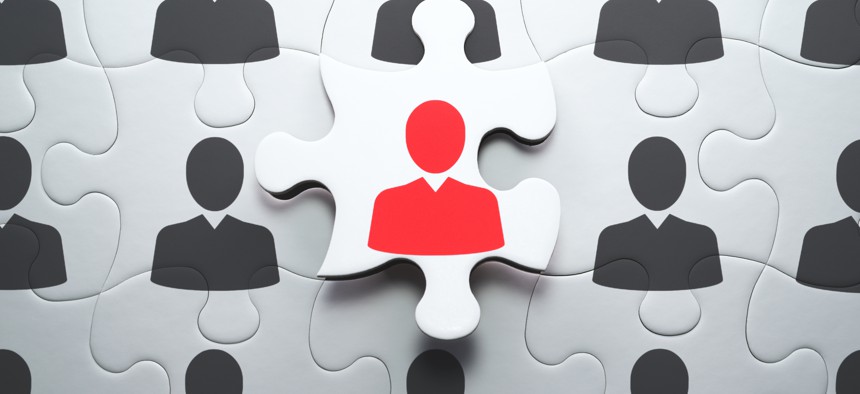 Bureaucratic hurdles await every candidate for a civil service job. But there's a special set of problems facing experienced workers who lack blue-chip educational credentials. 
Across the Biden and Trump administrations, human resources policymakers have been pushing to move the government to skills-based hiring, where applicants are vetted for specific skills. This strategy deemphasizes degrees and previous experience, and could, supporters say, connect government agencies with untapped talent currently blocked out of government jobs.
OPM is working on competency-based qualification standards, aligned with skills-based strategic hiring goals that will cover multiple occupational series, including IT, cyber and HR, which is expected to be released soon though the agency does not have a precise deadline, an agency spokesperson told Nextgov/FCW.
The agency's deputy director Rob Shriver said at an event in July that the realignment of "many of the tech, cyber, AI and data roles and job series" could end up "completely eliminating the need for previous work experience or a degree if you can demonstrate that you've got the skills to do the job."
"Not only does this expand the talent pool for agencies to pull from," he said, "but it also removes barriers that once held qualified people back from public service."
On Thursday, OPM released updated competency models for a "broad set of occupational series" to be used in government hiring, although getting to a skills-based model will require changing the "most basic qualifications standards to get into government," according to Rob Seidner, a former senior career staffer on federal human capital policy in the Office of Management and Budget. 
A Trump executive order from 2020 directed OPM to review these job classifications and qualifications, which set the minimum requirements like educational attainment or years of experience for different types of government jobs, said Seider. 
Lawmakers are also considering bills on these issues, and skills-based hiring for cybersecurity is a priority in the Biden White House's National Cyber Workforce and Education Strategy.
"One of the resounding things that we heard [in crafting the strategy] was the importance of breaking some of the archetypes that have defined how folks hire, whether that's job descriptions that have four-year degree requirements [or] certifications that don't necessarily map to the level at which folks are hiring," Camille Stewart Gloster, deputy national cyber director, told Nextgov/FCW. 
Hiring based on skills and aptitudes would "open the aperture on who can take these jobs and allow for folks who have taken boot camps and other pathways — apprenticeships, etc. — pathways into these cyber jobs," she said. 
A degree standard
Overreliance on degrees as a proxy for skills to do the job isn't a problem only inside the government, said Blair Corcoran de Castillo, a senior director at Opportunity@Work.
Over the last 30 years, there's been a combination of policy and business decisions tying college degrees to jobs, along with the dawn of the internet, which made it easier for people to apply for jobs. HR offices were inundated with job applications and, needing a way to easily cull resumes, turned to things like college degrees to weed applicants out, said Corcoran de Castillo.
Hiring "just gets difficult," said Angie Bailey, former chief human capital officer at the Department of Homeland Security, which built its own cyber personnel system with an emphasis on skills-based hiring.
Government hiring offices "just resort back to what they know…'OK, well, a college degree and X Y and Z — that equals a GS-5,'" said Bailey. "They fall back on what they know because they're under the gun to get the jobs filled."
Of the more than 93,300 feds that fall into the 2210 job series — which includes many of the government's tech workers and over half of its cyber workers — about 25% have a high school degree or equivalent according to March 2023 OPM data. Another 0.6% have below high school education, 0.9% are from occupational programs and 7% have associate degrees.
"We're enamored with degrees," said Bailey.
Outside of the Defense Department, agencies tend to try to hire experienced tech and cyber workers, not entry-level, said Ron Sanders, former chair of the Federal Salary Council, who formerly led human resources at the Office of the Director of National Intelligence and worked on human resources at other agencies. 
"That experienced talent is really, really scarce and really, really expensive," he said, although "if you're hiring for experienced talent, you at least have an employment record you can vet and verify. Whereas entry level, you're hiring raw material. You're hiring potential."
And though many federal jobs don't require degrees outright — applicants can often also qualify with experience — the logic of government hiring requirements can still dissuade some from even applying, said Corcoran de Castillo.
"That perception becomes the reality for job seekers," she said, adding that some applicants may think "'It looks like they're looking for a degree, and I don't have that, so it's gonna be harder for me to prove how my experience can meet that [requirement] when all you have to do if you have a degree is upload your transcript.'"
A 2022 Qualtrics survey of Americans currently or recently in post-secondary degree or certification programs found that 30% said the hiring process is too complicated for federal jobs, citing feeling under-qualified because of experience, degree and credential requirements and required skills.
Demand isn't the problem
The U.S. Digital Corps fellowship program for early-career technologists has a relatively broad list of what counts as qualifying education, including certain accredited certificate programs dubbed equivalent to a year of academic study, its co-founder Chris Kuang said. In August, OPM also proposed updates to the Pathways Program, which it falls under, that would open it up to graduates of apprenticeship and other nontraditional programs.
Still, Digital Corps is bound by "some of the unique constraints we have in federal hiring," said Kuang. To be eligible, you have to have graduated within the last two years, or last six years if you're a veteran coming off of active duty, which creates a "timing challenge" for some, since you either need a master's degree in a tech field or a year of cumulative experience, he said. 
"Demand and the number of applicants for our programs actually isn't the constraint," said Kuang.
"There's so many ways that someone can be early career — you can be a career changer, you can be a veteran reentering the civilian workforce and… yes, some people change careers by going back to school and getting another degree. Others perhaps have learned on the job, they've learned on their own or they've gone to a bootcamp," he said. "So there are certain classes of folks right now, if you don't have that qualifying degree, you wouldn't be eligible to apply even though you are new to technology."
The nonprofit Coding It Forward — an early-career public service tech program that places fellows as contractors — only started accepting bootcamp and certificate students and graduates when it expanded to state and local government because of restrictions on federal contracts, its executive director and co-founder Rachel Dodell told Nextgov/FCW via email. Kuang also is a co-founder of Coding It Forward.
"The federal government is limited as to who it can and can't hire, leaving talented, otherwise qualified individuals out of our civil service," she said. "Creating room for all early-career technologists to have a seat at the table is imperative to building a strong civil service, especially one that represents the diverse perspectives of our citizenry. Bootcamp and certificate graduates have previous careers and life experiences that are valuable in offering new approaches to building a modern and effective government."
Former Federal CIO Suzette Kent — who led a reskilling pilot to move current feds into cyber positions — said that big picture, government agencies are investing in training veterans and people in underserved communities to fill workforce gaps, but not clearing the way for actually hiring them.
Kent, who's currently an advisory board member at Skillstorm, a company that provides tech training and certifications, said that "it's a great example of government talking out of both sides of its mouth."
Many agencies have been slow to build in skills-based hiring, said Kent, who argued that using widely accepted, industry-recognized certifications in government hiring needs to become a norm, especially in tech and cyber.
But testing for skills — whether acquired through a certification, a four-year degree or on-the-job experience — is challenging, although it is necessary for organizations moving to skills-based hiring, said Sanders.
The current system, however, isn't working, advocates for skills-based hiring argue. 
"Why aren't we fixing legacy technology? Why aren't we doing more with AI? Why aren't we making more progress on these things? Because we have shortages of resources — skilled people and funding," said Kent. "When we don't have people to do it, how do we get it done? We hire contractors. They're ten times as expensive — I know, I've been one… [Agency tech leaders are] going to pay more, and then when the project is over, [they're] not going to have anyone with the deep knowledge that is part of [their] permanent team."
Editors note: This article has been updated to reflect the timeline for OPM's anticipated competency-based standards, the original timeline of which was shared by the agency in error.