Debt ceiling furloughs are unconstitutional, union will argue before court next week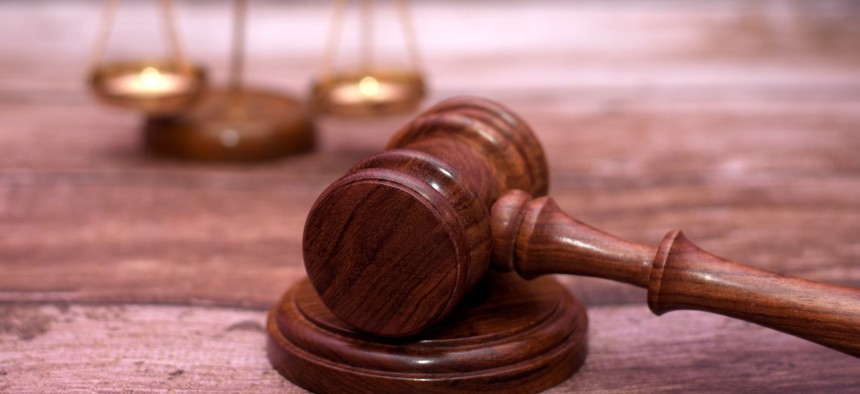 The lawsuit seeks to force the Biden administration to take unilateral action to avoid a default.
A federal judge will next week hear a case, brought by a federal employee union, on the constitutionality of the debt ceiling structure and the impact it could have on civil servants, potentially providing a last-minute opening to avoid a catastrophic default. 
Judge Richard Stearns, from the U.S. District Court for the District of Massachusetts, on Tuesday scheduled arguments in a lawsuit brought by the National Association of Government Employees for May 31, the day before the government could default on its debts for the first time ever. The Biden administration must submit its written argument against NAGE's position that a debt default is unconstitutional by May 30, placing it in a difficult position as it has so far declined to pursue unilateral action that would stave off a scenario of missed government payments. 
The lawsuit is seeking an emergency injunction preventing the Biden administration from no longer borrowing money to pay the government's debt, as is expected to occur under a default, and to prohibit any related layoffs or furloughs of federal employees. NAGE filed the complaint on behalf of its 75,000 federal employee members. 
Congress sets funding priorities, the group said, and a default scenario that requires the president to pay down some obligations and not others undermines that constitutional structure. Complying with the debt ceiling is inherently unconstitutional, therefore, unless and until Congress sets a roadmap for the exact spending schedules during a default. 
Similarly, NAGE said, the president cannot simply cease making all payments during a default because the 14th Amendment to the Constitution prohibits the government from failing to pay its debts. The debt ceiling has placed President Biden in an "impossible situation," NAGE argued, "without legislative permission or constitutional authority as to how to proceed." 
"This litigation is both an effort to protect our members from illegal furloughs and to correct an unconstitutional statute that frequently creates uncertainty and anxiety for millions of Americans," NAGE President David Holway said. "If Congress will not raise the debt limit as it has nearly 80 times before without condition, it leaves no constitutional choice for the president."
NAGE suggested its members, during a default, could face layoffs, furloughs or "may be forced to work unpaid with only the promise that they may be paid if and when the debt limit crisis is resolved." Treasury Department officials have suggested a default would require the government to delay all payments until it had enough money available to meet the demands of a given day. Some lawmakers and economists have said Treasury could prioritize the payments to make each day, though—as NAGE noted—such an option would present legal and operational challenges.
Some Democratic lawmakers have been pushing Biden to invoke the 14th Amendment to ignore a debt ceiling breach, with members of the Congressional Progressive Caucus holding a press conference Wednesday to insist the president would have no other choice. Biden has said he is open to pursuing an end to the debt ceiling using that argument down the road, but it would take too long to work its way through the courts to address the current, acute situation. 
The American Federation of Government Employees, a much larger federal worker union, has not yet taken legal action, but on Tuesday sent a letter to the White House suggesting a default would be unconstitutional and demanding the administration not allow such an event to take place. Everett Kelly, AFGE president, further implored Biden not to strike a deal that would place a strain on federal agency budgets.
House Republicans have demanded significant spending cuts accompany any debt limit hike. The White House offered to freeze discretionary funding for fiscal 2024 at current levels, but House Speaker Kevin McCarthy, R-Calif., has called that insufficient and said he would not put any bill on the floor that does not reduce spending from fiscal 2023 levels. 
Negotiations to strike a deal that would increase the debt ceiling were ongoing Wednesday, though both sides have conceded they remain divided with limited time to avoid a default. Treasury Department Secretary Janet Yellen said earlier this month the government could default on its debts as soon as June 1, and subsequently said it was highly unlikely the Treasury could continue paying the government's bills past early June. Lawmakers have warned it will take more than a week to write, pass and send the White House a bill once a deal is struck.