Trump has endorsed a plan to purge the civil service of 'rogue bureaucrats'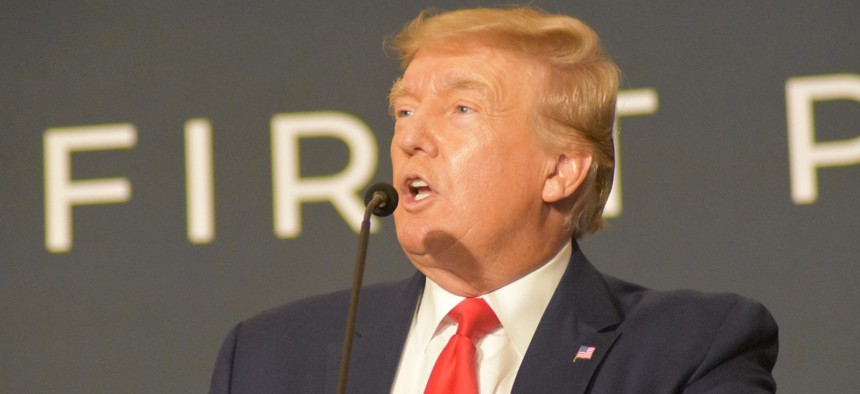 Former Trump staffers have said they have identified 50,000 federal employees who would be ousted under a new iteration of Schedule F during the next Republican administration.
Former President Donald Trump on Tuesday seemed to endorse a recently unveiled plan by a cadre of his former staffers to strip tens of thousands of federal workers of their civil service protections and fire them at will under the next Republican administration.
Trump spoke Tuesday at an event hosted by the America First Policy Institute, a think tank founded by former staffers in his administration. His speech came on the heels of an Axios report last week that former White House aides are planning to revive the controversial Schedule F, a job classification system that would take current federal workers in "policy-related" positions out of the competitive service, stripping them of civil service protections and making them effectively at-will employees.
Schedule F was authorized via executive order in October 2020, but the Trump administration failed to implement the measure before he left office in January 2021. One of President Biden's first acts as president was to rescind the edict.
"We need to make it much easier to fire rogue bureaucrats who are deliberately undermining democracy or, at a minimum, just want to keep their jobs," Trump said. "They want to hold onto their jobs. Congress should pass historic reforms empowering the president to ensure that any bureaucrat who is corrupt, incompetent or unnecessary for the job can be told—did you ever hear this—'You're fired, get out, you're fired.' [You] have to do it. Deep state. Washington will be an entirely different place."
Those involved in the effort to revive Schedule F told Government Executive last week that they have identified 50,000 federal employees that could be fired under the proposed new authority, although they hope to fire only a fraction of that total to create a "chilling effect" to keep the rest of them in line.
Schedule F was reviled by members of both parties, as well as good government groups, academics and federal employee unions, when it was unveiled in 2020. But lawmakers failed to act at the time to prevent its implementation, with Republicans and some members of Democratic leadership concluding that it would go away once Trump left office. Some experts warned it would return in some form with the next Republican administration.
Rep. Gerry Connolly, D-Va., successfully amended the House version of the fiscal 2023 National Defense Authorization Act to include language barring a president from implementing Schedule F without first seeking congressional approval. But its inclusion in the final bill is far from a done deal. When the House Oversight Committee advanced legislation mirroring the language Connolly inserted into the defense policy bill, it did so along party lines.
During his speech, Trump cited a greatly exaggerated figure regarding how long it takes for a federal employee to be removed, provided they appeal their removal, to support giving the president greater leeway to fire feds.
"To fire someone who's doing a bad job, if the government wins, will take 15 years under our current system," he said. "Think of that: 15 years, almost all politicians will be long gone before that process even ends."
When a federal employee is fired, they have 30 days to file an appeal with the Merit Systems Protection Board. An administrative judge is assigned within a week, and typically issues a decision in a period of months. An appeal can stretch over a year if the case is escalated to the full MSPB or federal court.
And although the MSPB only recently began to whittle down a historic backlog in cases, that backlog is in place in no small part because Trump himself failed to nominate members of that body who could be confirmed by the then-Republican controlled Senate. Prior to losing a quorum in 2017, the average time it took for MSPB to issue a decision was 93 days.