Biden mandates COVID vaccine for feds, contractors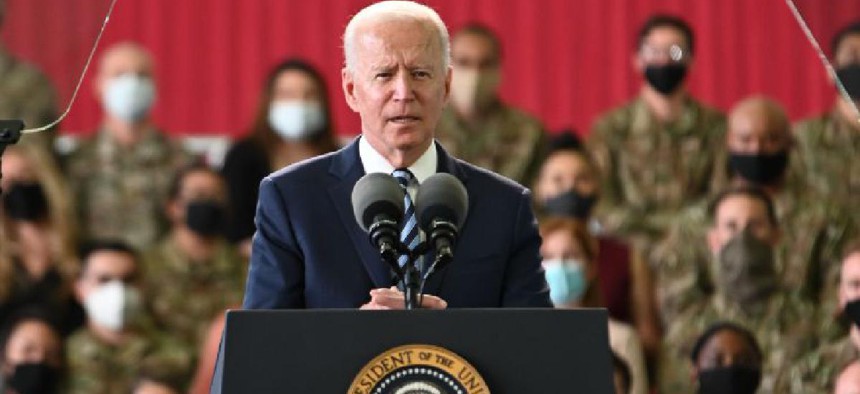 The vaccine mandate will supplant administration workforce policy put in place in July that requires either vaccinations or regular testing for federal employees.
President Biden visits an air base in the United Kingdom in June. (DOD photo)
President Joe Biden signed an executive order mandating vaccinations among federal executive branch employees on Thursday.
A separate executive order requires employees of companies that do business with the federal government be vaccinated.
The orders are part of a rollout of a new "six-pronged strategy" to quell the COVID-19 pandemic as the highly communicable Delta variant continues to spread, especially in regions of the country with low vaccination rates. The strategy includes mandating vaccines or testing for workers of companies that employ 100 or more workers, under a new Labor Department rule as well as provisions covering healthcare workers.
The White House expects to give federal employees "about 75 days" to be fully vaccinated, the official said. The mandate will have "limited exceptions" for medical or religious reasons. Like the administration's original requirements, feds who don't comply will face progressive disciplinary action, the official added.
Under the order, agencies will develop their own programs to implement the vaccination mandate. The Safer Federal Task Force, which has been issuing health and safety guidance for agencies throughout the pandemic, has one week to issue guidance on how agencies will implement the new mandate.
The order covering contractors instructs agencies to ensure that contracts have a clause requiring contractors and subcontractors to comply with all guidance for contractor workplaces issued by the Safer Federal Workforce Task Force. That group is under a Sept. 24 deadline for issuing guidance on how this will all work for contractors.
The Federal Acquisition Regulatory Council is going to amend its regulations so that new solicitations and contracts have a clause on vaccines. It's under an Oct. 8 deadline for "initial steps" to implement with acquisition offices.
"If you want to work with the federal government and do business with us, get vaccinated. If you want to do business with the federal government, vaccinate your workforce," Biden said in a nationally televised address late Thursday afternoon.
The move marks a dramatic shift in the administration's policies for managing the COVID-19 pandemic among federal employees and contractors. While some agencies like the Department of Defense and the Department of Veterans Affairs have established vaccination mandates for some or all of their employees, the administration settled on a policy giving federal employees a choice to either get vaccinated or undergo regular COVID-19 testing and masking protocols.
Before the Sept. 9 orders, about 2.5 million service members and federal employees were operating under vaccine mandates being implemented by DOD, VA, the National Institutes of Health and the Indian Health Service.
But other questions about implementation remain.
It is not yet clear if the new policy will continue the practice of obtaining vaccination status from federal employees via "attestation" or require stricter proof of vaccination.
The administration official told reporters that "each agency will work with their employees to make sure they understand the benefits of vaccination and how the vaccines are safe, easy, free and widely accessible."
Everett Kelley, the president of the American Federation of Government Employees, said that vaccination "is the best way for us to protect each other in the workplace," but he also noted that changes to workplace requirements such as COVID vaccination, "should be negotiated with our bargaining units where appropriate."
"We expect to bargain over this change prior to implementation, and we urge everyone who is able to get vaccinated as soon as they can do so," Kelley said in an emailed statement.
Tony Reardon, the national president of the National Treasury Employees Union, said that Biden is within his rights to issue a mandate.
"NTEU members, like American society at large, will have differing reactions to the new policy. Some employees will disagree. Others will welcome the additional security that comes with knowing that all of their coworkers are vaccinated. Either way, the law is clear that employers, including the federal government, may implement a vaccination requirement for employees," Reardon said in an emailed statement.
Larry Cosme, president of the Federal Law Enforcement Officers Association, issued a statement calling the new mandate "misguided."
"We understand that threatening people's livelihood and penalizing employees for making independent medical decisions is not the answer," he said. "We will continue to review the legal landscape for this order and act as appropriate to support our members and voice their concerns."
Federal managers also have concerns about being on the front lines of implementing the mandate.
"We want to be sure that guidance that comes from the centers of government is detailed and specific around how agencies should treat individuals" who might have medical or religious exemptions from vaccinations," said Chad Hooper, the executive director of the Professional Managers Association, a national membership association representing managers at the IRS, told FCW.
"Federal managers are personally, civilly liable for claims of discrimination arising out the workforce, and from the public, and I don't think that a lot of non- civil servants know that," Hooper said.
This story was updated multiple times on Sept. 9 with new information.