NIST Facilities 'Well Overdue' for Modernization, Report Says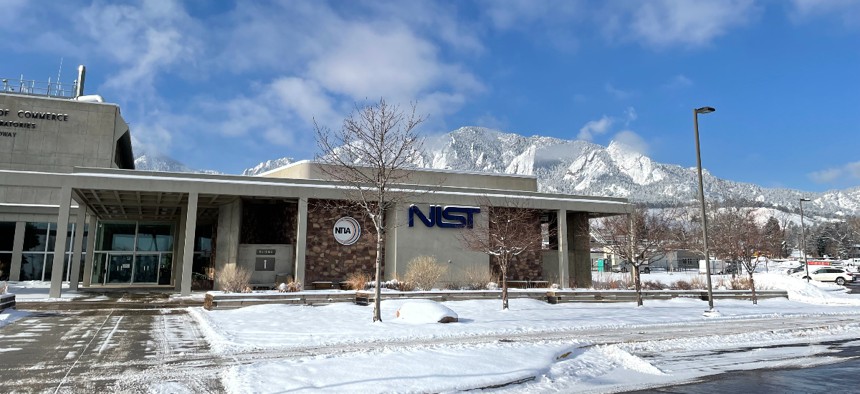 A National Academies of Sciences, Engineering and Medicine report found the facilities' conditions hinder researchers' productivity.
The National Institute of Standards and Technology's facilities are "well overdue" for modernization, with the outdated structures affecting the agency's ability to carry out its mission, according to a report released Tuesday.
The report—produced by the National Academies of Sciences, Engineering, and Medicine—was sponsored by NIST to examine the condition of its facilities.
Its findings revealed that the "increasing demands of precision measurement and the science needed to carry out NIST's mission have outpaced the capabilities of its facilities, many of which date from the 1950s and 1960s."
Specifically, 63% of the research facilities and 69% of the non-research facilities at the Gaithersburg, Maryland and Boulder, Colorado, campuses do not meet the Commerce Department's established standards for building conditions. Issues included unreliable power, climate control problems and leaks that damaged equipment.
Kent Rochford, CEO of SPIE—the international society for optics and photonics––and a member of the committee that worked on the report, noted that the conditions at the facilities impacted a key function of NIST: its metrology work—or, the study of measurements.
"To be able to do a very accurate, highly precise measurement, you actually have to control a lot of things." Rochford told Nextgov. "It becomes very difficult to control the environment, particularly when the building and laboratory you're operating with has poor controls. It's not vibration isolated, if the humidity is swinging from month to month, the temperature swinging over the months or days or hours or even minutes. If you have magnetic fields, I mean, all this stuff just becomes a problem. And that's really the problem NIST is suffering from: they have some labs that are really old [and] were never even built to have this kind of controls."
These controls include temperature, humidity and vibrations, among other things. 
Semiconductor research, for example, requires small measurements for the increasingly tiny microchips that are being developed, and the challenges of that work are compounded by the fluctuating environmental conditions. Rochford stated that researchers "were not able to provide the accuracy that the instrument could actually provide, they were having to give a reduced accuracy," because of these conditions.
Because studies require repeatable conditions to replicate and verify results, Rochford noted that the inability to control these environments for a long period of time can decrease the number of results that can be used, which can decrease accuracy and precision. Some conditions may not last long enough to be able to perform the necessary measurements at all. Furthermore, uncontrolled conditions can increase the uncertainty of the measurements, which Rochford noted can degrade the measurement or make it unusable.
Such inconsistencies could prove problematic, as NIST is tasked with performing significant functions from the CHIPS and Science Act of 2022, and $500 million of the total $50 billion in funding will go towards the agency's research for semiconductor metrology to support semiconductor manufacturing, Rochford noted. 
Without state-of-the-art-facilities, "it's harder and harder to get state-of-the-art measurements, I mean, it's just the bottom line," Rochford said. "It either takes them longer because they're fighting against these environmental things, or there are uncertainties that they're achieving— the measurements they're achieving are below the state-of-the-art because they're limited by the laboratory environment."
According to the report, the facilities' deficiencies have caused NIST's technical staff to spend more time on do-it-yourself repairs, thus "reducing productivity by 10% to 40%."
"We saw a lot of MacGyver solutions, where these PhD scientists are using duct tape and cardboard," Rochford said. "We saw one where they had bought a bunch of humidifiers from the hardware store…they're basically trying to make their own environmental controls out of store bought stuff, so they can at least have a very local area behave."
The facility issues have also had technical implications, the report stated. For example:
Leaks and floods destroyed an electron microscope used in semiconductor research and forced NIST to "abandon" a basement lab used for quantum computing research.
Power outages caused data loss at the Boulder campus and required significant effort to "restore needed experimental conditions." Moreover, staff reported spending nights in the lab during bad weather to avoid losing weeks of work from a power outage. 
Unstable power damaged instruments, including a state-of-the-art micro/nano fabrication facility.
Humidity control issues in the lab have prevented an export-controlled instrument from giving measurements to semiconductor and aerospace companies because it cannot be calibrated 20% of the time.
While the agency's quantum research is dealing with similar facility environment issues impacting measurements, Rochford noted that "the slightest change in electric field or magnetic field or temperature can destroy the [quantum] state, and therefore, you can't measure it … you can't even have the state exist for enough time to measure it."
Rochford added that NIST research also experienced data loss because of power issues and other conditions that altered the environment too much. He noted that some measurements can take hours—or weeks in some cases—and these circumstances can cause researchers to effectively have to start over.
"NIST has a record of providing extraordinary value to the nation's economy, health, industry, national security and scientific enterprise―its work has led to five Nobel Prizes―but it is unlikely that this track record of excellence can continue within NIST's deteriorating facilities," said Ross Corotis, chair of the committee that wrote the report and Denver Business Challenge Professor of Engineering emeritus at the University of Colorado, Boulder. "A sizable investment in recovery of NIST's facilities and capabilities is essential if it is to maintain its critical and unique role in the innovation ecosystem, and help the nation face current and coming challenges."
According to the report, there is an $834 million funding backlog to get facilities to their as-built condition, which means it will take additional funding to make the facilities state-of-the-art.
The report recommends modernizing the current state of agency facilities and sustainably managing NIST's facilities in the future to ensure the agency can fulfill its mission and provide technology standards. 
NASEM agreed with and supports NIST's Office of Facilities and Property Management's draft facility improvement plans, which focused on CMR—construction and major renovations—and SCMMR—safety, capacity, maintenance and major repairs––funded projects to begin the restoration and modernization of its labs, offices and utilities. But NASEM stated that the plan will need to be refined. 
The plan requires $300 million to $400 million annually over the next 12 years to address the "backlog of issues produced by historical underinvestment" and bring existing facilities up to standard. Moreover, NIST needs an additional $120 million to $150 million each year for the next 12 years to stop and stabilize the effects of the deterioration. In total, over the next 12 years, necessary investment could range from $5.04 billion to $6.6 billion.
"We appreciate the time and effort the NASEM committee dedicated to reviewing our facilities and the negative impact their current conditions have on NIST's work," a NIST spokesperson told Nextgov. "Modern facilities are vital to NIST achieving its mission to ensure the global competitiveness of U.S. companies, as well as the health and safety of Americans."
"Once they get the right facility, it's going to unleash a significant boost in productivity, as well as probably reduced uncertainties," Rochford said.