One Army corps sees data education as the foundation of AI-enabled targeting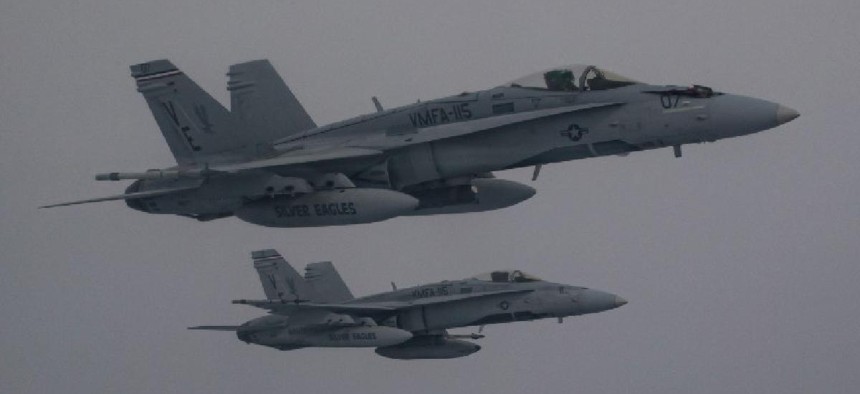 Expanding data education has proven to be foundational and a defining metric as the Army tests artificial intelligence to improve weapons targeting for the 18th Airborne Corps.
U.S. Marine Corps F/A-18C Hornets over the Atlantic as part of the 18th Airborne Corps' Scarlet Dragon exercise on Oct. 7, 2021. (U.S. Air National Guard photo by Master Sgt. Matt Hecht)
Expanding data education has proven to be foundational and a defining metric as the U.S. Army tests artificial intelligence to improve weapons targeting.
Col. Melissa "Molly" Solsbury, the chief data officer for the 18th Airborne Corps and director for Project Ridgway, said one of the most important lessons learned since the first Scarlet Dragon experiment last year has been establishing a solid data education base starting with data training in order to meet its goal of speeding up the time it takes for weapons systems to accurately find, lock in and attack a target with support from artificial intelligence.
"Don't start with buying the widget, start with trying to think through how you learn to use the widget, how do you create an appreciation for data if you're moving toward data centric warfare," Solsbury told reporters Oct. 11 during the annual conference for the Association of United States Army in Washington, D.C.
The 18th Airborne Corps, based in Fort Bragg, N.C., recently completed its latest Scarlet Dragon exercise Oct. 7 -- a live-fire demonstration that incorporates artificial intelligence to process and select targets from satellite imagery and send that data to operators on the ground.
AI is being used to address some of the slowest legs of the kill chain process, such as detecting a target via commercial satellites using "electro optical or from synthetic aperture radar to do very quick detects and then get those to any number of the participants" which could be ground, air or maritime assets, Solsbury said.
The Scarlet Dragon exercises began in November 2020, and nearly a year later its fourth iteration featured joint capabilities and participation from each of the military branches and commercial partners.
The exercise also highlighted communications and network challenges.
"With more data comes more bandwidth requirements, so that's probably the foundational problem that we have," Solsbury said, adding that a recent communications exercise helped illuminate how much data was needed and where the data needs to go.
"We started to really realize that things like synthetic aperture radar and things like constrained comms and operating within an environment that is really a disadvantage to comms...I think we've really started to appreciate the value of those," Solsbury said.
"Those were three learning points where maybe we didn't have either the bandwidth or the comms that we needed, we started to say okay how can we really focus on that as a training objective. Same with synthetic aperture radar (SAR) -- we've taken some really powerful steps forward over the last couple of months and I think that by 2022 we're going to be in a pretty good place  with our capabilities with SAR."