Lawmakers seek probe of veterans' records requests backlog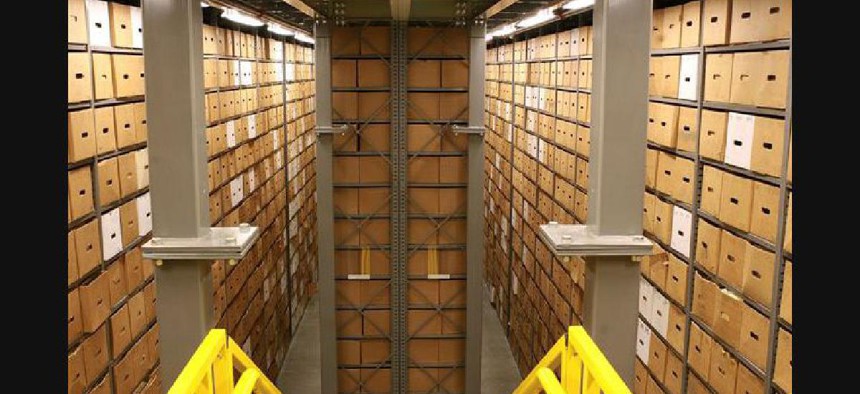 The National Personnel Records Center is facing a backlog of 550,000 requests that built up over the course of the COVID-19 pandemic.
Months ago, lawmakers urged Ferriero to from the Technology Modernization Fund, saying that modernized IT systems would help the agency process the backlog of claims more quickly.
Shelving for military records at the National Personnel Records Center in St. Louis. (Photo by Lenin Hurtado for the National Archives)
A bipartisan group of House lawmakers want the internal watchdog at the National Archives and Records Administration to weigh in on how the agency's veterans records center can eliminate its backlog of records requests, which pay a key role in veterans accessing service-related benefits.
The National Personnel Records Center holds military and medical records needed for benefits like medical treatment and emergency housing. The majority of them are paper-based, so the pandemic and the resulting contraction of in-person work has increased the backlog of requests.
Currently, the backlog stands at over 550,000 requests. The surge of the Delta variant of the coronavirus stalled progress over the summer as it forced the agencies to reduce the number of onsite staff, NARA chief David Ferriero told lawmakers in an October letter.
In July, the agency told lawmakers the agency's goal is to eliminate the backlog by the end of the calendar year 2022. Ferriero's more recent letter says he expects it to be eliminated by the end of fiscal year 2022, or next October.
Nonetheless, Oversight and Reform Committee Chairwoman Carolyn B. Maloney (D-N.Y.), Ranking Member James Comer (R-Ky.), National Security Subcommittee Chairman Stephen F. Lynch (D-Mass.) and Ranking Member Glenn Grothman (R-Wis.) want the agency's watchdog to review what caused the backlog and NARA's work to eliminate it, they wrote in an Oct. 20 letter to NARA inspector general, Brett Baker.
They also want input on what NARA can do to more efficiently address the requests, communicate with vets about it, upgrade its IT or use contracting to process the requests.
Already, the agency has partnered with the Department of Veterans Affairs on digitization efforts, with the goal of making digital copies of service records for all living veterans. NPRC is also using additional space and new employees to run multiple in-person shifts each day.
The agency's service delivery levels for the Veterans Benefits Administration have "been restored" and are "often exceeding pre-pandemic levels," according to Ferriero's October letter.
The backlogs at NARA have contributed to another logjam of claims for disability compensation and pension claims at the VBA because certain records are necessary for claims processing.
apply for funding