IT, supply chain figure in agency climate plans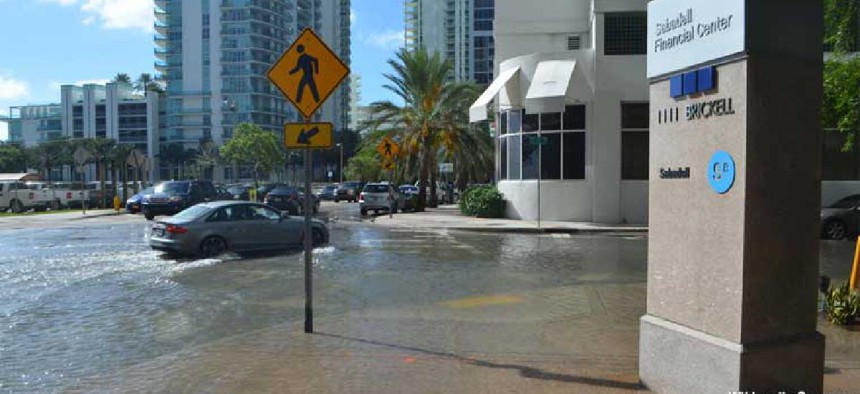 Federal agencies officially unveiled their climate adaptation and resilience plans this week following a White House executive order, as part of a governmentwide effort to improve climate-readiness across critical missions and programs.
The plans seek to address some of the most significant risks around climate change, including vulnerabilities found in information and communications technology supply chains, to unprotected physical infrastructure and utilities.
The plans outline specific courses of action to address current and future risks caused by climate change, in part leveraging procurement methods and reimagining supply chain operations to build more resilient systems and processes.
Below are some of the key ways in which several agencies plan to adapt their IT operations, protect critical data centers and more as the threat of climate change becomes an increasing and ever-present concern.
General Services Administration
While the General Services Administration does not own any tiered data centers, its plans included a shift to energy-efficient shared service centers with interagency partners in geographically distributed locations, as well as secure cloud-computing solutions.
The agency also noted that it was using energy-efficient power settings to procure its end-user computing and mobile devices with eco-label designations, including Energy Star and EPEAT, which allows purchasers to review a product's environmental impact.
GSA said it had already implemented climate risk management requirements in 2015 in the Enterprise Infrastructure Solutions (EIS) request for proposals, adding: "Managing this risk is achievable with existing agency resources and budgets."
However, the GSA plan said "significant system modernization upgrades" were required to better evaluate changing climate conditions and their impact on capital investment and asset management.
Department of Homeland Security
The Department of Homeland Security plan included an effort to make information and communications technology (ICT) infrastructure more resilient within its facilities, while also looking to vulnerabilities in the broad spectrum of critical infrastructure nationwide.
The agency plans to assess its own critical ICT assets to make sure their power supplies are secure and resilient, while identifying locations for distributed energy resources. DHS also said it would create new develop standards "for cyber secure Energy Management Control Systems and identify targeted locations for distributed energy resources."
DHS Secretary Alejandro Mayorkas also included a statement in his agency's plans addressing the adverse impact climate change has already had on workforce health. He said he established a Climate Change Action Group featuring senior officials within the department to "ensure that DHS identifies and mitigates the climate change related to our homeland."
Environmental Protection Agency
The Environmental Protection Agency said it would establish a new central repository of climate-adaptation tools while collaborating with interagency partners to ensure access to relevant data and resources.
That repository will include a section on "lessons learned," which the EPA plan said could be applicable to federal, state, tribal, territorial and other local government partners and offices.
The EPA noted its shared responsibilities with other federal agencies and state and local governments in improving resilience and implementing climate-adaptation initiatives. The agency said it would continue supporting its partners "by producing and delivering the training, tools, technical support, data, and information they need to adapt and increase resilience to climate change."
Department of Defense
The Department of Defense said it was using climate change assessment tools it created in recent years to assess threats like rising sea levels and extreme water level conditions at specific locations where its facilities are based. For example, the department launched its DOD Regional Sea Level tool in October last year in order for department planners to better understand and manage climate-related risks.
To create a more data-driven operational environment around current and future climate risks, the DOD plan said the department would implement new sensing and data analytics in its enterprise analytics platform, Advana.
The plan notes: "Climate data sources must be continuously monitored and updated — with consideration of the operational impact — to account for the rapid rate of climate change and its impacts."
Department of Energy
The Department of Energy also noted the ongoing impact climate change has on its facilities and infrastructure, saying it was implementing "major renovations" and modernizing HVAC control systems within laboratories at the Idaho National Laboratory to address increased drought and rising temperatures seen in recent years.
The DOE plan also said the National Energy Technology Laboratory would conduct an assessment to determine what climate technologies could be deployed within its facilities.
Office of Personnel Management
The Office of Personnel Management said it had begun improving upon operational efficiencies around climate change and resilience at its data center in Georgia, as well as at its headquarters in Washington, D.C., and training center in Virginia. The office noted a major part of that initiative was to reduce its overall carbon footprint while reducing energy and water consumption at its national facilities.
The OPM plan pointed to the surge in telework throughout the COVID-19 pandemic as a unique opportunity to assist agencies in creating new flexibilities for workers around climate adaptation and resilience.
The plan noted how increased telework has helped lower federal employees' commuting-based carbon emissions, adding: "As OPM helps agencies plan for how they will leverage workplace flexibilities as a strategic asset in the post reentry environment, there is an opportunity to assist agencies so that their operations can continue even during acute weather events or other future disruptions that prevent access to the worksite."