How the Air Force is tackling electronic warfare challenges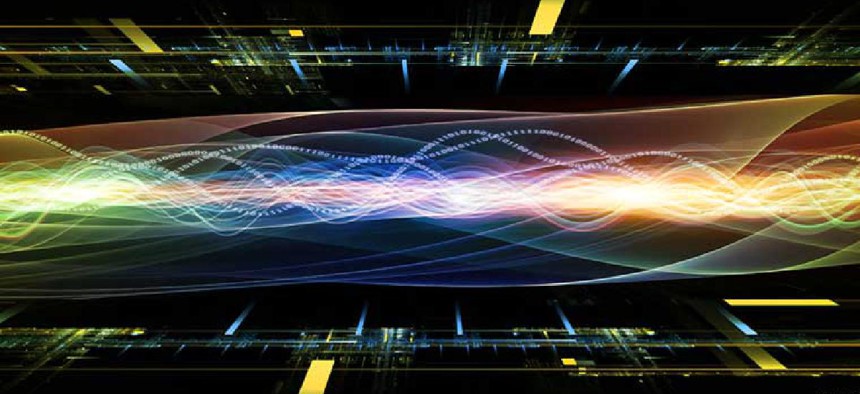 The Air Force is on high alert when it comes to electromagnetic spectrum threats. But extensive system updates pose a risk.
"If we lose the war in the spectrum, we lose the war in the air and we lose it quickly," Gen. Mark Kelly, the commander of Air Combat Command, said during keynote remarks at the Air Force Association's Air, Space, and Cyber conference Sept. 22, noting that a peer adversarial fight would engage frequencies across the spectrum.
Kelly's comments come a month after Defense Secretary Lloyd Austin signed out the classified implementation plan for the Electromagnetic Spectrum Strategy released last year.
The Air Force, in recent years, has made organizational changes to elevate the importance of electronic warfare, including moving the Air Force Spectrum Management Office into its Intelligence, Surveillance, Reconnaissance and Cyber Effects Operations (A2/6) branch under Lt. Gen. Mary O'Brien. That branch will also soon be home to the Air Force's EMS directorate in October, O'Brien said Sept. 22.
"This is key terrain. We have to connect our joint force," Kelly said during his presentation of the Air Force's fighter roadmap, "because if the adversary can break our network, or if we can never establish a network, they can break our blue kill chains and potentially break our force."
Kelly told reporters Sept. 22 that electronic warfare upgrades, such as with the Eagle Passive Active Warning Survivability System, were "major surgery" that could take F-15s out of commission for several months.
"That system requires a significant amount of power and cooling to be pulled off the engines to power it," Kelly said. "The number of panels and amount of plumbing they pull out of that airplane to get their hands to the area they need to go is major surgery."
The solution to keep pace with EMS threats, according to Gerald Gerace, Leidos' chief scientist for its electronic warfare division, is for electronic warfare systems to be developed faster, much like how Apple does with the iPhone.
"What iPhone are they up to now?...How many years does it take to get a new EW system out? I've worked on systems for 10 years that don't get fielded. So we have to be able to work on those commercial timescales," Gerace said during a Sept. 21 panel on electromagnetic warfare.
"You have to develop an architecture and a system so that people developing the apps don't need to know all those details," said Gerace.
Kelly told reporters that while he was concerned about the "capacity toll" EW upgrades can take, the greater concern is not making those needed upgrades and modifications.
"If we're going to push a penetrating bomber, penetrating fighter, penetrating ISR, penetrating munition," Kelly said, "they had better be ready to go into some…multispectral environment to be able to sense and navigate around that EMS from very, very low frequencies to very, very high frequencies."