'Democratizing data' and the promise of JADC2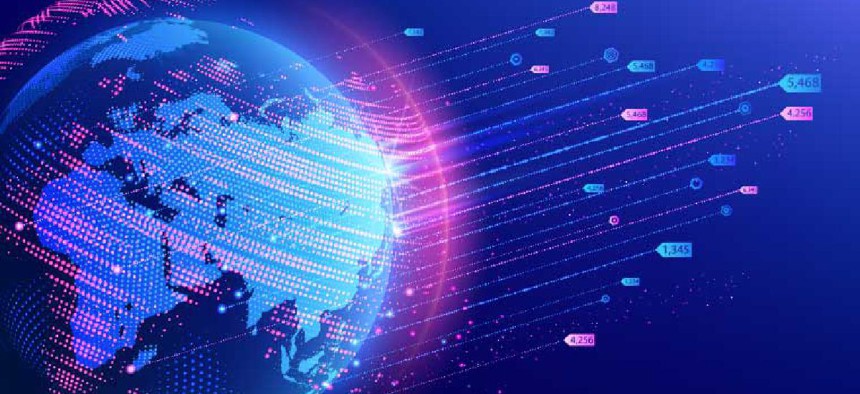 Centralizing data and communications with leadership could cost the U.S. military future battles, but the hope is that seamless communications infrastructure can make it so pushing data to the warfighter makes command and control centers less vulnerable.
Lt. Gen. S. Clinton Hinote, the Air Force's deputy chief of staff for strategy, integration and requirements, said the global shift to make data readily available could have a profound impact on military operations -- but that means decentralizing traditional command and control centers.
"If you choose to centralize you lose, that doesn't mean that everybody's out there doing their own thing," Hinote said during a July 12 keynote speech at the National Defense Industry Association's Joint All Domain Command and Control symposium.
JADC2 would make it so that military leadership, and thus decision-making abilities, wouldn't be as vulnerable to adversaries and disruption.
"This idea that the leadership part of the system of systems is the most vulnerable part. And if you could dismantle the leadership part of the system, you have an opportunity to disintegrate...to paralyze, to make it ineffective," Hinote said.
"This idea of JADC2, the technology and the people coming together to accomplish mission commands means that it's going to be incredibly difficult to deny leadership to the joint forces," he said. "It'll be almost impossible to cut the head off the snake."
The Air Force has emphasized the need for "true mission command" approach to command and control that "empowers subordinate decision-making for flexibility, initiative, and responsiveness" while carrying out a commander's intent, as described in an Air Force doctrine document released March 10.
"The biggest change inside of that new updated doctrine is the emphasis on mission command. That was very intentional ... that we could anticipate the day when mission command was both possible and required to win," Hinote said.
"So it's possible because of this technical revolution, this idea of the democratization of military information. The fact that somebody on the edge could have the access to the same common operating picture that you might have back at the center" -- wherever that center is.
Fundamentally, JADC2, which has previously had many names but lacked the current level of senior leadership support, aims to change how military commanders give orders -- and from where those decisions are commanded.
"What is going to happen is we're going to use the technology and we're going to have to train our people to operate differently. It means that we're going to have to use a lot less of the very detailed orders," Hinote said, adding that orders would focus on a commander's general intent for the mission and be promulgated across the force.
"We need to be able to give them a system of systems to make it work so that if the best place to run the battle is on the bridge of a ship, that's where it ought to be run from, if it's on an island, that's where it ought to be run from, if it's on the back of an airplane, that's where it ought to be run from."