Digital Engineering Could Speed Wartime Arms Production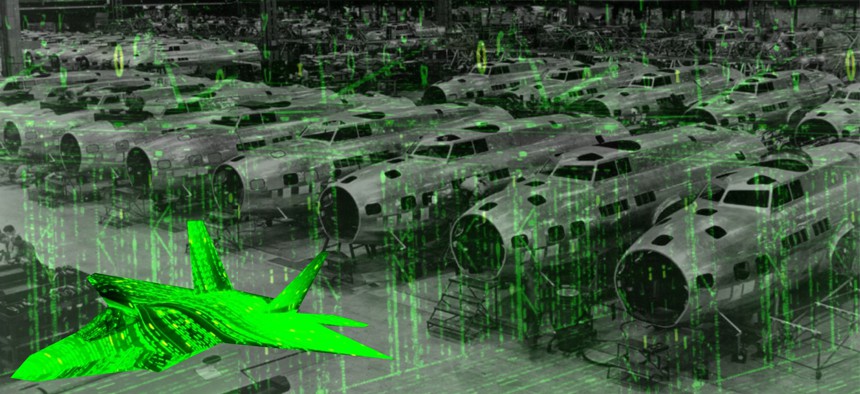 The U.S. Air Force's push to have weapons designed entirely digitally could accelerate manufacturing during a war, in part by making it easier for different contractors to do production and upgrade work, according to a top general.
The effort elicits memories of World War II, when the United States relied on American automakers to build heavy bombers and tanks. While that's not imminent, Air Force officials hope the push to all-digital weapon design and manufacturing will allow them to quickly update new weapons and keep companies competing for modernization work through a weapon's time in the arsenal.
"I want to get the technical part to the point that if we need to make a change and need to go another way to get a component in, or something else, that we can do that," Gen. Arnold Bunch, the head of Air Force Materiel Command, said Friday during a virtual Defense Writers Group meeting. "That is part of what we're trying to do is keep competition and get to the point that we can move at the speed of relevance."
The military has long been looking for ways to lower the price of owning its weapons. About 70 cents of every dollar the Pentagon spends on weapons goes to using and modernizing it over decades in service. The other 30 cents goes to developing and purchasing the weapon.
Key to lowering the price, officials say, is purchasing a weapon's data rights and preventing vendor lock, when the original manufacturer has a monopoly on decades worth of sustainment work.
Being able to quickly add a new capability to an existing weapon could allow the Pentagon to more rapidly counter Chinese and Russian advancements. Designing digitally with open computer systems and agile software are key to allowing multiple companies to upgrade weapons built by someone else, Bunch said.
"If we can get to that structure…we will be able to insert or inject technology, or a new component if an industrial partner can't do something," Bunch said. "And we should be able to surge those with us owning more of the technical baseline."
The Air Force is already building some weapons digitally, including the T-7 pilot training jet, the Next Generation Air Dominance flight demonstrator, and a new intercontinental ballistic missile. Efforts to install new wings on the venerable A-10 attack plane and new engines on the B-52 bomber are also considered part of the service's digital "e-series" projects.