Pro-bono technologists look to help cash-strapped states struggling with legacy systems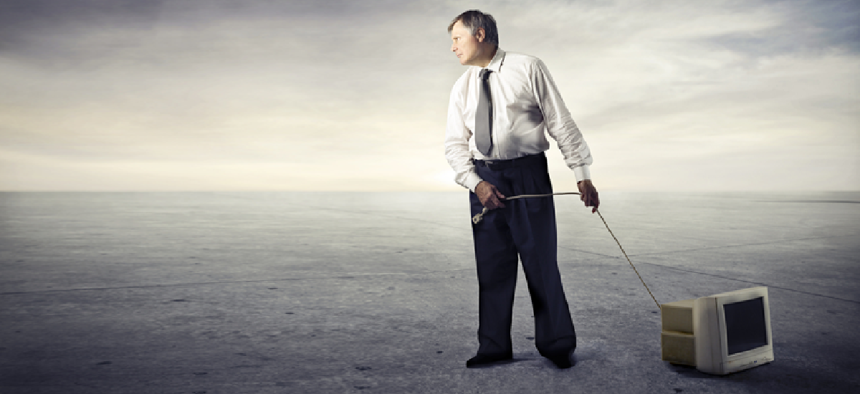 As COVID-19 exposed vulnerabilities in state and local government IT systems, the newly formed U.S. Digital Response stepped in to help.
At the outset of the COVID-19 pandemic, Kansas' unemployment application website saw a 5,000% increase in online traffic to its unemployment benefits application website. Citizens applying for benefits were met with crashes and slow response times.
The former secretary for the Kansas Department of Labor, Delia Garcia, offered this diagnosis in April – the state's IT system, a delivery mechanism for critical services, was a patchwork "held together" with "what seems like Band-Aids."
As the aftermath of the COVID-19 pandemic laid bare known vulnerabilities in state and local government IT, several technologists came together to create a group to help state and local governments and nonprofits meet increased demand.
The nonprofit group, named U.S. Digital Response (USDR), had thousands of volunteer technologists sign up to work pro-bono within weeks, said CEO Raylene Yung, a recent fellow with the Tech Policy Hub at the Aspen Institute and former employee at Stripe and Facebook.
After Kansas contacted them, USDR sent technologists to help. Kansas' unemployment insurance system relies on COBOL, a now-antiquated coding language commonly used when many states' unemployment insurance systems were first created. Kansas' system dates back to the 1970's.
The volunteers worked with the Kansas government to diagnose issues on the mainframe to intake higher traffic, said Alyssa Levitz, a USDR unemployment team lead. The team helped implement a content delivery network, and it was able to help reduce wait times and unblock the site within days.
This was one of the group's first unemployment insurance projects. USDR worked with Kansas in various capacities from April until early June. That month, Garcia resigned after issues with duplicated payments to UI recipients, which caused some citizens' bank accounts to be overdrawn when the payments were rescinded. USDR still considers their work there to be a success, given the way the team was able to help quickly resolve the initial problem, said a press representative for USDR.
Technology isn't really a barrier to solving these problems, Yung said. She likes to say that technology is always better every day than the day before. There are also more technologists, although pipeline problems exist for the government trying to woo these workers against the private sector.
So why have state and local governments faced massive IT problems with benefits delivery during the pandemic, to the extent that there was a space and need for nonprofit IT assistance?
Although unemployment insurance is delivered on a state-to-state level, most states essentially have the same types of dated IT systems.
These state and local IT departments are also generally under-resourced, said Mitchell Weiss, a professor of management practice at Harvard Business School and author of forthcoming book about public entrepreneurship and government, "We the Possibility".
Renewed attention and resources to problems in public benefits delivery will be critical in the long term, he said. As it is, federal-level administrative funding for unemployment insurance has been on the decline since the mid-1990s, according to a 2017 report from the National Association of State Workforce Agencies.
"There's no substitute for competent, coordinated, well-resourced government response," Weiss explained.
These antiquated systems are also really complicated. IT infrastructure for benefits delivery mirrors the complexity of the laws and regulations that govern it, Levitz said. That intricacy makes the systems especially vulnerable to crashes.
Updating the fragile, mainframe-based system is an arduous process, and that's what the Kansas DOL had to do to for changes in unemployment insurance made by Congress during the pandemic, while also dealing with surges in new applications.
The department had to remove a waiting week coded into the system, increase the number of weeks of benefits provided by the state, increase the amount of federal benefits to account for the additional $600 provided by Congress and extend the number of weeks of certain federal benefits. The department also had to create a system to account for a new program, Pandemic Unemployment Assistance, which provides benefits to contractors and others who are not eligible for standard unemployment insurance.
The new stimulus bill also extends some benefits from the CARES Act and makes more changes, like increasing the number of weeks of benefits a person can claim by 11 weeks and providing a $300 unemployment insurance supplement from the federal government. The new bill also doesn't provide additional funding for IT modernization for states' benefit delivery.
This pandemic isn't the first time that policy implementation has been made difficult by technology. Massive problems with the launch of the website for the Affordable Care Act during the Obama administration sparked movement in the civic technology space. It proved that technology is mission-critical, said Waldo Jaquith, a USDR volunteer, Beeck Center data and digital fellow, and former employee with 18F, a digital services office in the General Services Administration.
18F and the United States Digital Service, a tech unit in the executive office of the president, were created in the aftermath of the failed launch of HealthCare.gov.
Even with the existence of better technology and a renewed focus on the issue, the federal set-up of government and the fractured delivery of benefits like unemployment via states are hurdles, Jaquith said. Although states can work with 18F, it can be difficult to bring them on board, for example.
The procurement and acquisition of government IT infrastructure is another obstacle. There aren't many people who have deep knowledge both about procurement and policy implementation in addition to technology use and development, Jaquith said.
"It's the perfect storm," he said. "Of course these projects fail. They're going to keep failing until those knowledge sets get aligned."
IT acquisition and operation has been on the Government Accountability Office's High Risk list for some time. The office has made 1,242 recommendations on the subject since the fiscal year 2010.
A 2019 Government Accountability Office report on the issue outlined the potential cost of maintaining outdated systems: "As they age, legacy systems can be more costly to maintain, more exposed to cybersecurity risks, and less effective in meeting their intended purpose."
Essentially, technology is often funded by the government the same way you'd fund the building of a new office, Yung said. It's all up-front. But technology is inherently more iterative, she said. In the private sector, this is reflected in smaller bursts of funding provided more often to allow for updates to account for potential problems or end-user feedback.
The federal budgeting and oversight process, on the other hand, ties funding to specific objectives, explained Jaquith. This can prevent agencies from adjusting after they get started and hear from users.
"We're in this current reality in which technology is an obstacle to government being able to function well," Jaquith said. "USDR is in a position to show that, no, technology is and should be an enabler to government functioning well." He explained that states typically use the same commercial software for unemployment insurance and other systems, but they're all purchasing it separately. "There's no economy of scale."
USDR open-sources their work as much as possible, Yung said, making it possible for different governments to reuse templates or code. That reuse also scales in terms of the size of the projects being reused.
One project the nonprofit worked on was a county elections website template. Within months, about 10 different counties had adapted customized the template for their own needs, Yung said.
"That's a somewhat small example, but I think the potential is there for many other government systems," she said, especially as technology and communication tools are advancing.
In the benefits space, USDR has also worked with a state to build a screener tool that helps citizens understand what aid they qualify for, Levitz said. The main code for that tool can be changed to work for different states as well, without starting from scratch.
The team has also built an interactive tool to help small business owners understand what Paycheck Protection Program loans they were eligible for, which it was able to quickly customize for two other states using the same code, Yung said.
The nonprofit is scaling and sustaining its current operations for next year, Yung said. It also started a rotational program where technologists are embedded in city agencies in New York for two-month periods. They also recently announced a website template for public health agencies to use on COVID-19 vaccinations rollout.
Weiss hopes that the ultimate legacy of USDR is technologists and government officials with experience in technology "leading from the inside."
Yung says that a lot of technologists weren't sure how they could help with the magnitude of problems the public has faced since March. Most of USDR's volunteers have never worked in government before, she said. Now, several former volunteers have taken full-time jobs at civic tech organizations or in government.
There's also hope that the pandemic and its exposure of existing problems in government IT could spark renewed interest in civic technology from both states and the federal government, including the incoming Biden administration. Former Obama administration employees who worked on technology projects are "involved in the transition team" and have a "strong interest" in renewed civic tech work, Jaquith said.
There are also high levels of interest in finding civic technology solutions among both states and federal funders, he said. USDR, he says, has played a part in this by showing what is possible.
"USDR is in a position to show up and help a state or local government in a way that they have never seen before," Jaquith said.