Dana Deasy's year of delivery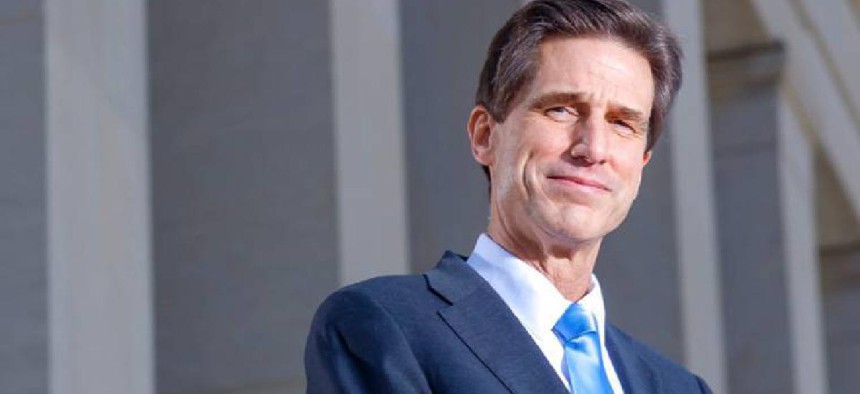 (Photo credit: Zaid Hamid)
Dana Deasy took over as the Defense Department's CIO in May 2018. But he didn't wait until he was officially confirmed in December 2019 to start overseeing pivotal initiatives — including expanding 5G experimentation on military bases and launching DOD's first centralized organization dedicated to artificial intelligence, the Joint AI Center. It's been a busy two-and-a-half years for a newcomer to federal IT.
Deasy's nearly four-decade career has almost entirely been spent in the private sector. Before joining DOD, he was global CIO at JPMorgan Chase and CIO at BP and General Motors North America. The DOD role is his first government job.
"I've always been able to go into an IT leadership…job in my career and kind of know the traditional things you're going to be asked to lead," Deasy told FCW. "Here, I arrived and we're talking about spectrum, satellites, nuclear command and control, and it's very eye-opening in the early days. This definitely does not feel like private-sector IT."
Strategize, organize and deliver
DOD has a reputation for lagging behind the technical capabilities that most of us take for granted in our personal lives. Leaders can mobilize troops and materiel across the world, but personnel often struggle to seamlessly message one another and have to change email addresses frequently during their defense careers.
CIOs in government typically have tenures of five years or less, so Deasy had a clear aim for his time in the job, which he borrowed from his private-sector experience: strategize, organize and deliver.
"Year one for me was all about conceiving vision, articulating it and making sure it would resonate all the way out to a combatant command, to a warfighter sitting out wherever they are in the world, to people in the Pentagon, people in Congress, to the people on my own department frankly," he said. "And then from there, it evolved quickly."
He said a central challenge was getting people to understand the connection between the Digital Modernization Strategy, released in 2019, and the National Defense Strategy, released in 2018 by then-Defense Secretary Jim Mattis.
"Year two was," he added, about asking "how do you change your organizational structure? Do you have the right people? What's going to have to change in the way of processes you run and how you face off to military CIOs [and] combat command CIOs to actually deliver this agenda."
He said 2020 was designed to be the year of delivery, even though the COVID-19 pandemic threatened to derail DOD's modernization plans. "We're not spending any more time talking about a strategy, convincing people to write strategy, organizing for it," Deasy added. "This is the year of execution. This is the year where people have to say, 'I can see how cloud is making a difference. I can see how AI is making a difference.'"
The JEDI question
Although he has been involved in several massive initiatives, Deasy's legacy and tenure are almost inextricably linked with the Joint Enterprise Defense Infrastructure (JEDI) cloud contract. Barely two months after he took office, the solicitation for the potentially $10 billion procurement was released. Years of protests, lawsuits, inspector general investigations and allegations of White House bias followed.
Deasy seemed perplexed by the enduring media attention but predicted that no one will remember JEDI in the coming years because it will fade into the background of DOD's technical tapestry.
"There is an unfortunate and yet continued fixation on JEDI the contract," he said. "The simple fact you brought up the question would suggest that the media — and a lot of people beyond the media — just find this to be such a fascinating thing, which is really quite interesting to me." He added that because he has delivered large, complex, transformational technology, he understands that "the cloud is a component, but it is definitely not the overarching key component."
DOD, which had a $733 billion budget in 2020, does everything on a massive scale, Deasy said, and buying a warfighting cloud capability is no exception. "And so when you go to say what we need to do an enterprise cloud, just the simple fact that once you declare that that's going to be an integral part of your strategy, it's large any way you look at it. The acquisition is large, the standing up of it is large and complex."
However, he said, "cloud is not the most interesting thing at the department."
It's true that cloud technology is not interesting until one starts to think about all the things warfighters can do with it, such as send data between weapons systems and operators on the battlefield or use an AI-fueled data aggregation platform to determine what equipment is needed by frontline workers.
Indeed, Deasy stressed that the main goal of digital modernization is to help DOD invest in, develop and field technology to personnel and warfighters as quickly as possible. Five years from now, "how many people are going to remember JEDI? I would argue very few," he said. Instead, people will be asking: "Are we delivering real-time information to the warfighter that is secure, reliable, not compromised or degraded? It's going to make a significant difference on the battlefield of decisions we take. It will even help us to deter conflict because of how we implemented this."
Achieving those goals is about more than technology. "The thing I don't think gets enough attention is the work we've done in creating really strong linkages and partnerships across the DOD," including with the National Security Agency, U.S. Cyber Command and Joint Staff on issues such as Joint All Domain Command and Control.
Part of that alignment starts at the budget level. Congress broadened authorities for DOD's CIO in the 2018 National Defense Authorization Act to include five-year budget reviews and certification for DOD's components when it comes to IT investments.
"You can't deliver digital modernization without...really strong linkages to the [military] services and to places like the [undersecretary of defense for research and engineering] when you're talking about things like AI," Deasy said.
He argued that a program's success or failure hinges on the strength of those relationships. "Look at why programs succeed or why programs fail," he said. "I can guarantee you one of the things at the heart of it [was]: Was there a shared vision? Could people find themselves in the strategy and understand the role that they played and their responsibilities in it? Was there a common way of measuring success, and did everybody understand the dependencies they had and where they needed to lean on others to be successful?"
Deasy said one of the biggest transformations inside the CIO office has been creating a "program of work where the linkages between other parts of the department are incredibly hardwired together," along with a "culture where people can see why they are making a huge difference."
The next step is making sure all that work is visible. "That has been no different in my entire career," he said. "If you're working on something and people don't...how it benefits them or how it's going to help them, people go quiet, people go passive aggressive. But if you can make that work [visible], then you have that shared-accountability culture. And for me, that's what I really look for."
COVID as a catalyst
Deasy described digital modernization as an enduring effort that builds on itself. But the strategy was only eight months old when COVID-19 forced shutdowns in March, so it was fragile.
"When you have a massive program, a multiyear program like digital modernization, the 'what keeps me up at night' concern is how do you keep the energy level high, how do you keep people focused on it and keep forward momentum going on it," Deasy said.
For an organization that is often mired in bureaucracies that can turn simple tasks into a Byzantine process, the need to protect the workforce with minimal disruption gave DOD leaders an unintended use case for modernization.
"COVID hits and you suddenly realize that there is the potential that a lot of people are now going to be distracted [and] working on a lot of really important things," he said. "Will things like digital modernization potentially suffer?"
Fortunately, Deasy said, the pandemic seemed to have the opposite effect. "It has absolutely accelerated digital modernization. Our ability to go from nobody sharing on a Microsoft Teams environment to over 1.1 million people in under…four months was a huge win."
Shifting to widespread telework forced DOD to get serious about zero trust, a security philosophy that requires users to be continuously authenticated and authorized. "The money, the attention, the energy we are putting toward solving for highly secure collaborations [and] environments using zero trust architectures has been dramatically accelerated," he said.
"All of a sudden, collaboration became the single most important thing that we could do and help the Department of Defense," he added. "So now we have pivoted a lot of energy, focus and dollars around how we actually accelerate the Microsoft 365 rollout, moving that onto a highly secure environment."
Passing the baton
Even in a year packed with uncertainty, Deasy said his top concern has been sustainability. "The single biggest thing I am worried about and what I'm spending the majority of my time on right now is what I call sustainability of digital modernization," he added. "Any leader should be able to walk away from what they're doing, whenever that day is, and they should be able to say confidently, 'The leaders being left behind, the culture that's being left behind and the program of work that's being left behind is going to sustain because it's just so embedded there is no going back.'"
Likewise, he said the next person who steps into the DOD CIO role should be able to say: "I've already got a winning team here. I don't need to change anybody out. I've got a strategy that's clear. There's energy. There's momentum. I can't mess it up. I have to go deliver this now because it's so embedded."
After he leaves, Deasy said he'd like to read about DOD in the news and say, "'The department got it' because if that happens, then I feel like my legacy is one of that I actually helped defend our country. I helped our warfighters."
Editor's note: This article was reported and written before Election Day and before the Nov. 9 dismissal of Defense Secretary Mark Esper.