What's new in Army cloud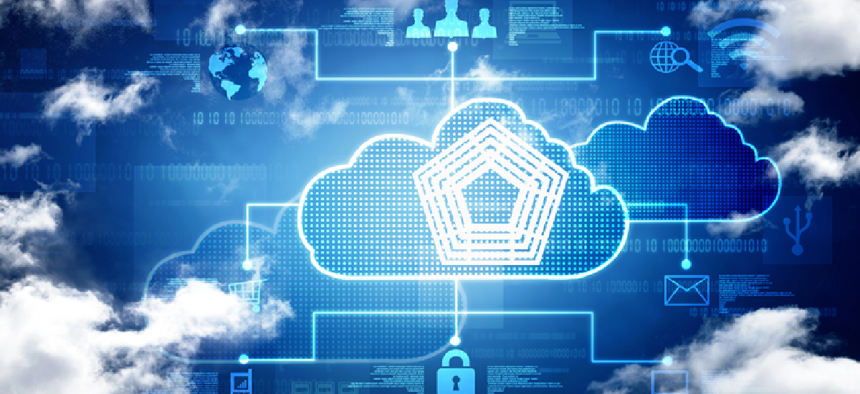 The Army's enterprise cloud office is nine months old. A lot has happened in that time frame -- a new secure cloud environment, a cloud solutions team, a hiring spree, and the migration of the Army's financial enterprise system that handles $1 million a day.
FCW virtually sat down with its director, Paul Puckett III, about how the office and the Army's cloud priorities have taken shape amid a pandemic and the split of the CIO/G-6 role. Here's what he had to say:
FCW: What have you been up to this year?
PUCKETT: Looking back over the last seven to eight months since we've existed, we've seen movement across each one of these key things: first off is starting to see ourselves, to see precisely where these 160 plus applications residing in the cloud today, currently are deployed, who's responsible for it, what mission it's enabling. Starting to see ourselves and where we've made those investments led to a partnership between the ECMO and the Army Analytics Group to stand up, what is "cArmy", and that is our foundation of common secure cloud services that aligns to the [secure cloud computing architecture by the Defense Information Systems Agency]. This is a centrally resourced, funded, and provided service for the Army.
And what we've been able to do over the last seven months is start to migrate some strategic initiatives into that secure footprint. We've been trying to train and equip the Army in the true value of what online on demand compute and storage enables and what a secure foundation enables. Really getting after those stove pipes of data and redesigning them to enable self-service for those data sets and creating more of that dynamic, resilient architecture that can handle the ad hoc nature of how we need to access data today, leveraging cloud computing.
In addition to cArmy, we started up a cloud solutions team that gets after that refactoring and replatforming, really redesigning the Army architecture, leveraging cloud computing. Now with the secure foundation, with a framework for how we optimize and modernize our applications, we've also leaned in, and we're investing in providing the common tools for modern software development. And so we've also stood up a team called CReATE, the Coding Repository and Transformation Environment. We see across the DOD, this move towards bringing together developers and security teams and operator teams into a DevSecOps model. And typically that's enabled by an ecosystem of modern software development. So we've stood up to the CReATE team within the cArmy environment.
So is the CReATE team the same as the software factory, or is it something different?
The Army Future Command's software factory is focused on the people is focused on partnering with the commands across the Army for the mission and the problem that we're trying to solve, and it's focused on the public-private partnerships, and leaning on industry to teach and enable and train our soldiers for how to put hands on keyboard to solve our own problems with software and CReATE is the ecosystem of software development tools, and cArmy is the secure cloud environment in which those tools are deployed. We own the IT infrastructure secure services for the Army cloud and the tools for software development and the software factory is bringing the people and the processes and the problems for us to solve, and we're working together to field tested, secure and accredited solutions.
How has COVID affected those initiatives so far?
A lot of the Army's [past] cloud adoption was driven by the data center closure and optimization effort and so we saw a lot of people just simply rehosting capabilities, lifting and shifting capabilities to the cloud, and really what I think COVID helped the Army identify which one of those systems were designed for a fixed on-premises architecture, which were designed for a more dynamic, ad hoc world that allows for secure access at home or in the building or globally.
COVID was a true realization of which systems were designed with a specific architecture in mind and then if they wanted to change them, I think, it allowed the Army to realize where we've been writing in our contracts the inability to adapt and change these architectures. I think it helped the Army realize that there's a modernization effort and the way that we write our contracts, they need to be just as flexible and as resilient as the IT technology that we field.
You're also in the midst of reorganization at the CIO/G-6 level. Can you talk a little bit about what this changeover is looking like and what is expected to come out on the other end and how your office in particular is going to be impacted?
You're talking about the CIO and G-6 separation to be a distinct entity of the CIO and the G-6. That happening during the midst of a global pandemic is an intriguing one. It's highlighted the need to communicate and collaborate. Having capabilities like Commercial Virtual Remote environment has been absolutely instrumental especially when my team is 100% telework right now. We really anticipate that flexibility of what is the best working model for each one of the people on our team, for the ECMO to be the standard moving forward. We want that flexibility in the team, but our ability to collaborate there is crucial and that expands across the CIO/G-6, especially as we're deconstructing the roles and responsibilities and seeing where in our business processes we need to refine or optimize them, complementing the split.
We've gone through a number of drills teasing out various use cases to understand who would do what, where, and when, so when that split becomes official, we don't skip a beat when it comes to getting the mission done.
We'll be shifting underneath the oversight of the CIO side of the house but when it comes to the job that we have to do, right, I'll only see the CIO and G-6 split as providing more clarity as to who's responsible for what. I think we'll have our typical challenges of new organizational structures and new leadership, but I really don't see any limitation when it comes to us getting the job done and the mission that we have.
You mentioned before about your team being 100% telework. Are you completely staffed up or are you looking for certain positions to fill and develop certain capabilities?
Yeah, we're definitely still hiring and as part of that transition, there's been a movement towards temporary terms as we start to create the more formal, permanent structure between the CIO and the G-6 split. While I am new to the Army, I don't think that the answer to the Army is for the ECMO to go and hire a whole bunch of external, new-to-the-Army talent. Our power is really in people that have experience, understand the Army structure and also understand the new imperative to modernize.
We will be looking for some new eyes on the challenges of the Army for product management and design. The services and our processes need to be intuitive. And then of course the subject matter expertise, understanding the value of cloud technology, but also understanding how we design and field IT systems today. Because you've got to understand it in order to dismantle it, to truly leverage the value of cloud computing and what it means for the entire life cycle of software development, all the way from design and requirements into continuous improvement in a production environment.
What is the Army doing around that to prepare for JEDI or a JEDI-like capability this year should it come out?
So first what we're doing is collapsing from an infrastructure architecture perspective into cArmy -- those kinds of SCCA components, so that's really step one. Step two is we've gotten our hooks into almost all of our cloud accounts today from a financial management perspective and we're starting to see how we're using cloud resources effectively and see this only feeding and enabling how we consume JEDI at enterprise scale -- our ability to ensure that we're estimating and consuming precisely what we need in order to work, deliver on our mission and getting the greatest return on investment.
Do you have a list of programs that you can speak to that would be like the first to go in?
We're in the midst of a migration, modernization effort around our enterprise resource planning (ERP) applications. We were just in the midst of transitioning the General Fund Enterprise Business Systems (GFEBS) over to cArmy. That's the big name initiative, but we've got a number of initiatives across the Army as well for modernizing Human Resources Command as well and we anticipate more coming through.
But our primary focus this year in FY20 has been setting the conditions for this enterprise value. And then our focus in FY21 is driving on priorities where FY22 feeds into the enterprise skill of the Army and cloud adoption. And so we're really focused on ensuring that our processes are effective, that they're as streamlined as they can possibly be, and that we're applying those lessons learned quickly and improving those processes.
GFEBS is helping us tease out improvements in our operational processes that we can make as well as the hosting environment itself. Because the vision in order for us to handle the enterprise scale of the Army, we've gotta be leveraging a self-service model for the actual consumption provisioning of secure Army services in the cloud. What we want to do is ensure that we're only using people where we absolutely need to use people for those manual touch point interactions.
What are your key goals and milestones for the rest of FY20 and the top of FY21 going into next year? And particularly if it folds in at all, how is Joint All Domain Command and Control going to be a part of that?
Teasing out FY20 some of the critical near term stepping stones to collapse and consolidate investments that we've already made in the cloud. And 80% of those 160 named applications are shared across a few major commercial cloud environments. And so critical there is getting to a common baseline for those secure cloud services that need to be provided from the SCCA perspective of cArmy -- getting cArmy as a hybrid cloud ecosystem, going operational there so we can collapse those customers. The second piece there, when it comes to finishing out FY20 is starting to lay the foundation for expanding that common baseline into secret as well, so that we can get a parity of those shared services between unclass[ified] and secret across a hybrid cloud model.
Next priorities, obviously support of the software factory, getting those basic components of software development out into the hands of our soldiers, but also starting to unlock the value of our data because at the end of the day, like our data is our strategic asset.
Bringing on a data framework where we can start to service enable our data sets, leveraging the power of APIs to be able to modernize some of our legacy applications and being able to expose data in real time. That foundation of data where and when you need it at any classification in any domain is really the key foundation and enabler to Joint All Domain Operations. When we talk about any sensor and any shooter in any C2 node sharing data in real time, that data has to be visible, accessible, understandable, trusted, interoperable and secure, and we believe that service enabling our datasets is a critical component to enabling that vision.
The interview was edited and condensed for clarity and length.