Air Force seeks proof of concept in latest JADC2 experiment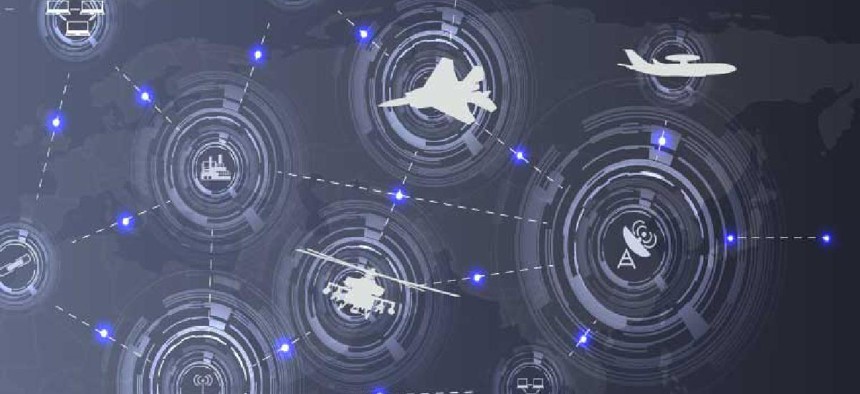 The Air Force is gearing up to test out its Advanced Battle Management System with hopes that it will help iron out the complexities of data-fueled warfare.
"Why should our service men and women leave lives where they are connected to everything and come into a military where they are connected to almost nothing," Will Roper, the Air Force's acquisition chief, said during an "Ask Me Anything" discussion on YouTube Aug. 25.
ABMS is the Air Force's version of connecting systems, devices and platforms -- like the internet of things -- to make data sharing easier and more usable.
The "onramp" experiment, which is scheduled to run from Aug. 31 through Sept. 4, follows an experiment the Air Force held in 2019 and is expected to include 70 participating industry teams, 65 government teams, 33 platforms, and two combatant commands -- U.S. Space Command and U.S. Northern Command. They will operate as one team, Roper said, and have to prove their agility.
The experiment will also help the Air Force and its operators "get some fluency" on how to use cloud, platforms, and data analytics on the battlefield. "There's no [concept of operations] for this, there's no playbook," Roper said. "And we need to start writing one at internet speeds."
Experiments like this are crucial to the future of warfare, Christian Brose, a former Senate staffer turned industry strategist turned author, told FCW, and that such demonstrations are key to innovation and the Defense Department getting what it needs from industry partners.
"There are a lot of programs in the department from command and control to weapons to low-cost unmanned systems that could be competed more routinely based on real world requirements, clearly defined metrics that allow you to measure apples to apples and actually do routine annual competitions -- fly offs, bake offs, shoot offs -- to give the department an understanding of what is best in breed," Brose said in a previous interview.
For the Air Force, Roper described the future of ABMS and a Joint All-Domain Command and Control battlefield as one where individual operators and platoons could receive and interact with intelligence garnered from verified, machine-to-machine data transmission as soon as it's available -- even if it came from a classified cybersecurity sensor. But there's no need, so far, to create something brand new to do that, Roper said.
"The disservice that I think we do is that data that can save lives -- that can be the difference between mission success and failure -- we've got it in the government," Roper said. "We've got it, but it's in an architecture that's meant for people to make phone calls and [send] emails."
ABMS, which Roper said would ideally become operators' digital data assistant, aims to be different, so much so that it might get a name change.
"I think we'll eventually rename Advanced Battle Management System because it really isn't that anymore," the acquisition chief said of the platform that stemmed from the Joint Surveillance Target Attack Radar System for airborne systems.
ABMS' true form, he said, is "simply a system to make data produced anywhere discoverable anywhere."