The Government's Departing Shared Services Lead Explains Why This Effort is Different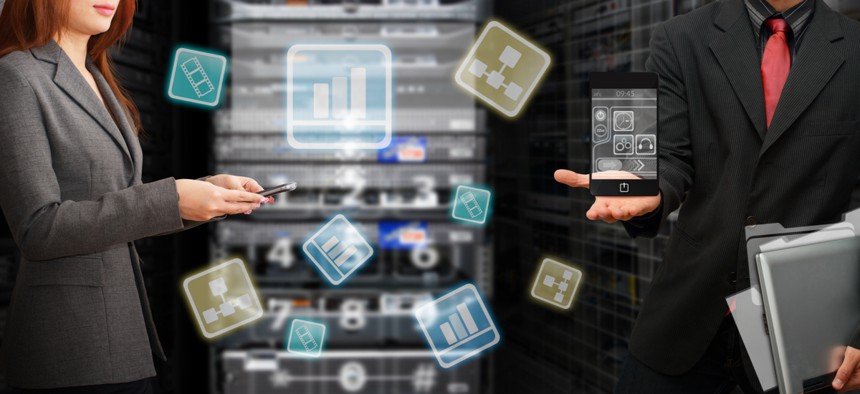 On her last day in government, Beth Angerman talks about the new shared services framework she leaves behind and why she believes it will succeed where others have failed.
As the government's lead for all things shared services ends her time as a civil servant, Beth Angerman said she believes the government is finally on track to make shared services a reality. 
Angerman served as the point person for a governmentwide push to provide centralized services that all agencies could use. That has been a rocky road, though a new framework released earlier this year is putting that effort on a new path. On her last day as principal deputy for the Office of Governmentwide Policy and head of the Unified Shared Service Management Office, Angerman spoke with Nextgov about her time in government and the future of shared services. 
This interview has been edited for length and clarity. 
Nextgov: How did you end up managing the shared services push for the entire federal government?
Angerman: I certainly never thought when I was 15 years old that I would be leading shared services for the federal government. But I certainly feel so lucky to have landed where I have.
I started my federal career at the Treasury Department. It has been nothing but opportunity to lead transformational governmentwide projects that have the potential to really change the way government operates and make it more efficient and effective in the long run. I felt really inspired by the opportunities, and as I took more and more opportunities—when I had the work presented to me by leadership at the Treasury Department—I became the actual director of the Financial Innovation and Transformation Office. That was when M-13-08 was issued by [the Office of Management and Budget], when we were really starting to focus on consolidating financial systems.
As we made progress in that space, we started to think through what that looked like. We also recognized that there was an opportunity to think bigger about shared services and to think across lines of business as opposed to just one functional area at a time. That was when OMB asked me to stand up the Unified Shared Service Management Office at GSA in 2016.
That was an incredible opportunity that I don't think many people get, which is the chance to be very entrepreneurial within government and create a new office that has the potential to set new strategy for how to consolidate and optimize services in the mission support space.
When I stood up that office and the Office of Governmentwide Policy in GSA, we really focused on what should the plan and the vision for shared services be and how do we make sure we're considering all of the lessons learned and all of the fits and starts over time that shared services have had, making sure that this next new plan was going to be the one that would be able to sustain over time. We all have recognized that this is a marathon and not a sprint.
What is the current state of shared services and how did we get here?
OMB released memo 19-16 back in April of this year, which laid a new framework and a new plan for how the government would optimize and create services that were going to respond to what customers really needed to help them optimize mission and to make their mission more effective. That framework has been largely informed by how far we've come with the shared service conversation over the last, I would say, three or four decades.
We've got the benefit of many people who have been working in this space and understanding what it means to provide shared services, what the challenges have been, where shared services makes sense and where it might not make sense, and how we needed to create a framework that would be extensible and reusable so that as new shared services presented themselves and as we wanted to continue to think about the optimization of the entire mission support footprint, that this framework would be one that would be adaptable for that.
M-19-16 established the Quality Service Management Offices. Prior to that memo, what was USSM's role? How did it operate?
It was established to help think through what that new strategy should be and to really look across the different functional areas and determine what was working, what wasn't working, what needed to be rethought as we considered a strategy and a path going forward.
USSM partnered with OMB, with other federal agencies—the Treasury Department, [Homeland Security Department], [Health and Human Services Department], and all the potential customer service agencies. We set up a Shared Service Governance Board [and] a Business Standards Council.
The governance board's membership is the customer agencies and members of the CXO federal councils because it was so important that the strategy was formed by those that would be consumers of these services in the future.
The Business Standards Council was stood up because the very beginning of the new framework is we have to agree on what we share before we build a capability for that particular activity. It's a hard lesson that we've learned in the government, which is we like to jump into creating the capability and creating the offering and being ready to offer the service before we get agreement from the community that might use the service that it is one that is actually right for sharing. There needs to be work put into making sure that activity is something that could be leveraged and is common enough across government that it makes sense to be a shared service.
We stood up a whole framework on we would do standards and how the different agencies would actually create those standards—how they'd work together so we don't create stovepipes anymore because every single process crosses over many of the different mission support areas. That governance has become extremely important to not only informing the strategy but making sure that as the strategy continues to evolve that it has the voice of the customer in it and that we are looking to making sure the standards evolve as policy and legislation changes over time.
USSM was instrumental in getting that entire governance framework stood up and then working with OMB and other agencies to help shape what this new strategy would be going forward and identifying what the role of that Quality Service Management Office really was going to be.
So, the QSMOs are a direct result of that standards effort, or is that a separate, complementary effort that is now being merged in?
It's part of the framework. Once you agree on standards—and as every agency embarks on a readiness assessment and determines whether or not the standards would meet the requirements of that particular agency and then they look at the maturity of the agency and whether or not each agency is actually ready to think about a service, whether that's internal or external—then, the next step in that is, 'OK, the government thinks this is something common enough that agencies can share it,' that it makes sense to create this capability. And these capabilities that are created by agencies that have the mission that's close to that particular capability because that's where the subject matter expertise lies. And then that agency—that Quality Service Management Office—is now responsible for creating a healthy marketplace of solutions and options and services and products and technologies that can be brought to the customers in an efficient way; managed in a central way so that we can reduce duplication, we don't have to build interfaces multiple times, we don't have to do the same acquisition multiple times for the same kinds of solutions—there's significant redundancies we can eliminate by centralizing the management and the oversight of a healthy and robust marketplace of options—and the QSMOs will be the ones responsible for that effort in the future.
USSM's responsibility is to be the convener and the coordinator for all of the different aspects of this particular effort.
There's a lot of promise here. But, as you mentioned before, it's been 30-plus years of trying to get this going. As we dig into why shared services aren't more widespread across government, let's start with where we do see this working today.
One key principle of this new framework is that one size does not fit all, which is largely informed by the way shared services have been implemented in the past. We've seen pockets of success. There are a significant number of small agencies that use agencies that are provided today by some of the current shared services providers.
We've definitely seen the benefits to the small agencies because they struggle to have resources to be able to build and maintain their own technology and have their own staff to do some of those kinds of work that a shared service provider can do for them. So, we've seen a lot of adoption from small agencies.
We see agencies like GSA and like Treasury that have services that exist today. Things like the fleet services, like assisted acquisition services, many of the centralized services that the Treasury Department offers have seen significant adoption over the years.
But, to your point, we continue to learn from the way that we implement services over time. We learn from industry because this isn't a concept that the government has dreamt up. This is something that is a best practice in industry, so we continue to partner to learn from them and understand the challenges that they've had.
I think that, at the core of it, my opinion is that the two big challenges are: Change is hard and it requires consistent leadership and a consistent vision, and this kind of change, I can't say enough, is a marathon and not a sprint. It takes time and it takes investment and it takes willingness to make the investment on the frontend for a benefit that you may not see for many years. But it's an important way that you change culture and that you set an organization up for long-term success.
The way that we've built this framework in this particular memorandum from OMB is most definitely the one that I believe is most likely to succeed.
What is it about the QSMO effort and this memorandum that is different than all the other efforts in the past?
The Quality Service Management Offices are in agencies that are aligned to the mission. The predesignation of Treasury as the financial management QSMO is because Treasury has expertise in financial management.
And we're creating a centralized place versus having agencies doing things that maybe aren't their missing to do. That helps to stabilize a marketplace and a set of solutions for customers and it brings them the right kind of partnership with the right agencies to really help them think through how they would optimize that particular function in their agency.
The expectation of the Quality Service Management Offices is that they have to bring solutions to the market through creative acquisitions that address the fact that every agency is at a different level of maturity and has a different set of requirements. That flexibility that has to be present in the marketplace is different than the way that we would present it in the past, which was asking agencies to transform and to adapt to a solution that maybe already existed that wasn't necessarily the right solution for them.
Hopefully, this new idea, this new concept allows for government to access modern and scalable solutions from industry, but in a way that still helps us drive to a standardization of processes, which is how we look at efficiencies for the taxpayer.
The QSMO effort—and similar efforts in the past—has been met with a lot of skepticism. What can you say to those skeptics who hear what you're saying but aren't ready to get on board with this yet?
I would ask those people what they think the agency's responsibility is to help prepare for this kind of change. The skeptics tend to be—especially internal to government—those people who realize how hard it is to make these cultural shifts within an organization and it requires the right level of leadership and the right degree of vision for what that future state of that organization really should be. There's a responsibility agencies have to ready themselves for a change like this, to prepare by requesting funds to be able to make these kinds of transitions, by building the right business cases and by helping to work through what does the impact of this mean to the workforce. Is this one of those opportunities that we really believe is jet fuel, if you will, for helping to think about optimizing the workforce and putting people on higher-value work and helping people with career paths that have more opportunity for them and really bringing people into a place that can optimize government and increase the quality of services that we provide to our taxpayers?
I think that this has to require that the agency feels accountable for having a vision for their own agency and then is willing to partner with Quality Service Management Offices to bring the right solutions to their agency based on whatever their agency needs are.
This is a two-way street. This can't just be about the supplier side of the conversation. It has to be about the customer side, as well. There's a responsibility on both sides to make sure that this actually is successful.
And I'll say this: This framework that we've identified now, I think it's really good. I think it incorporates many of the hard lessons that we've learned. I don't think it's perfect. But what I think is great about it is it's agile and it will evolve as we continue to learn from our successes and from our mistakes.
With USSM and the QSMOs setting the table, how will your successor bring those agencies along? There is an OMB mandate to do this but that doesn't always translate to action on the agencies' part. But the agencies aren't the ones who will get dinged if this doesn't succeed. What can the office continue to do to make sure those agencies come along?
The first thing we did was actually merge the Unified Shared Service Management Office with the Office of Executive Councils at GSA. It was a really deliberate decision to do that because we realized the only way this was going to be effective and work was if we had the customers at the forefront of the conversation. And those customers, for the kinds of mission support services we were talking about were the C-suite of the federal government and those were the federal executive councils.
We brought those together because we wanted to make sure people saw and understood the importance of customer experience as part of this dialogue and that these new services that we were asking the QSMOs to bring to government in a centralized way, that those services really had to be responsive to customer needs. Who better to influence that than those federal executive councils?
That was why we created the Shared Solutions and Performance Improvement Office and brought those different functions together.
As we continue to work with the federal executive councils and the program managers who will be the consumers of these services. It's really important to think about this from a change management perspective and thinking through how you identify what your business problem is today; what is the thing you're trying to solve by bringing a better technology or better service to the government; how do you solve that in a way that makes everyone feel that they have a role and that they understand the impact; and that you're really thinking through the opportunities and whether that opportunity is about making your business processes more efficient, whether it's about optimizing your workforce, whether it's about having better data? Those are all benefits of going through an effort like this. But they all have to be managed really delicately through change management practices.
Now that we've talked it all through, I want to ask the central question again: Why is this time different?
We have a framework that allows for centralized, common capabilities to be created in a thoughtful way that engages the customers as the priority and that promises the introduction of modern and scalable solutions from industry to the federal government. That is different than the way that shared services have been implemented in the past.
What's an area you thought would be ideal for a shared services model but when you tried to implement it discovered that function wasn't well-suited?
We've seen many times where a service exists that might not be the right fit for an agency for a variety of reasons. It could be the culture at that agency. It could be the readiness for change at that agency. It could be access to resources to implement that service. There are many different reasons that a service might not be the right particular fit.
I would say the way that we thought through this new approach is that we want to make sure that area that we're considering to be in shared service has gone through the level of review and the due diligence and the governance that's necessary with all of the agencies to make sure that it actually would be a proper service that satisfies their business needs. That first step of agreeing on what we can share, we believe will help set those Quality Service Management Offices up for success as they begin to build a marketplace for those services.
You had mentioned earlier that not every area lends itself to shared services. Are there specific areas you have in mind when you and others say that?
I can't think of a specific area where we've come to that conclusion. But I do know that we're in the process of building standards for a variety of different mission support areas and going through the process of figuring that out.
There are certain areas where there are policies in place at agencies, where there's legislation that exists that truly does make every agency operate differently. And when we see those examples present themselves, we realize that there is risk in assuming that that actually might be a shared service.
But you can't name a specific area where that's happened?
No. We have many different areas that are working through the standards process right now.
On the flipside: Are there areas where people thought shared services would not be appropriate, then you looked into it and found it might be a good fit?
We're early in this process. We're still trying to figure out where the right services are. I will say this: We have targeted payroll because the government has already consolidated down to four payroll providers. Those payroll providers are now facing the need to modernize their technology. GSA really led the work to establish the [blanket purchase agreement] for two future payroll systems that are software-as-a-service—the government is not going to build its own technology, we're going to leverage technology that already exists in industry.
What do you think your legacy will be with regard to your time in government and efforts in shared services?
I have been really lucky to have worked on many transformative governmentwide projects: GSA, Treasury, OMB have all given me great opportunities to do that. And I am proud of the work that I've led and that my team has done.
When I think about my legacy, I think about people. I just hope that how you lead is as important as what you lead. I hope that people have seen me to be a leader in bringing people [in] and developing people and supporting people.
At the end of the day, I think Maya Angelou said it, but I really believe it, people will remember how you made them feel before they're going to remember what you did. I believe it's our job to make sure that we're grooming the next generation of leaders. If my legacy is anything at all, I hope it's that, as a civil servant you should just leave things a little bit better than how you found them.
What are you leaving unfinished?
We have a fantastic plan that has considered so many of the best practices in industry and lessons learned in government and now it's time to execute to that plan. There's a lot to be done. There is responsibilities in agency, responsibilities for the Quality Service Management Offices, responsibilities for the central agencies in government to really make this happen.
I'm excited to see how the execution of this progresses. I would say, the alternative, as a taxpayer and as a civil servant, is unacceptable. Why we would ever allow the government to build and maintain and run 24 or however many different systems for so many of the same kinds of services just seems like a missed opportunity for me. In my opinion, it's time to make this work.
Who will be taking over after you leave?
My current position is actually as the principal deputy for the Office of Governmentwide Policy, of which the Shared Solutions and Performance Improvement Office is a team within. Earl Pinto is running the SSPI office and Saul Japson is going to be acting in the principal deputy for the Office of Governmentwide Policy role.