Pentagon Makes Its Case for JEDI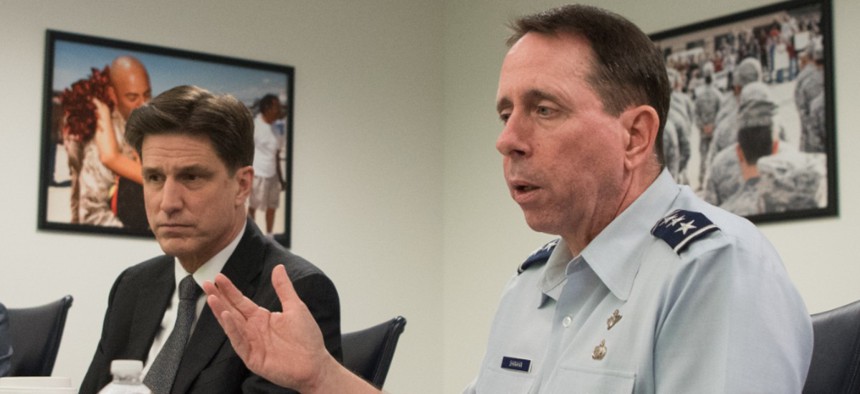 The Pentagon defended its JEDI acquisition Friday and pushed back against "myths" and misinformation.
One week after Defense Secretary Mark Esper announced he would review the Pentagon's Joint Enterprise Defense Infrastructure contract, two of the Pentagon's top tech officials defended the acquisition and explained why the U.S. military desperately needs enterprisewide cloud computing capabilities.
"We needed enterprisewide cloud yesterday," Lt. Gen. Jack Shanahan, who heads the Pentagon's Joint Artificial Intelligence Center, told reporters Friday.
Shanahan, speaking alongside Defense Department Chief Information Officer Dana Deasy, said enterprise cloud is "existential" for the Pentagon's nascent AI efforts, which include the JAIC and Project MAVEN, which is in limited use by military departments across the Middle East. Shanahan said there is "No question MAVEN and JAIC would be farther along" if the Pentagon had access to enterprise cloud. In today's era of "algorithmic" and digital warfare, with adversaries like Russia and China investing "at a rapid pace" for their own cloud capabilities, Shanahan said it can take U.S. warfighters "days or months" to manually deploy algorithms across the Defense Department's networks.
"[Adversaries] are moving at a very rapid pace and what I can't do is afford to move any slower," Shanahan told reporters.
The briefing comes after a tumultuous time for the Pentagon, which in July prevailed in a six-month federal lawsuit filed by Oracle. While Oracle and IBM submitted bids the Pentagon eventually tossed out for not meeting JEDI's baseline requirements, Deasy said the Pentagon continues to evaluate JEDI bids submitted by Amazon Web Services and Microsoft. The Pentagon had initially said it would not award JEDI before the end of August, and an August award now seems unlikely given both the complexity of the technical review process and—as part of the review process—educating Esper on JEDI from A to Z.
"We are still a number of weeks from competition of the overall evaluation," Deasy said. "It is our job to educate the secretary as to why we need the cloud. In doing so, we'll make it clear as to what it means to the warfighter and efficiencies across the Pentagon. He'll have a good understanding."
Deasy shot down rumors that the Pentagon might split JEDI from a single-award contract and award it to both AWS and Microsoft. He also said the Pentagon would not award JEDI until Esper completes his review and officials consult with the Defense Department Inspector General regarding any ongoing investigations related to JEDI.
"Right now, we have not modified or changed the work we're doing on JEDI. We're still proceeding down the selection process. At the end of the process, the secretary will be in a point to weigh in and we'll need to incorporate those views," Deasy added.
Pentagon officials distributed a JEDI fact sheet and requirements guide at the briefing in an effort to dispel myths and misinformation that has both captured headlines and influenced lawmakers and President Trump. In July, Trump said he would "look into" the contract after receiving complaints from Microsoft, IBM and Oracle.
In the fact sheet, the Pentagon pushes back against several allegations included in Oracle's failed lawsuit—including that inside negotiations took place between an Amazon employee and the Pentagon.
"This information was alleged in a filing before the U.S. Court of Federal Claims by a company that was deemed to be non-competitive," the statement said. "The [court] did not sustain any of these complaints. Prior to the court's ruling, the Department of Defense conducted its own investigations and determined that the integrity of the acquisition remains intact."
Officials also used the briefing to speak about JEDI—a complex technical infrastructure that would host military data around the world at all classification levels—in lay terms. JEDI will do what the warfighter what the cloud capabilities that enable most modern applications do for users through their mobile devices, Deasy said.
"You get updates [to applications] almost daily because you're connected to a cloud," Deasy said. "As we start to have new warfighter upgrades and capabilities that help them in a fight, think about how we push that out today and how slow upgrades go. Think about how through an enterprise cloud, we can push out all those updates to warfighters."