How an Agriculture App that Spills the Dirt on Soil Got a Second Life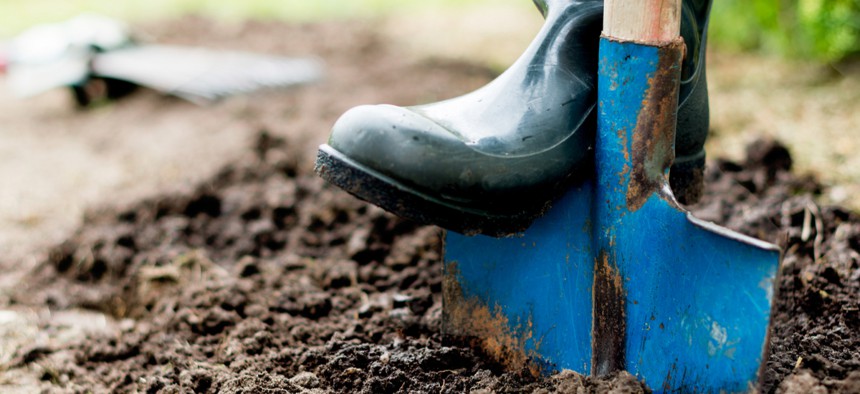 Soil holds powerful insights about what America is made of and many people leverage historical data about it to make better use of their land. 
SoilWeb 2.0, a revamped smartphone app from Agriculture Department's Natural Resources Conservation Service and the University of California at Davis' Soil Resource Laboratory, translates the world's largest database of soil information into a smart and simple interface that teaches people about their present-day surroundings. 
But the road to SoilWeb 2.0 was a rocky one. 
The app is part of a broader suite of SoilWeb Tools that all started in 2005. It was originally launched on the app store in 2010 and was widely used for years. But in 2017, SoilWeb became unexpectedly non-compliant with app store policies, rendering it non-functional. The evolution to its re-release in late June speaks to the outcomes of agency-academic partnerships—and it also presents unique lessons for federal insiders working to pioneer new technologies. 
SoilWeb is the brainchild of NRCS Soil Scientist Dylan Beaudette and UC Davis Professor and Cooperative Extension specialist Anthony O'Geen. Beaudette was a student at the school in 2005, and quickly learned that he and O'Geen shared an interest in the digital representation of soil survey and making dense scientific information seem more applicable to all people. 
Further, part of O'Geen's role was to help people understand how to best use soil survey data.
The two frequently used Agriculture's SSURGO database, which has more than 120 years of data about soil collected in the NCSS. It represents the most detailed accounting of soil resources in America. 
"With any given ten-acre chunk on the ground, there are at least a thousand different soil properties and characteristics and interpretations that are stored in this database," Beaudette said. "And we got to talking, and for both of us it was a tremendous resource, but it was just so large and so complicated and we were looking for ways to create a simplified interface to it."
Together they built the first version of SoilWeb, a simplified web interface that links to the SSURGO database in graphical format. The platform, which is still in use today, ultimately provides users with information about the soil types associated with specific geographic locations. 
By 2010, Beaudette was a Ph.D student at the school, and smartphones with built-in GPS were among the hottest new technologies. At a science conference that year, Beaudette and a colleague were inspired with a new idea: making soil survey information accessible through GPS-enabled smartphones, so people could use it right where they are standing. 
"It seemed like a great idea," Beaudette said. "But I didn't have a smartphone, [O'Geen] didn't have a smartphone. I only knew two people who had them."
Still, over a 2-week holiday break, Beaudette downloaded a software development kit and got to work building the app. He tested it on his brother's iPhone, and when it worked he paid $95 to post it on the app store. 
"The first version was embarrassingly simple," he said. 
But O'Geen and Beaudette agree that the first app had a notable influence.
"When SoilWeb came out, you didn't hear about these things—science apps," O'Geen said. "I think [Beaudette] sort of pioneered those apps, to be honest."
The new app was a hit and received "far more downloads" than either could imagine. All of a sudden, people from across the country were reaching out with comments and recommendations on how to make the platform better.
In terms of engagement, Beaudette said the original app received an average of 600 to 700 unique queries a day.
"It was exciting because I knew every time someone used this thing, they were gaining access to soil survey in a way where before they would have ignored it or not even been aware of it," he said. 
The soil scientist went on to develop an Android app and made it available on Google Play. For the next seven years the "primitive apps" were compatible with both iOS and Android. Beaudette went on to work at NRCS and continued to collaborate with O'Geen. 
But in 2017, SoilWeb was all of a sudden no longer in compliance with the requirements set by Apple and Google. 
"Apple made a big shift from allowing a mixture of 64-bit and 32-bit applications to only allowing 64-bit applications, which meant you had to run your source code through a new compiler," Beaudette said. "And then they started adding on a bunch of policies—for every app there had to be a privacy policy and a user license agreement, all these additional hoops to jump through. So it stayed up but it was non-functional."
By that point, O'Geen and Beaudette said the app had really started to take on a life of its own and had been widely and consistently used, even though it was built on such a shoestring budget. Soon, users' complaints and frustrations began to rapidly flow in. The two would receive phone calls from frustrated users who wanted the app every week and felt the highs and lows of being excited that people wanted to use it but disappointed that there wasn't a quick fix to make it work. 
"People were very upset," O'Geen said. "Since it had been taken off, I would probably get one to two emails a day from people saying the system changed and it didn't work on their phones—and that probably lasted for two years, so it was a lot of people."
The team, together with developer Mike Walkinshaw, recoded the technology to make the web-based system accessible by phone, even though it wasn't through an app. O'Geen said he genuinely thought people would be comfortable with using the substitute instead of the app, but that turned out not to be the case. 
Even though they had replacements, users continued to ask to retrieve the soil information directly via their smartphones. 
"That's a problem for academia and the federal government, which is that we have our ways in which we think we can get this information out to people, but they have their own ways. And so even though you have these things out there and they are seeing it, it's not really adding much value," O'Geen said. "So you've got to go where the demand is."
Beaudette also noticed that of all the responses they were receiving, many came from soil conservationists, who were using SoilWeb for a great deal of their work. 
"That was eye-opening and also kind of a justification of asking for money," Beaudette said. "So for about a year and a half, I petitioned the head of our NRCS division and anyone who would listen. I said 'we have this great thing and it doesn't work anymore but here's a budget to get it back on.'"
Finally, through a $100,000 grant from Agriculture, Beaudette, O'Geen and Walkinshaw were able to revamp the app into SoilWeb 2.0 and get it back up and running on the app store. 
"[Walkinshaw] had never made apps for Apple or Google, but he sat down and taught himself to do it and did it in a way that we could write the app once and recode it to each operating system," Beaudette said. "It's now fully in line with modern programming practices and it jumps through all the new hoops."
This simplified and scaled the processes dramatically. The updated app is also equipped with many new features and can help users answer questions around the production capabilities of their properties or the best places to build or dig ponds. It also provides detailed information about different soil profiles, taxonomy, land classification, and erosion and soil sustainability ratings. 
"We feel that this tool has changed how survey soil information is used, because now so many different people are using it," O'Geen said. "It could be master gardeners and people using it in their backyards, it could be real estate appraisers, and we also see growers, consultants, and a lot of federal agency staff people using it in a variety of ways."
And the new app has also boosted user engagement. Beaudette said since its launch, SoilWeb 2.0 gets on average up to 1000 unique queries a day. As of July, the SoilWeb web-based platform for desktops and mobile devices receives about 3,000 unique queries a day. For the team that runs it, it feels as though it makes the most of an underutilized database. 
And Beaudette also said it's important to note that SoilWeb is built on servers in UC Davis' Land, Air and Water Resources Department. 
"Again, I think this is an excellent model for how NRCS and other government agencies can cooperate with universities. You find a cooperator like [O'Geen], who is interested in long-term work and you can really take advantage of a small IT department," he said. "And you don't necessarily have to satisfy all the requirements that USDA has to." 
Beaudette added that the team can't seem to stop coming up with future plans. He hopes to add more contextual information in the future to not just tell users what soil surrounds them, but also why it's there. 
Like many government endeavors, the journey has been long. But for the team who made it happen, it's been worth it. 
"I feel like we have developed something that has had a huge impact on society," O'Geen said. "It's not just the people developing SoilWeb, but it's also the NCSS—they've done all the work of inventorying this land but people didn't realize how to use the data and they couldn't get to it in an easy way. So I feel like we've done a massive social good by making people realize that this information is at their fingertips now."