Marine Cyber Command Is Getting In On Other Transaction Contracting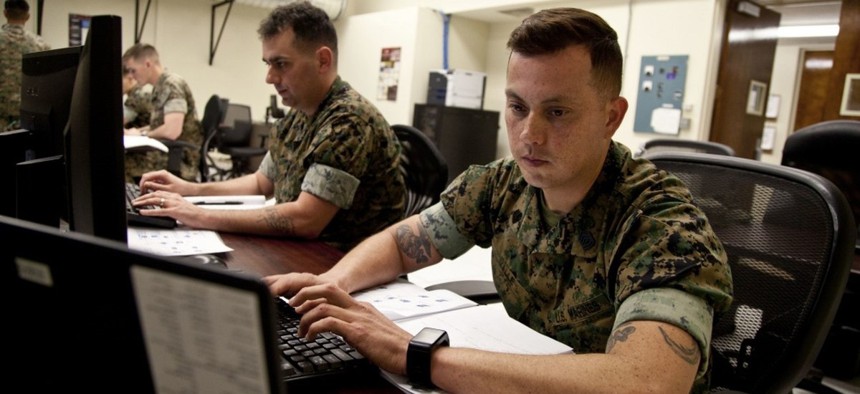 The Marine Corps Forces Cyberspace Command's executive director said the command expects to sign its first OT contract in the coming days.
The Marine Corps cyber arm is about ready to sign its first contract using the lightly regulated Other Transaction Authority given to select agencies to spur research, development and acquisition of bleeding-edge technologies without having to abide by the Federal Acquisition Regulation.
Marine Corps Forces Cyberspace Command, or MARFORCYBER, officials expect to sign their first OT contract on or before Dec. 17, Command Executive Director Gregg Kendrick told Nextgov. Kendrick said MARFORCYBER, in conjunction with Marine Corps Systems Command, has been working on the contract since May, though the hard work began in earnest in July.
The project will focus on cybersecurity and big data, including how to protect the Marines' troves of data, as well as how to use that data to better protect the rest of the enterprise.
"The end state is we want to gather all the data we have. We need to be able to store it, tag it, analyze it to create better defenses," Kendrick said. "For the first time, [we want to] start to aggregate voluminous amounts of data—in the petabyte range—that we can actually now, historically, go back and start to use analysis tools to understand our network a lot better, increase operating efficiency, and then ensure that we have the right defensive tools in place at the right locations and then establish sensors across our entire network for more rapid response."
For this opportunity, the Marine Corps is working with the Consortium for Command, Control, Communications and Computer Technologies, or C5, which took the Corps' requirements to its members, who then submitted white papers to MARFORCYBER for consideration. The research and development contract will be awarded from among that pool of vendors.
Kendrick said his shop is focused on the first phase—research and development—but is also looking to phase II—prototyping—and potentially a phase III—full production.
As MARFORCYBER gets acclimated to the use of OT contracts, Kenrick expects to be able to move faster on future procurements, including the second phase of this first project.
While OT contracting exists outside the safety net of the FAR—and Defense FAR—Kendrick said MARFORCYBER is prepared to handle this kind of contract.
"There's no fear about using the authority. But we're being smart about it," he said, including bringing in the legal and acquisition teams from the very beginning.
"What we want to do is understand the risk and then minimize the risk as best we can," Kendrick said. "But there's never going to be no risk. So, from that perspective, we don't want to let fear drive us. No way."