Federal CIO Wants Your Thoughts on New Data Center Metrics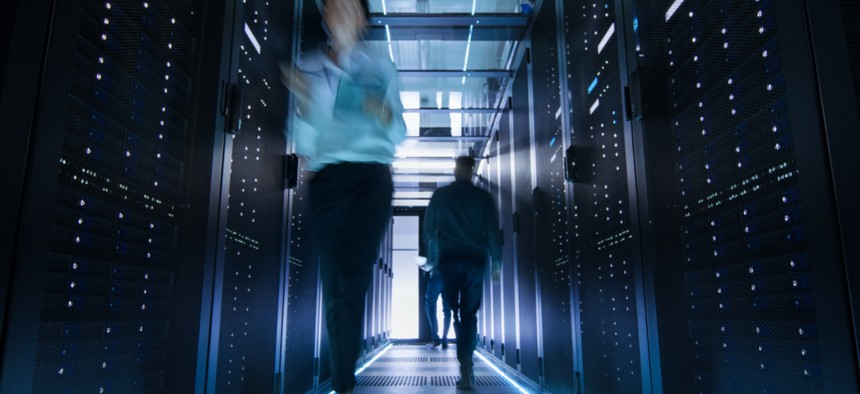 The draft guidance would extend a prohibition on opening new or expanding existing data centers without OMB's approval.
The Trump administration's technology leaders have been hard at work this year updating and rewriting policies of previous administrations. Now they are turning their eyes toward one of the biggest money-saving modernization efforts: closing data centers.
Over the last three years—since 2016—agencies have closed more than 3,200 data centers for a total cost avoidance of over $1.9 billion, according to government figures reported through the IT Dashboard. According to the Government Accountability Office, the federal government owned and operated nearly 10,000 data centers as of August 2016.
Agencies have been under mandate to close and consolidate data centers since the first federal chief information officer, Vivek Kundra, issued a memo in 2010 establishing the Federal Data Center Consolidation Initiative. In 2014, the Office of Management and Budget went beyond just closure and consolidation and began the Data Center Optimization Initiative, with a congressional mandate to consolidate, close and otherwise optimize federal data centers through the use of modern technology and energy saving efficiencies.
Congress doubled down on DCOI last year, extending the requirement through the end of fiscal 2020. With a change in administration and the rapid rate of evolution in IT, OMB is now looking to update DCOI and offer agencies a roadmap for the next two years.
"After eight years of work in consolidating and closing federal data centers, OMB has seen diminishing returns from agencies resulting from their closures," current federal CIO Suzette Kent wrote in a memo to agencies that, once finalized, will replace previous DCOI guidance.
"Much of the 'low-hanging' fruit of easily consolidated infrastructure has been picked, and to realize further efficiencies will require continued investment to address the more complex areas where savings is achievable," she wrote. "While optimization will be the new priority, consolidation and closures should continue wherever applicable. OMB will focus on targeted improvements in key areas where agencies can make meaningful improvements and achieve further cost savings."
Along with refocusing on optimization rather than consolidation, the draft policy also offers a new way of looking at the metrics by which agencies will be measured.
Under the existing policy, agencies' annual progress was measured as an average across the entire enterprise, leading to recommendations to close data centers that would otherwise have been prime for optimization. To make matters worse, the goals were often arbitrary targets, some of which "were nearly impossible for agencies to meet," according to the memo from Kent.
"As a result, these averages do not yield transparency into how effectively or efficiently an agency is running data centers, or whether the agency is improving over time," she wrote. "Moving forward, to more accurately measure the performance of data centers, OMB will avoid using averages for metrics whenever possible or setting arbitrary goals, and will instead identify metrics where agencies can demonstrate continuous improvement beyond the performance period of this memorandum."
In that vein, OMB is proposing updating some of the existing metrics while eliminating and replacing others. The new performance goals will prioritize virtualization, availability, advanced energy metering (replacing the "energy efficiency" metric) and server utilization (replacing "facility utilization").
All of these metrics are specifically defined in the draft document.
Beyond working to optimize current data center infrastructure, the document extends a freeze on building new data centers or putting resources toward significantly expanding existing centers.
This is not be a blanket freeze, according to the document. Data centers that qualify as "key mission facilities for data management"—a specific designation—can be expanded as needed. Agencies can also offer written justification to OMB explaining why their project should be exempted from the freeze.
The draft is available for review on the Federal Register and at datacenters.cio.gov. OMB will be accepting feedback from the public until Dec. 26.