Senators Say Modernization Fund Will Get Money When Congress Sees Data, Results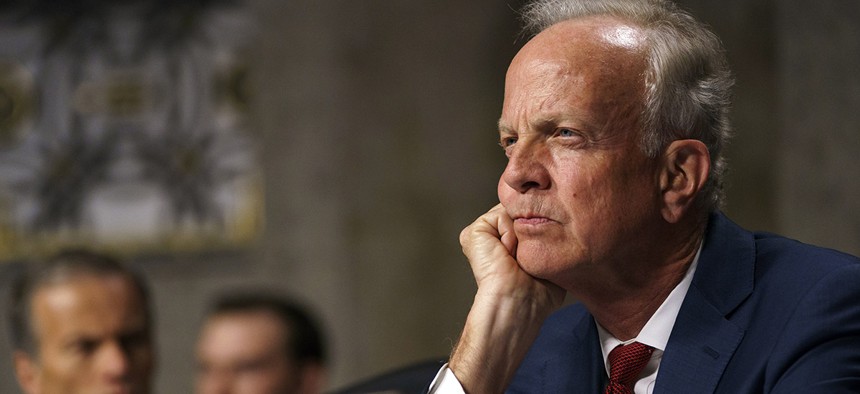 The Technology Modernization Fund—a revolving fund established to help agencies with critical IT programs—might not get additional funding for the coming fiscal year, leaving only $55 million in the fund.
The fund received $100 million for its inaugural year, $45 million of which was allocated to three modernization projects in June. The Office of Management and Budget and General Services Administration—the agencies administering the fund—requested an additional $210 million for fiscal 2019 and House appropriators voted in favor of adding $150 million to the fund.
But Senate lawmakers balked, declining to add any additional funding until OMB and GSA officials share more data about how the money is being used and show some return on the initial investment.
"We have not seen results on that program yet and we don't have any data on it," Senate Appropriations Committee member James Lankford, R-Okla., said from the Senate floor Tuesday evening during discussion of the financial services and general government spending bill. "We're not going to allocate $210 million to something yet if we don't know if it's working."
Fellow committee member Sen. Jerry Moran, R-Kan., an original sponsor of the Modernizing Government Technology Act, or MGT, which established the fund, agreed with Lankford, lauding the fund as a necessity but asking OMB and GSA for more transparency before offering more funding.
"Advancements in information technology, or IT, will continue to drive change in our nation's security, economic competitiveness, communications, health care, privacy and other areas. The federal government must keep pace with these changes through nimble, expeditious and results-driven decision making," Moran said, noting budget constraints are a major impediment to modernizing federal IT. "It is fitting that the MGT Act was signed into law last year as part of the National Defense Authorization Act for FY2018, as cybersecurity policy is increasingly interwoven into comprehensive national security discussions."
With these considerations, Moran said he was "disappointed" to discover the Senate did not follow up with additional funding for the TMF. But he understands his colleagues' point of view.
"After working with Subcommittee Chairman Lankford and his staff, it is clear that GSA and OMB need to provide more information on individual agency proposals submitted to and awarded by the Technology Modernization Fund," he said.
Moran said the agencies have been working more closely with the committee recently and urged his Senate colleagues to fund the TMF but offered no amendments to the bill.
The last chance to get additional funding for 2019 will be during conference between the House and Senate versions of the bill. Moran spokesman Tom Brandt told Nextgov the senator plans to push for TMF funding during conference negotiations.
Brandt noted the conference is the last chance to get any additional money into the fund without additional legislation, as MGT only authorizes appropriations to the fund for fiscal 2018 and 2019.
The Senate Wednesday approved a "minibus" appropriations package, including the financial services and general government spending bill without TMF funding.
An administration official told Nextgov the White House and GSA "have been working closely with Congress to provide the information requested and address their concerns."
"As Sen. Moran noted in his remarks on the Senate floor, 'Agency officials have been providing necessary information to appropriators since the markup of the bill,'" GSA said in a statement to Nextgov. "This outreach included an in-depth staff-level briefing led by senior OMB and GSA officials, and regular responses to Congressional requests. GSA, along with OMB, will continue to work closely with all relevant congressional stakeholders to ensure the maximum level of transparency related to TMF proposals and funded projects."
"The TMF program is an important tool to modernize the federal government to better serve the American people," the White House official said. "As we continue to make these essential improvements, we will ensure that the program is carried out in the best interest of taxpayers." 
Editor's Note: This story has been updated to include a statement from GSA.