Will the Government Go for Pokemon Go?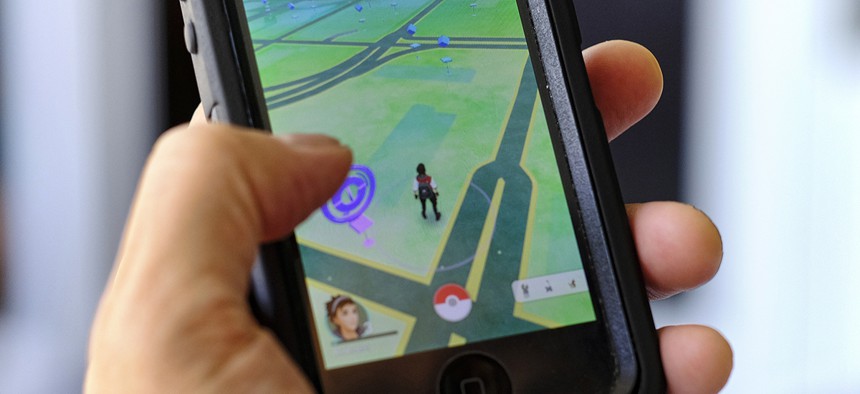 The new augmented reality app is a feat of data-mapping technology.
The latest gaming app craze, Pokémon Go, has taken smartphones by storm. Its immense popularity made Nintendo's value rise by $11 billion.
The app uses augmented reality, overlaying digital Pokémon -- quirky, collectible Japanese monsters -- over the real world. (And for those completely unfamiliar with Pokémon, the name is a portmanteau of "pocket monsters.") The game's knowledge of the real world is culled from Google Map's data and your smartphone's camera. Niantic, the company behind the software, boasts many veterans from Google Maps and Google Earth as employees.
While the type of Pokémon that appear for users relies on geographic data, Pokestops (where you can get useful items for the game) are based on user-submitted data from the company's other augmented reality game that launched in 2011. These Pokestops usually occur around historical landmarks and public works of art.
Though massively popular, the game has privacy-minded people concerned. Niantec requires many smartphone permissions for the game to function. A peek at the game's data disclosure policy shows that theoretically, the FBI could subpoena location-tracking data and hunt for you while you hunt for Pokémon.
How is this game affecting the federal government?
In Washington, D.C., some federal agency buildings serve as locations for Pokestops and even gyms (where users can battle their Pokémon). Both the White House and the U.S. Capitol are hotly contested battlegrounds, while the General Services Administration and the Federal Communications Commission buildings serve as Pokestops.
Meanwhile, the Pentagon is currently a Pokémon desert.
Turns out all the Pokeman creatures here at the Pentagon are out by the bus lanes. None here in center courtyard pic.twitter.com/0ZDdCkW9L1

— Jamie McIntyre (@jamiejmcintyre) July 11, 2016
We've also noticed that the State Department and the Kennedy Center feature many Pokestops in and around their buildings. The Kennedy Center also boasts a gym currently controlled by a very powerful Snorlax.
Could this game be of use to the federal tech offices? Or are the game's data mining and location tracking major security risks? Do you notice any Pokémon Go activity around your building? Has your agency released a specific policy regarding the game? Let us know in the comments below.