Here Are the Threats Federal Network Defenders Need to Know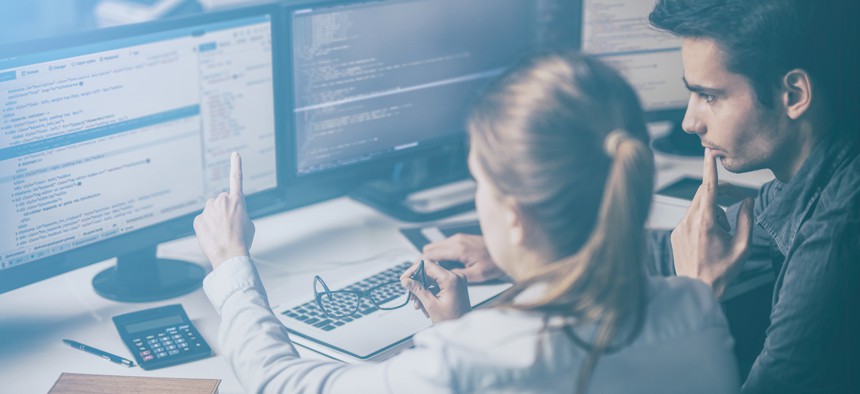 Cybersecurity teams working in federal agencies face similar challenges to their counterparts in the private sector. A recent examination of the threat landscape reveals emerging and expanding trends that are important to both. However, a few stand out as particularly relevant to those tasked with securing our federal networks. These include:
The growth of ransomware as a service. 
EternalBlue and BlueKeep activity.
The use of old-school tactics, such as elevated attempts to inject/execute code.
Security teams at federal agencies need to be aware of these attack trends in order to stay a step ahead of cyber criminals pursuing malicious agendas. And for federal networks, the added layers of compliance, budgetary uncertainties, and what is ultimately at stake—our national security—add more complexity to the business of staying secure.  
Here is what federal agencies should be aware of now and in the months ahead:
The Ransomware-as-a-Service Movement Grant Powerful Options to Anti-Government Groups
Ransomware as a service, or RaaS, has lowered the bar for entry for the cybercriminal underworld of operators. Even without the technical skills required to develop and deploy their own original malware attacks, criminal groups can now rent existing attack services, disseminating malware to their targets in exchange for a cut of the profits. As recent research shows, this has resulted in an expansion of malware as a service, including ransomware, which continues to grow in volume each quarter. 
The GandCrab strain of ransomware set the bar for malware services, netting its developers an estimated $2 billion before it was shuttered. Their affiliate model relied upon a network of partners who leveraged this online service to exponentially expand the number of victims that could be targeted. As a result, this fast-moving ransomware was able to infiltrate and do its damage over a wider span of different networks around the world that using traditional methods—achieving the ultimate goal of generating scalable earnings before security teams could get a handle on it. 
Other affiliate networks are attempting the same thing, including the notorious ransomware variants Sodinokibi and Nemty. In addition, Emotet now sells access to its millions of already infected devices, allowing cyber criminals to drop malware inside organizations that, unbeknownst to them, have already been breached.
With more service offerings being made available on the dark web, cyber criminals now have more power within their reach to initiate destructive behavior against federal networks to push political agendas or antigovernment sentiments. 
BlueKeep and EternalBlue Vulnerabilities Threaten Microsoft-Based Government Infrastructure
Microsoft solutions for federal government agencies were, in the past, targeted by an exploit called EternalBlue. Recent research, however, shows that this threat continues to persist, along with the newer BlueKeep vulnerability—a wormable version that targets vulnerable Windows systems via the remote desktop protocol.
The vulnerability targeted by EternalBlue has particular relevance for government network security officers. It now poses a global threat, but with special areas of concern in the U.S., Taiwan and India. It works by targeting a flaw in the Microsoft Server Message Block protocol. SMB is used in network communication for file sharing, printer connections and serial ports running on Microsoft Windows in older systems. 
In 2017, the executive order on Strengthening the Cybersecurity of Federal Networks and Critical Infrastructure was issued. As part of a general IT modernization program for federal networks, the order calls for broader use and adoption of cloud services. As these initiatives begin to roll out, federal agencies will need to also shift their attention to emerging threats. But they cannot afford to take their eye off the ball of more traditional threat vectors. And for the time being, EternalBlue remains a threat to unpatched systems—and a very attractive threat for cyber criminals who know that many systems are still open to attack. In all, it is believed that there are hundreds of thousands of systems still vulnerable to EternalBlue, with most of them located in the United States.
Bad Actors Recycle Old-School Tactics While Agencies Focus on Anti-Phishing Awareness and Education Programs
Part of the president's executive order covers the need for increased cybersecurity awareness and education. As most security professionals already know, most malware is still delivered via email. And over the last year or so, there has been an aggressive, nationwide push for end-user training to curtail phishing. As users are trained in how to spot suspicious emails, fewer of them will be opened. Users are also learning to report suspicious emails to their organization's help desk or IT team, which then use that data to further bolster their defenses by updating their email systems to filter out malicious emails before they even reach the users. 
Recognizing where this is going, some cyber criminals have already started shifting to alternative tactics as organizations focus heavily on their anti-phishing campaigns. While federal agencies must continue to concentrate their efforts on awareness and education, they should be careful not to divert attention away from other security concerns. 
For example, recent data showed an uptick in remote code execution attacks on publicly facing systems and edge services. While many vulnerabilities within publicly exposed services were shored up over the past few years, the injecting and executing of code on target systems have now re-emerged in a flurry of activity during the third quarter of 2019 because cyber criminals are refocusing on areas where they believe IT teams may have momentarily let down their guard. 
Final Thoughts 
As federal agencies map out their security strategies for the new year, they must keep these trends in mind and regularly consult new data and threat intelligence to update plans as needed. Having threat intelligence is essential to establishing visibility into the efficacy of the overall security posture—especially at the federal level—not just for emerging threats, but to engage in security across the entire attack surface. The key for any system is to build recognized strategies into the security plan, starting with a risk assessment and working toward a more resilient security system for the new and repurposed threats that lie ahead.
Anthony Giandomenico is a senior security strategist and researcher and CTI Lead at FortiGuard Labs.