ESA Lets People Plan and Execute JUICE Spacecraft Missions in New Video Game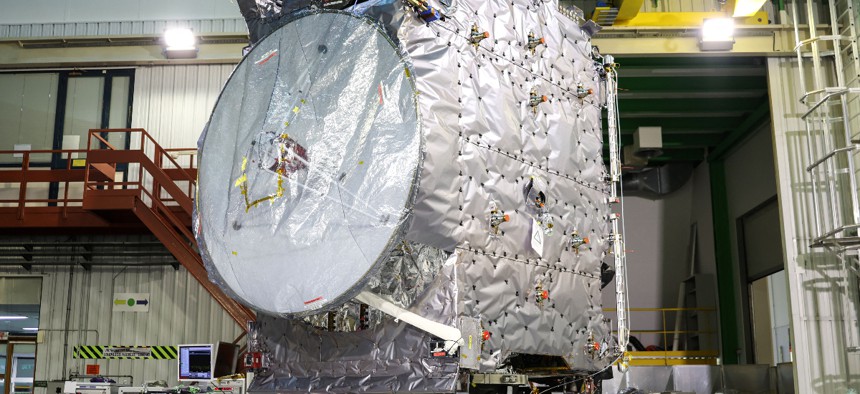 The real-life JUICE mission will be the first to study Jupiter's moons with such a high amount of detail.
Over the years, NASA has been one of the most innovative federal agencies when it comes to using video games to educate the public about space, promote its missions and foster a curiosity about STEM—science, technology, engineering and mathematics—subjects in young people. The agency has even developed quite a few video games on its own and maintains a webpage where people can find and play them.
Beyond just making games for the public to play, the agency has also tapped into video game technology for various aspects of training, such as using simulations to teach astronauts how to perform medical procedures on space missions. And it is even using advanced game-like technology, like virtual reality, to experiment with how to train astronauts for future missions, like going to Mars. So, it seems like NASA might be the undisputed king of video games as far as federal agencies go.
But now, another competitor—really a friendly rival or even a collaborator—from overseas is also getting into video games in a big way to support an important mission. The European Space Agency recently launched its Jupiter Icy Moons Explorer—or JUICE—mission, which over the next several years will study three of Jupiter's Galilean moons: Ganymede, Callisto and Europa. Those moons may have vast hidden oceans, so they could be teaming with alien life. And even if they don't house any native species, they could still eventually become a waypoint, stopover or even a good colony spot to support future human space exploration.
Beyond the fact that the JUICE mission will be the first to study Jupiter's moons in so much depth is the equally impressive feat of navigating a highly challenging flight path to get the spacecraft to Jupiter. To conserve fuel and increase how quickly the spacecraft can reach Jupiter, it will need to perform a series of complex gravity assist actions to gain momentum. It will do this by performing slingshot maneuvers around Venus and the moon, as well as making three gravity assist passes of Earth. Once transferred to Jupiter's orbit, it will need to perform several other complex maneuvers in order to effectively position itself and study each of the targeted moons. It's expected to be able to begin its actual scientific mission in October of 2029.
All of that would make for a great video game, which is why the ESA decided to team up with game developer Jundroo to make that happen. Unlike many of the NASA games, which the agency develops in-house, the ESA instead decided to partner with Jundroo because they already have one of the most advanced rocket ship simulation games on the market. Called Juno New Origins, the game challenges players to found their own aerospace company. But beyond just being a business simulation, Juno is also packed with realistic physics that lets players design and ultimately launch their own rocket ships and other spacecraft.
For example, players can adjust and configure their spacecraft or rocket engines just like real scientists and engineers would, changing things like the combustion pressure, fuel types, gimbal ranges, nozzle performance, power cycles or almost anything else. Once your masterpiece is complete, you can fly the new rocket in a realistic simulation to see if it's able to set new standards for space travel, or spectacularly crash and burn—either of which can be equally fun at times.
With such a robust and established platform, it was smart for ESA to partner with an already established game. Players now have access to the JUICE spacecraft and its Ariane V rocket in sandbox mode, so they can modify things as much as they like to try and make improvements. I learned a lot about launching spaceships just playing with that part of the simulation, like how rockets need to make gravity turns when launching to build up linear speed so that they can break orbit—they can't just go straight up into space.
But the heart of the JUICE mission in the game is a complex simulation where players are tasked with trying to get the JUICE spacecraft to visit the moons that it needs to study using the shortest flight path and the least amount of expended energy. That also means pulling off those impressive slingshot moves around Earth, the moon and Venus just to get JUICE heading towards Jupiter in the first place. Players will need to plan fuel burns, manipulate and deploy solar panels, tweak expected flight paths, calculate how to best enter and ride gravity wells, and generally do everything that the flight engineers at the ESA have likely been working on for many years.
I would like to say that I discovered a more efficient way to get JUICE to Jupiter. Sadly, I did not. In fact, I crashed it more times than not. But I did learn a lot about space travel, planetary physics and how challenging it is to try and successfully explore our solar system. Plus, it was interesting to see the fruits of a successful private and government partnership involving video games, something that NASA might explore as an alternative in the future to having to develop most of their gaming content in-house.
John Breeden II is an award-winning journalist and reviewer with over 20 years of experience covering technology. He is the CEO of the Tech Writers Bureau, a group that creates technological thought leadership content for organizations of all sizes. Twitter: @LabGuys