Gallagher Wants to Ban TikTok, But Says U.S. Ownership Could be a 'Workable Solution'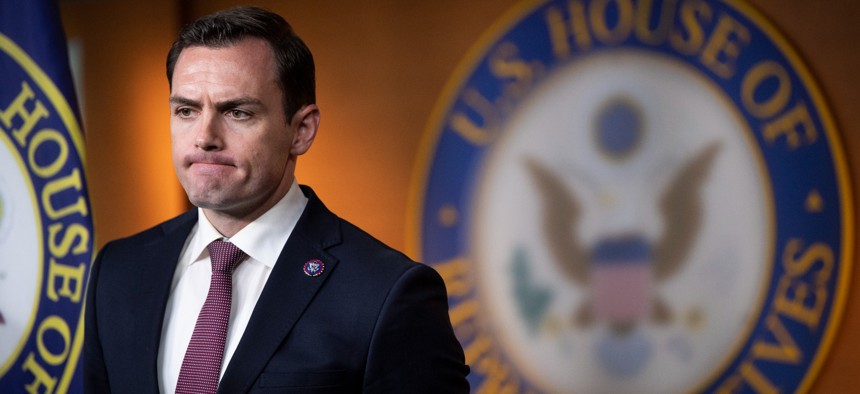 Congress passed a law to ban the popular app on federal government devices as part of the omnibus funding bill. It doesn't look like lawmakers' about national security and TikTok are waning.
Rep. Mike Gallagher (R-Wis.) says that the sale of TikTok to an American company is potentially a "workable solution" to national security concerns about the popular video-sharing application. 
Just last month, Gallagher introduced a bill with fellow Republican Sen. Marco Rubio (Fla.) and Rep. Raja Krishnamoorthi (D-Ill.) that would ban the app in the United States outright.
Gallagher, a former co-chair of the Cyberspace Solarium Commission, has been touted as the potential leader of a new select committee in the 118th Congress focusing on U.S. competition with China. 
Asked on NBC's Meet the Press on Sunday whether creating an American version of the app would be a solution, Gallagher said that selling to an American company would be a "workable solution" allowed by his bill, but the "devil is in the detail."
Gallagher likened the app to "digital fentanyl" that is "highly addictive and destructive."
"It ultimately goes back to the Chinese Communist Party. TikTok is owned by ByteDance; ByteDance is effectively controlled by the CCP. So, we have to ask whether we want the CCP to control what is on the cusp of becoming the most powerful media company in America," he said, pointing to concerns about data collection and location and keystroke tracking in addition to content moderation. "That is very troubling."
TikTok said in a statement that "there is zero truth to Rep. Gallagher's comments. The Chinese Communist Party has neither direct nor indirect control of ByteDance or TikTok."
"ByteDance is a private, global company, nearly 60% of which is owned by global institutional investors, with the rest owned primarily by the company's founders and its employees—including thousands of Americans," the statement continues.
The comments come soon after Congress included a measure in the 2023 omnibus appropriations bill to ban the video-sharing app from federal government devices, something Gallagher said he was "glad to see," but should be expanded "nationally."
The current administration has also been grappling with national security concerns about the app. The Committee on Foreign Investment in the United States, an interagency group based in the Treasury Department, is reportedly split on whether to order ByteDance to separate itself from the U.S. operations of the app, by selling it to an American company.
In late December, chair of the Senate Intelligence Committee Sen. Mark Warner (D-Va.) told FCW that he has "grave doubts" about the administration's efforts.
"We may have to take additional steps even further legislatively next year if we don't see a solution set coming from the administration," he said.
Speaking about the feasibility of a solution that would involve an American version, Gallagher said "what we don't want is some quasi-solution where there's a data center in Singapore, but the CCP and ByteDance effectively retains control… But I'm open to having that discussion with TikTok, and I really want to have that discussion with the Biden administration."