Military Kicks Off Deployment of 5G Testbeds for Augmented and Virtual Reality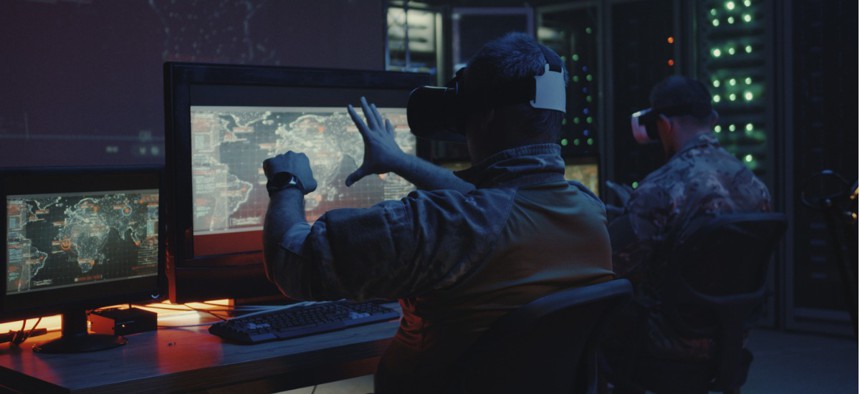 New 5G testbeds designed for military experiments with augmented reality and virtual reality—or AR and VR—training applications are beginning to be deployed by Samsung and GBL Systems Corporation at U.S. Army bases.
Officials from both companies briefed Nextgov via email on this in-the-works exploration of next-generation connection capabilities and enabled devices, which marks one piece of the recently unveiled Pentagon-led initiative to award $600 million in contracts to test 5G.
"The system was pre-assembled in Samsung's Dallas facility in May and June for some initial verification testing," GBL Systems CEO Jim Buscemi explained Tuesday. "The testbeds will be across three locations."
This platform to try out emerging technologies stems from an effort launched by the Defense Department last October. Through it, multiple Pentagon components are working with industry to trial out 5G for smart warehouses, AR and VR, and more at installations spanning multiple military bases. GBL and Samsung were contracted to support one of the largest projects among those selected. DOD's release at the time noted that their testbeds would "utilize mid-band spectrum to provide high capacity, low latency coverage" for an effort centered around Joint Base Lewis-McChord, Washington.
The first deployment of the testbeds unfolded in a Florida-based U.S. Army lab at the end of June, Buscemi confirmed. 
"We expect to have it ready for USG testing by August," he said. "Then we will add testing in the field at U.S. Army training bases early next year."
Samsung is providing devices and some of its products to enable the private network, including Galaxy 5G mobile units and a cloud-native 5G standalone core. Simultaneously, GBL is delivering testbed prototype creation and technology integration, as well as working to ensure alignment with DOD's complex requirements. The companies are collectively offering system integration.
"The AR/VR Goggles are government-furnished equipment and driven by various mobile devices, including Samsung Galaxy 5G devices," Samsung Networks Division Head of Marketing and 5G Business Development Derek Johnston said. 
VR places a physical presence in virtual worlds, while AR merges the real world with virtual objects or assets. Both are among the earliest use cases to explore the advantages that 5G capabilities can offer. Johnston noted that their ability to "deliver immersive training—and provide enhanced situational awareness or critical real-time data—has already been proven in commercial markets, like field operations."
Via this testing process, DOD will work with the companies to demonstrate and verify a secure and scalable 5G network that's explicitly intended for AR- and VR-based mission planning and training. 
Officials hope to pave the way for tech-boosted, simulated scenarios that will improve the performance of military personnel equipped with the 5G-enabled equipment. 
Army trainees who pilot some of the anticipated technology down the line will see "enhanced digital imagery overlaid on their view of the live environment, providing real-time information" of their surroundings, according to Buscemi. By viewing simulated combat entities through the goggles, soldiers could ideally gain more realistic learning experience.
"This 5G testing and experimentation will strengthen the nation's warfighting capabilities, as well as U.S. economic competitiveness in this critical field," Buscemi said.