VA Integrates Extended Reality Technology Across Sites and Treatments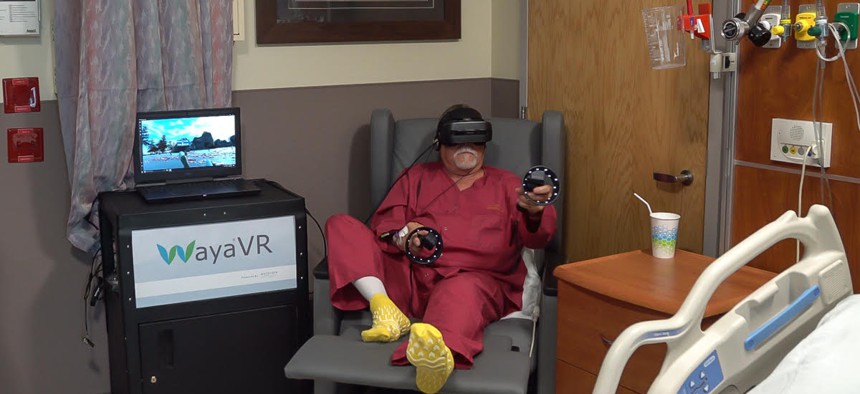 The agency is also launching a new pilot program across multiple facilities.
As it works to innovate healthcare delivery, the Veterans Affairs Department is deploying immersive, extended reality technologies that can transport patients to an art museum, the beach, or elsewhere—without ever leaving their hospital beds.
Extended reality, or XR, is an umbrella term that encompasses virtual, augmented and mixed realities. Each, in their own way, essentially extends or simulates the world humans experience with help from wearable headsets. Last fall, the Veterans Health Administration launched the XR Network, which brings these emerging technologies to veterans across the U.S. as they embark on sessions to treat challenges like post-traumatic stress disorder, anxiety, depression and chronic pain. VHA now has more than 50 sites utilizing XR, and more than 200 VA employees are actively involved with the XR Network. 
The agency this week confirmed plans to steer the network's first-ever, multi-site quality improvement pilot.
"The goal of this pilot is to determine the utility of VR in falls risk assessments, neurological risk assessment, palliative care, procedural use, acute and/or chronic pain management, and anxiety," Dr. Anne Lord Bailey, chair of the XR Network and VHA emerging tech clinical specialist, told Nextgov in an email Friday.
VA frontline staff, researchers, medical experts and external stakeholders from other agencies, and the academic and private sectors, are involved in the network, which is steadily growing. Before it, XR initiatives had been siloed across the vast organization. Broadly, those participating aim to help scale XR in the enterprise, and support facilities at every step in projects along the way. 
So far, almost 300 sessions have been completed using the technology as a sort of distraction tool to help treat patients' pain, stress, boredom and restlessness—and aiding relaxation, according to VA's recent announcement. Those suffering from pain saw a 61% drop in intensity, and 100% of participating veterans using it to help with restlessness felt a decrease in that feeling. Of those veterans, 67% exhibited an increase in calm and cooperative behavior.
"These specific sessions were completed at [the Western North Carolina VA Health Care System], in Asheville, N.C.," Bailey explained. "Additional sites have made progress on getting this into the hands of veterans, as well." VA's facility in Reno, Nevada, she said, has completed just over 200 sessions for pain, mood improvement, and functional movement.
A one-pager produced by the VHA Innovation Ecosystem shared with Nextgov offers a glimpse into that immersion therapy work unfolding in Asheville. The current program offers veterans almost a dozen virtual reality options to choose from—activities like walking in the woods or along the beach, exploring museums, shooting snowballs at targets and more. Other options are also in-development. VR immersion in some cases has helped to lower veterans' use of opioids to relieve discomfort, the document noted.
Nextgov also reviewed some de-identified patient data collected in this work, capturing hundreds of different engagements with XR and qualitative statements vets offered about their experience with the technology.
"It takes me into a different reality, everything feels more free there," one said.
Though some were skeptical that it fully relieved their pain, heaps said the experience provided a great distraction from what they were feeling before the treatment. For some, it brought back memories or relieved stress in some capacity. One veteran reported being nauseous from the experience—but many others asked for more opportunities to incorporate it into their therapies.
"That was like seeing a good movie—you don't want it to end," another noted.
The XR Network is planning an all-hands virtual meeting at the end of the month, and its first multi-location pilot, which will explore multiple inpatient and outpatient use cases.
"This pilot will be deployed across 11 different VA Medical Centers," Bailey said. They include facilities in Virginia, California, Ohio, Texas, Colorado and more. Veteran and clinician feedback will be collected regarding how the technology might support falls risk assessments and neurological risk assessment care for life-threatening illnesses, and for pain and stress relief. Those involved will employ headsets equipped with a variety of use case-based software.
"Clinicians will be trained on VR use and provided with pertinent infection control guidance, templates for standardized documentation in the patient's health record, and a guide to help answer questions related to running a VR pilot at their facility," Bailey said.