Army Research Lab Announces Acquisition of Two New Supercomputers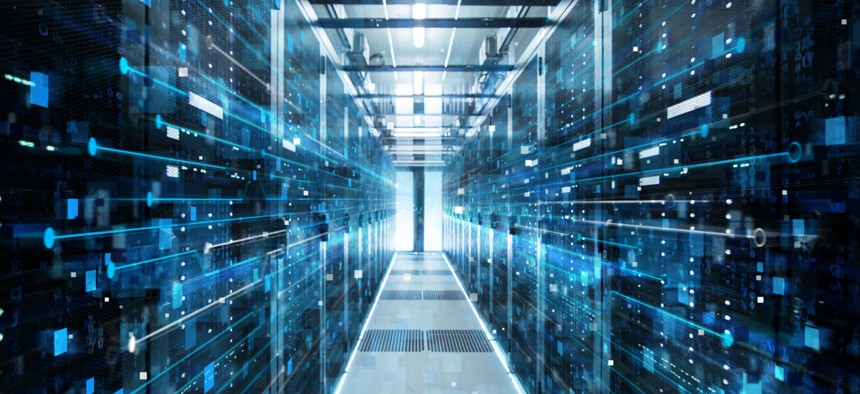 They're named Jean and Kay to celebrate the legacies of two computing pioneers.
Two new supercomputers are set to join the Defense Department's stock of sophisticated machines. 
The Army Research Laboratory, which houses the Pentagon's Supercomputing Resource Center, announced the fresh acquisition this week. Among other systems, the new and advanced computers will push the center towards establishing a cumulative capability of more than 23 petaflops of performance.
Defense officials anticipate the supercomputers will enter production service in "the mid-fiscal 2021 timeframe," the lab's announcement notes.
The systems are named Jean and Kay, as an homage to Jean Jennings Bartik and Kathleen "Kay" McNulty Mauchly, who are considered by Defense to be "computing pioneers as part of the original team of programmers of the Electronic Numerical Integrator and Computer," or what the release called the world's first general purpose computer. They'll follow the center's Betty system, another that was previously installed and named in honor of Frances Elizabeth "Betty" (Snyder) Holberton, who also served on that early and innovative team of programmers. 
"Jean and Kay will allow ARL to support many of DOD's most significant modernization challenges to include digital engineering and other emerging workloads," ARL Defense Supercomputing Resource Center, or DSRC Director Matt Goss explained. "By adding specialized technology to augment traditional high performance computing with data analytics, these machines will serve as a springboard on which DOD scientists can make game changing discoveries."
Both systems are Liqid Computing platforms with 48 core Intel XEON processors. The release confirms they are "integrated with the largest solid state file systems the DOD has deployed to date."
The supercomputers also present a bit of a refresh via Defense's High Performance Computing Modernization Program, or HPCMP. That program generally offers billions of computer core hours annually to the Pentagon to support research and development, as well as testing of military systems and platforms. During the pandemic, HPCMP shifted many of its capabilities to help U.S. armed forces better confront COVID-19.
Now, Jean and Kay will be put to use to help further address the department's most daunting data-intensive computational challenges, push forward insiders' use of artificial intelligence and machine learning tools—and more.
ARL's release did not clarify the overall cost of the new systems, but in it, computer scientist Bob Sheroke said that since HPCMP was launched in 1992, it has "invested over $1.2 billion at the ARL DSRC, which has maintained the center's posture as one of the program's primary HPC centers and one of the top supercomputer sites in the national supercomputing infrastructure."