Army Picks Fitbit to Develop Wearable Presymptom COVID-19 Detectors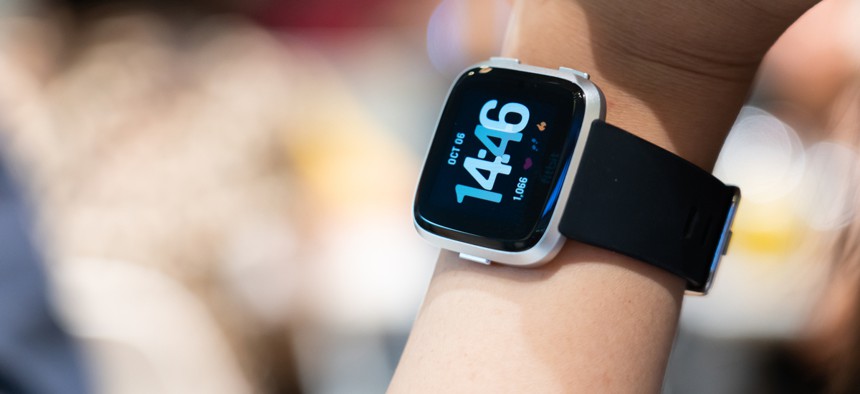 Soldiers might soon be getting Fitbits that can alert them to a COVID-19 infection before symptoms start showing, per a new contract award through the Army-backed Medical Technology Enterprise Consortium.
In May, the consortium, on behalf of the Army Medical Research and Development Command, released a request for project proposals "to develop a wearable diagnostic capability for the pre‐/very early‐symptomatic detection of COVID‐19 infection."
The Army, in search of mid-development solutions that already combined working tech and algorithms in a proof-of-concept prototype, put up $25 million for up to 10 projects. Thursday, wearable fitness tracker company Fitbit announced it was the recipient of one of those awards for $2.5 million.
"We believe Fitbit is uniquely positioned to deliver on USAMRDC's goals based on our deep wearables expertise and established user base of nearly 30 million users, our early research in machine learning algorithms for detection of pre-symptomatic COVID-19, and our production and manufacturing capabilities to scale solutions and make them available quickly," Amy McDonough, general manager and senior vice president of Fitbit Health Solutions, said in a release.
Since May, Fitbit engineers have been working on an algorithm to predict COVID-19 infection ahead of symptoms and tested the system on more than 187,500 volunteer users in the U.S. and Canada, confirming more than 2,700 cases.
"Based on the findings of our study, we can detect nearly 50 percent of COVID-19 cases one day before participants reported the onset of symptoms with 70 percent specificity," Conor Heneghan, Fitbit's director of research for algorithms, wrote in an August blog post about the study.
The study also showed that the usual vital signs—breathing rate, resting heart rate and heart rate variability—can reveal the early onset of COVID-19 and "are best tracked at night, when the body is at rest."
"Our research shows that our bodies start to fight the disease before more visible symptoms appear and we believe Fitbit can reliably detect these signals, giving us an incredible opportunity to get ahead of this virus and help alert people that they could be sick before they unknowingly spread it to others," McDonough said. "This award will help advance this important research."
The award does not mean soldiers will be wearing COVID-19-tuned Fitbits tomorrow. The agreement moves the research into the next phase, which will include teaming with Northwell Health's Feinstein Institutes for Medical Research, "the largest health care provider and private employer in New York State," according to the release. Northwell Health employees will be getting Fitbits loaded with the algorithm and receive regular COVID-19 tests to verify the accuracy of the wearables.
"Based on our learnings, we aim to work together to advise other large-scale health systems on this approach to minimizing the spread of COVID-19," Karina Davidson, senior vice president at the Feinstein Institutes, said in the release.
"The Department of Defense seeks rapid, accurate wearable solutions to identify and isolate pre-symptomatic COVID-19 cases and help track and prevent the spread of the virus," Commander Christopher Steele, director of the USAMRDC Military Operational Medicine Research Program, said in the release. "Wearable technologies, valuable data metrics and potentially rapid scaling solutions for broad availability, create ideal conditions for military and industry partnerships in the consumer wearables space."
This effort is separate from one spearheaded by the Defense Threat Reduction Agency, which is partnering with Garmin and Oura to develop wearables that use the agency's own pre-symptom illness prediction algorithm.