Air Force Seeking Research on Electronic Intelligence Tech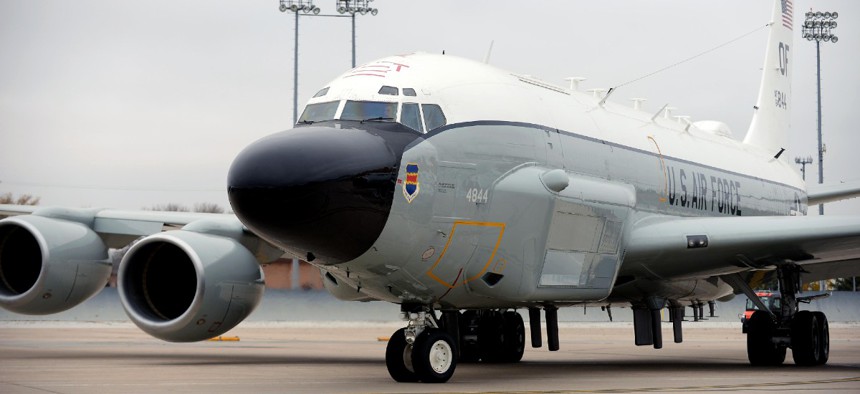 The Air Force Research Lab is looking for white papers outlining new technologies and methodologies for signal processing. 
The Air Force is looking for new ways to process electronic intelligence signals used to detect threats in support of its reconnaissance platforms, according to a broad agency announcement published Monday. 
This research will help the Air Force determine strategies to keep up with "increased complexity and volume of the [electronic intelligence] battlespace" and optimize the overall process of getting intelligence gathered from intelligence, surveillance and reconnaissance missions—which include activities like drone surveillance—to analysts for interpretation. 
The BAA asks for higher risk research, development, test and evaluation related to threat detection and prosecution at the Air Force Research Lab's Information Directorate in Rome, New York. The AFRL is looking for "new and novel" methods for signal processing, Charles Estrella, the point of contact for the BAA, told Nextgov in an email. 
Estrella clarified the agency is looking for technology starting at readiness levels 2-3 and ending at levels 5-6. These systems should be hardware agnostic and have unlimited data rights, he added. This announcement is not meant to address development of antenna or receiver systems. 
The technology requirements description outlines a need for technologies and techniques that "demonstrate automated, real-time signal detection, processing, exploitation, and reporting capabilities." The wishlist in the BAA includes five specific topics for research:
Enhancement of electronic intelligence signal processing software and hardware.
Improvements for collection system efficiency, for both single and multi-platform collection.
Development of technology that can detect and exploit emerging electronic intelligence signals and systems.
Enhancements to databases using multi-source, multi-platform, real-time collection systems to increase effectiveness.
Development of techniques to make post-mission intelligence processing more timely and accurate. 
The announcement is a follow- on to a previous request for white papers put out in September 2018. The projected funding timeline in the BAA runs through 2025, and the agency estimates approximately $49.9 million in funds will be obligated. According to the document, Air Force anticipates $10 million in funding will be obligated for the project in fiscal year 2021. Anyone interested in receiving funding for 2021 should submit white papers by the end of this month.