Agencies Have Spent At Least $2.6B on COVID-19 Supplies and Services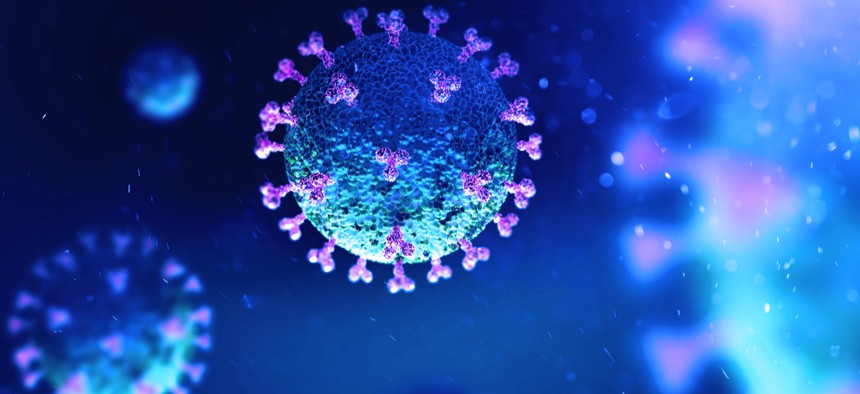 That number only reflects properly tagged procurements—real dollars spent in response to the coronavirus outbreak are significantly higher.
The federal government has spent more than $35.6 billion in the last two months, at least 7.3% of which was specifically related to agencies' coronavirus response.
According to figures from the Federal Procurement Data System pulled and cleaned by analysts at The Pulse of GovCon, between February 1 and April 2, agencies tagged nearly $2.6 billion in spending with the National Interest Action code "COVID-19-2020" and variations, such as "covid-19," "covid19," and "coronavirus."
Breaking down the numbers by goods purchased, agencies spent the most on masks at more than $322 million. The next largest spending pools were ventilators at $61.6 million, laptops and computers at $9 million, and test kits at $5.7 million.
Agencies also spent significant amounts on medical supplies ($5.5 million), teleworking products and services ($3.2 million), disinfectants and cleaners ($2 million) and hand sanitizer ($1.1 million).
The Pulse analysts also found minor amounts of COVID-19 tagged spending on cybersecurity ($20,000) and gloves ($3,400).
Those numbers have climbed significantly in recent weeks. Spending data compiled from February 1 to March 22 showed only $300 million categorized as COVID-19 spending, less than agencies spent on masks alone in the updated figures.
However, Pulse analysts were confident these numbers do not tell the whole story on coronavirus-related spending.
"We believe it represents a portion of the work that has been awarded to date," they said. "Many contracting offices supporting COVID-19, particularly those relocated to the disaster recovery area, do not have access to their normal contract writing systems and thus have not been able to populate FPDS-NG contemporaneously with the contract awards they have made. Others have not had time to enter data due to the tempo of operations."
The analysts said more precise figures are becoming available all the time and, as agencies' responses become less harried, "the accuracy in terms of total contracts awarded, and dollars obligated, will increase."
To get a better idea of how large those numbers might be, The Pulse compiled matching spending data for those goods and services whether the purchases were properly tagged or not.
For instance, under the umbrella of all $35.6 billion in obligations from February 1 through April 2, $393 million was spent on masks, $70 million more than was categorized. However, it is possible those purchases were not intended to support the COVID-19 response.
Similarly, total spending on ventilators reached $116 million—a difference of $54 million over COVID-tagged spending; teleworking products and services jumps $27 million to $30.5 million total; hand sanitizer increases almost $8 million to a total of $9.1 million; spending on disinfectants rise $7.9 million to a total of $9.9 million; and purchases on gloves increased to $4.7 million.
The Health and Human Services Department was responsible for more than a quarter of coronavirus-specific spending, spending nearly $720 million, or 28% of COVID-19 tagged procurements. The Veterans Affairs Department was next, spending $149 million, or 6% of the total, followed by the Small Business Administration with $68 million (3%), and NASA with $31 million (1%).
In total, 13 agencies have spent more than $1 million as of April 2.
The analysts also noted the Defense Department reports spending data on a 90-day delay, meaning the figures do not include military spending.
Janssen Pharmaceuticals remains the top vendor, collecting close to $605 million in obligations since February 1, approximately 24% of pandemic response spending. RER Solutions, a business consultancy, is the next largest vendor in obligated dollars at $50 million, followed by SAIC with $45 million and Denali Holdings at $36 million.
As of April 2, 10 federal contractors had been awarded more than $10 million and 48 had crossed over the $1 million mark.