Special Delivery: DOJ Charges Two Men for Delivering Prison Contraband with Drones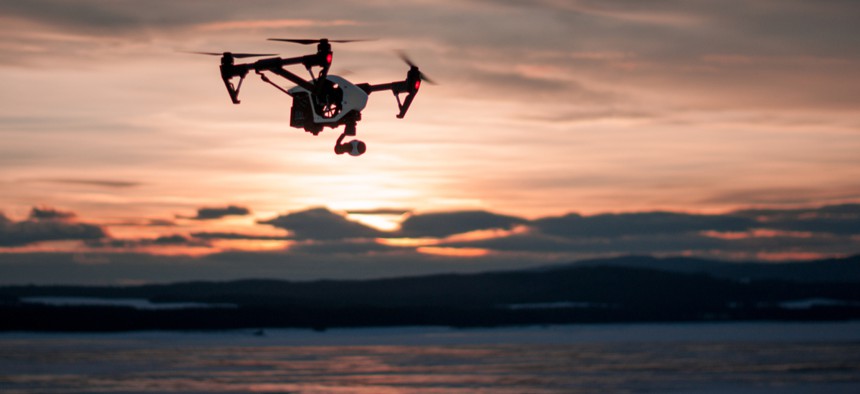 The Justice Department recently charged two New Jersey men with conspiring to use drones to smuggle drugs, cell phones and other contraband into a federal prison at Fort Dix. At the time of the agency's initial announcement Friday, one of the two men remained at large, but on Tuesday, Justice unveiled the second surrendered to authorities. 
The department's U.S. Attorney's Office for the District of New Jersey said in a statement that the two men, Nicolo Denichilo of Jersey City and Adrian Goolcharran of Union City, were each charged with counts of conspiracy and for providing contraband to an inmate.
According to the agency's announcement, special agents of Justice's Office of Inspector General "obtained evidence of at least seven drone deliveries since July 2018 containing contraband meant for inmates at Fort Dix." 
A complaint filed in the U.S. District Court for the District of New Jersey indicated that in the early morning hours on or around July 26, 2018 an officer at Fort Dix "observed a drone hovering" over one of the prison's housing units. When officers "responded to the roof," they recovered a plastic bag filled with a range of contraband including 35 syringes, 15 cellphones, 30 phone chargers, a variety of what appeared to be drugs and pills, and a box of Just for Men hair color. 
Shortly after, an officer patrolling near a food service warehouse at the prison observed another black garbage bag that contained more cellphones, 105 packages of tobacco and two packs of matches. And approximately one hour after officers first saw the drone, officers "observed a fishing line hanging down from the rooftop of another housing unit in the prison," and were able to find and secure a drone with a fishing line attached from that rooftop. 
Since then, authorities said "there have been multiple drone and suspected drone drops at Fort Dix," and they outlined specific incidents that occurred on April 16, Sept. 26, Oct. 1, and Nov. 20 of 2019. 
"Contraband that has been seized by authorities pursuant to the intercepted drone drops into Fort Dix includes marijuana, steroids, more than 160 cellphones, 150 SIM cards, 74 cellphone batteries and chargers, 35 syringes and two metal saw blades," officials said in the statement. "Denichilo's fingerprint was obtained from a plastic bag recovered from one of the drone drops at Fort Dix. Goolcharran's DNA was recovered from electrical tape found on the drone used in a July 2018 drop."
Officials also noted a range of other evidence they captured potentially tying the two men to the case. They obtained cellphone records revealing how Goolcharran coordinated the drops with others, and said "on the same day as a drone drop in April 2019, local police in the area conducted a vehicle stop on Denichilo and Goolcharran less than five miles from Fort Dix." 
All the efforts culminated up to March 12, when law enforcement agents were tipped off by Fort Dix officials and were able to approach "Denichilo and another individual at a launch site near Fort Dix, minutes after" prison officials witnessed a drone flying over a housing unit on-premise. Both individuals fled, but Denichilo was apprehended hiding in a ditch nearby (and Goolcharran turned himself in days later). During the incident on March 12, officials found an inmate close to the drone drop area in possession of many cell phones, chargers and SIM cards.
"Agents also seized an SUV near the launch site outside of the prison that contained the drone in the backseat," officials said. 
Of those filed against the two men, the conspiracy count carries a maximum penalty of five years in prison and maximum fine of $250,000 and the contraband smuggling count carries a maximum penalty of one year in prison and $100,000 fine.