The Defense Department Wants to Use the Atmosphere as a Sensor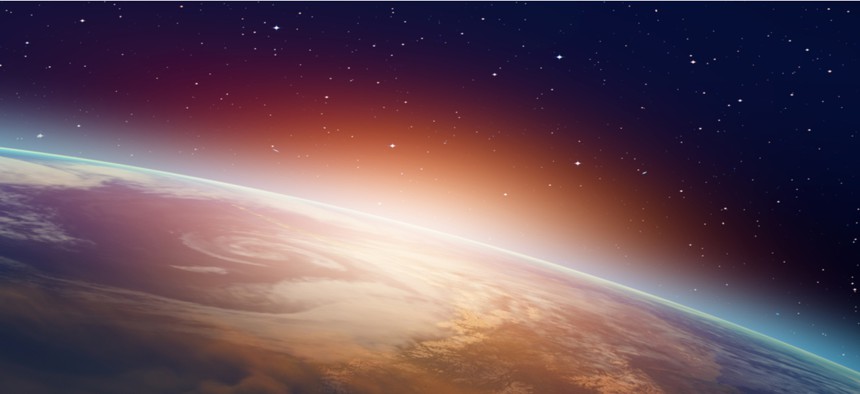 Defense researchers suspect that the atmosphere could help detect impending disturbances.
The atmosphere is critical to life on the planet Earth, encompassing the air we breathe, blocking out life-threatening ultraviolet radiation from the sun and providing a barrier against the harshness of outer space. 
Now, the Pentagon's research arm aims to explore another use for the atmosphere: Its viability to act as a sensor that can pinpoint potential disruptions to the planet.
According to an announcement Thursday, the Defense Advanced Research Projects Agency's Defense Sciences Office will soon hold a proposers day to initiate its new Atmosphere as a Sensor—or AtmoSense—program.
"AtmoSense seeks to develop the scientific understanding to exploit signatures for geolocation of natural sources that disturb the Earth's atmosphere, which are fundamentally different than those relied upon by direct observation approaches," officials wrote.
The research agency recently announced separate plans to tap into the atmosphere to directly extract potable drinking water for troops, but the applications of the latest solicitation are not limited to uses by military personnel. The agency offers up few details about all it aims to accomplish through this initial notice, though the solicitation indicates the proposers day will likely be followed by a broad agency announcement sometime in February. Still, officials do explain that through the program, they "will attempt to understand the fundamentals of energy propagation from the ground to the ionosphere," which extends about 50 to 620 miles above the planet, "in order to determine if the atmosphere can be used as a sensor." DARPA said it'll need to produce both new sensing modalities and new modeling and simulation capabilities to ultimately help determine the concept's feasibility.
Air Force Maj. C. David Lewis, program manager in DARPA's Defense Sciences Office told Nextgov that the main sources the agency is specifically interested in exploring through AtmoSense are meteorological and geophysical phenomena that disturb the Earth's atmosphere. Those sources could range from earthquakes, tsunamis, and volcanos, to hurricanes, thunderstorms, and tornados, as well as sources that originate outside of the atmosphere like asteroids and comets. In this light, propagating energy that DARPA studies could reveal new insights about the original source of the disruption. 
"We don't fully yet know what the atmosphere could possibly sense and that is the exciting part!" Lewis said.
The proposers day will be held in Arlington on Feb. 14. Those interested in attending must register online by Feb. 12.
Editor's Note: This article was updated with a comment from DARPA.