Lawmakers Propose Bill Limiting Government's Use of Facial Recognition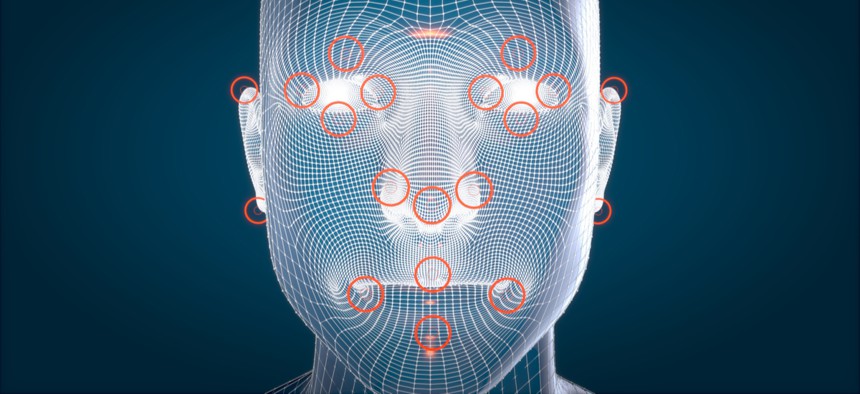 The legislation would require law enforcement agencies to obtain a warrant before conducting facial recognition surveillance.
A bipartisan pair of lawmakers on Thursday introduced legislation that would force law enforcement agencies to obtain a warrant before using facial recognition software to track American citizens.
The bill comes as the first concrete proposal to limit law enforcement's use of the controversial tech, which has raised privacy and civil liberties concerns among both Democrats and Republicans in recent months.
The Facial Recognition Technology Warrant Act would require law enforcement agencies to prove probable cause and obtain a warrant before using facial recognition systems to surveil suspects, mirroring the legal procedures used to authorize other intrusive activities like cell phone searches, wiretaps and geotracking. The rule would apply to any surveillance activities lasting more than 72 hours, though it includes exemptions for particularly urgent cases.
The bill, sponsored by Sens. Chris Coons, D-Del., and Mike Lee, R-Utah, would place a 30-day cap on all warrants for using the tech. It would also require law enforcement to "minimize the acquisition, retention and dissemination of information" on people outside the purview of the court order.
"Right now, there is a lack of uniformity when it comes to how, when and where the federal government deploys facial recognition technology," Coons said in a statement. "This bipartisan bill strikes the right balance by making sure law enforcement has the tools necessary to keep us safe while also protecting fundamental Fourth Amendment privacy rights."
Facial recognition has become a favorite tool of federal law enforcement agencies like the FBI, Customs and Border Protection, and Immigration and Customs Enforcement, though today there are virtually no regulations on how they can use the tech. As such, agencies have compiled massive databases of biometric information on individuals both in the U.S. and beyond its borders. 
Today, the FBI can run facial recognition searches on some 640 million people and the Homeland Security Department's biometrics database contains more than 250 million individuals. The agencies also engage in partnerships that allow them to share data amongst themselves and with law enforcement groups at the state and local level, creating surveillance capabilities that many fear are ripe for abuse.
And because facial recognition software is less accurate for women and people of color, critics also worry the tech could perpetuate discrimination in the criminal justice system. 
Beyond warrants, the bill would also mandate law enforcement agencies work with the National Institute of Standards and Technology to reduce gender, racial and age disparities in their tech. NIST is expected to release a report on demographic differences in facial recognition in the coming months.
Lawmakers introduced the bill the same day the civil liberties group Fight for the Future conducted a facial recognition demonstration on Capitol Hill. Using Amazon software, activists scanned nearly 14,000 faces around congressional buildings, identifying—and mismatching—multiple journalists, lobbyists and lawmakers.
In a post about the demonstration, the group came out against the bill, saying it "contains gaping loopholes that authorize government and law enforcement to deploy facial recognition surveillance in all kinds of abusive ways."