Government Blockchain Spending to Increase Big by 2022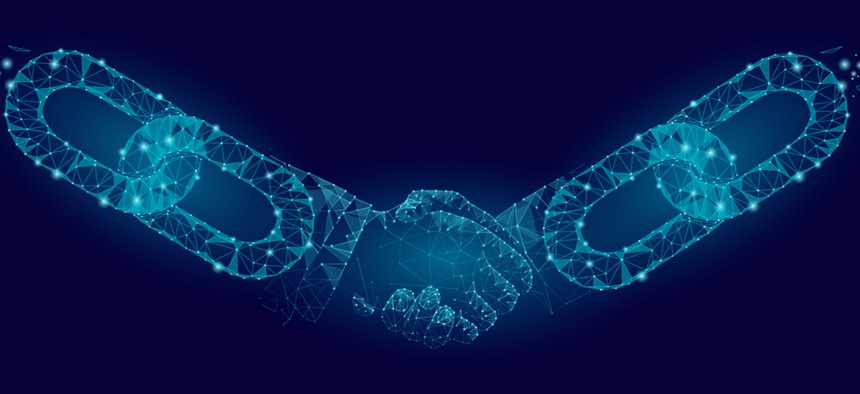 Blockchain integration is in the nascent stages for federal agencies, but it's expected to grow rapidly in the coming years.
The federal government's spending on blockchain will likely increase from $10.7 million in 2017 to $123.5 million in 2022, according to a report from IDC Government Insights released Wednesday. Blockchain spending among state and local governments is also expected to rise, from $4.4 million in 2017 to $48.2 million in 2022.
Though federal civilian agencies spent less than $20 million on blockchain in 2017, they'll likely spend more than $80 million on the budding technology by 2022. The Defense Department also spent less than $20 million on blockchain in 2017, but may spend more than $40 million by 2022.
"We believe asset management, identity management, and smart contracts will be the leading blockchain solutions for government," Shawn McCarthy, IDC's research director said in a statement. "Early spending will focus on supply chain and asset management solutions, while spending in later years will expand to include more identity management and complex financial transactions."
Of all the technological areas related to the government's blockchain spending, information technology is the largest—reaching $90.4 million by 2022. Software will leap from $2.1 million in 2017 to $31.6 million in 2022 and hardware will increase from less than a million to $1.5 million over the same time frame.
The report also predicts that blockchain will become a reference point in trade legislation going forward.
"It can be used to identify origins of shipments, quality of goods, tariffs paid, and more," the report states. "A few years from now, blockchain is likely to be implemented as a standard feature for some types of authorized international trade and also as a standard for many types of government procurement."
But while more and more government insiders are becoming increasingly outspoken in their support of the new technology, the government will also probably face "unique challenges" in implementing it.
"Most industries chose one of two approaches for their implementation: private blockchain to ensure security or public blockchain to ensure transparency," the report said. "But neither of those is a perfect fit for government, which often needs to be both secure and transparent. Thus a hybrid blockchain approach may find a receptive audience at government agencies."
IDC's forecast excluded cryptocurrency investments because "governments are spending very little money of cryptocurrencies at this time."