A Toxic Fuel Leak on Boeing's Spacecraft Will Ground U.S. Astronauts a Little Longer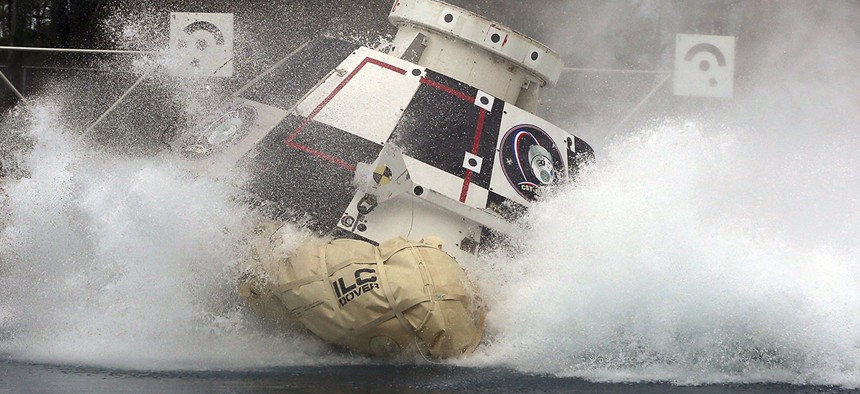 Dripping toxic chemicals fouled an attempt to test the rocket engines on a Boeing spacecraft designed to replace the space shuttle and carry astronauts to the International Space Station next year.
The anomaly validates warnings that neither Boeing nor its rival SpaceX will be able to field operational spacecraft in time to maintain a steady flow of astronauts to the orbital lab next year, which NASA officials say could put the station in danger. The U.S. space agency is paying the two private companies more than $6.5 billion to develop low-cost, reliable space transportation for people.
Boeing is currently developing a space capsule called the CST-100 Starliner to fly into space on top of an Atlas V rocket booster. Spacecraft are designed to separate from their rocket booster in an emergency, allowing human passengers a chance to escape if something goes wrong.
The Starliner is equipped with four small rocket engines built by Aerojet Rocketdyne. They are mounted on the bottom of the spacecraft called the "service module" that contains the technical infrastructure to support the crew inside the capsule. In May, Boeing brought the service module to a missile-test facility, aiming to demonstrate that it could carry the astronauts away from an emergency.
It's about to get hotter in New Mexico!
The #Starliner team moved the service module onto the test stand ahead of its first @WSMissileRange hot fire test. pic.twitter.com/8xCIpzeXcH

— Boeing Space (@BoeingSpace) May 23, 2018
Ars Technica first reported that something went wrong following a June test. Boeing confirmed that a fuel leak developed after a successful firing of the engines. The fuel used in these engines, hydrazine, reacts violently when exposed to certain catalysts. That allows engineers to design a fairly simple, compact engine, yet hydrazine itself is extremely toxic and volatile—the last thing you want leaking on a human-rated spacecraft.
Boeing said it believes it understands the cause of the leak and how to fix it without re-designing the entire spacecraft. When asked about the status of a full test of spacecraft's escape ability before news of the fuel leak broke, a Boeing spokesperson said the company was "currently evaluating possible dates for the Pad Abort Test."
As of April, NASA estimated that Boeing would be certified to fly astronauts in December 2019, a month after the last U.S. astronauts return from the International Space Station on-board a Russian spacecraft—and more than two years after Boeing's initial target.
Before then, Boeing must fly uncrewed and crewed demonstration flights, as must SpaceX. The first crewed flight tests are scheduled for the end of the year, and most people familiar with the program expect further delays. In early August, NASA is expected to announce which of its astronauts will fly first onboard the new spacecraft.