Navy Wants Experimental Tech to Streamline Operations in Port and at Sea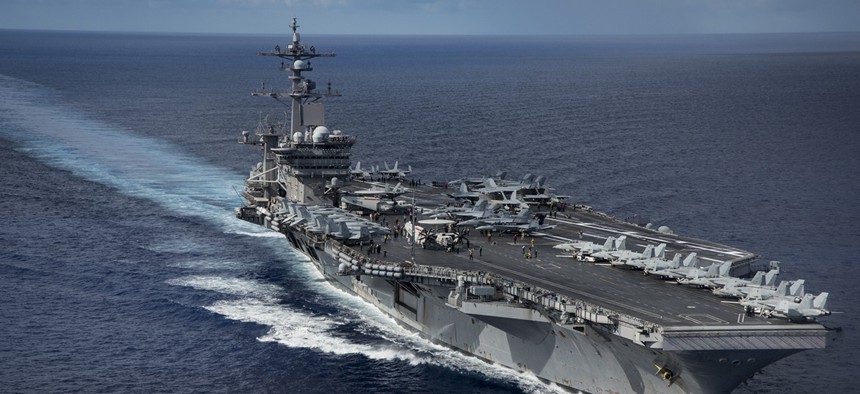 SPAWAR is using its other transaction authority to solicit prototypes through the TReX consortium.
The Navy is looking for bleeding-edge technologies to improve its business systems and is using its other transaction authority to solicit ideas.
The Space and Naval Warfare Systems Command, or SPAWAR, announced June 14 its intention to use the Training and Readiness Accelerator, or TReX, consortium to manage the solicitation. On or about June 25, TReX will release the full solicitation requirements to its members, which includes "the entire innovation ecosystem including companies from—startups to Fortune 1000—universities, technology incubators, investors, public and private laboratories and non-profits," according to its website.
The solicitation will cover four areas under the Naval Operational Business Logistics Enterprise, or NOBLE, family of systems, with the overall goal of improving the Navy's material and shore readiness—including "reduced failure rate, improved repair time, improved resupply time and accuracy, affordable sustainment, mission capable and secure facilities"—and user experience—including "simplified and expedited decision making, integrated and dynamic work prioritization, digitally enabled training and collaboration and easy and intuitive user experience/interface."
The solicitation focuses on three core areas, with an overarching integrated data environment stretching across the enterprise. The core areas include the Naval Operational Supply System, or NOSS, the Naval Aviation Maintenance System, or NAMS, and the Naval Operational Maintenance Environment, or NOME.
According to the solicitation, NOSS will provide planning, requisitioning, procurement, inventory control, logistics services and financial accountability of all material and property across all commodities. NAMS will provide Naval aviation—U.S. Navy and U.S. Marine Corps—with a deployable, scalable and streamlined tactical maintenance solution to maintain the operational availability of deployed and deployable aircraft. NOME will provide the Navy with a deployable, scalable and streamlined tactical maintenance solution afloat to maintain the operational availability of deployed and deployable ships and submarines.
Along with the core areas, SPAWAR is also looking for an integrated data environment that can work across platforms. While the data environment will have to work with each individual system, it is being treated as a separate solution area under this solicitation.
The data environment will need to be hosted in a government-certified cloud with an impact level rating of 4/5, which cover sensitive controlled unclassified information.
"The cloud environment combined with a common IDE will provide a highly available and reliable commercial solution," the solicitation states. "The environment will also be capable of hosting and integrating applications, data, systems and services planned to be transitioned to modern commercial technologies, and accomplish this migration of government-owned applications with no degradation of services."
SPAWAR will conduct the solicitation in two phases. The first phase consists of submitting white papers for each solution—vendors can bid on any or all of them—with a tentative deadline set for July 24. SPAWAR will then down-select from that pool for Phase II, which will consist of two-hour, in-person demos in Orlando, Florida.
Interested parties must be a part of the TReX consortium in order to bid.