TSA Issues First Contract Call Through Homeland's Silicon Valley Program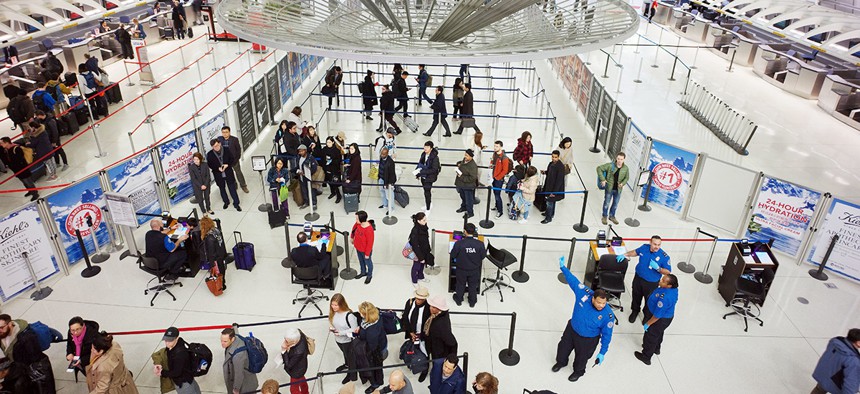 The Transportation Security Administration needs low-key, automated screening tools and is asking non-traditional vendors for ideas.
The Homeland Security Department is looking for new ideas in airport security and screening and wants to know what innovations small startups have to offer.
Homeland's Science and Technology Directorate and the Transportation Security Administration issued a call last month for innovative ideas for automating baggage screening for potentially dangerous objects. The call was issued through the Silicon Valley Innovation Program using the agency's other transaction authority, a procurement process outside the Federal Acquisition Regulation.
"Specific screening capabilities include detection of explosives threats in air cargo, on passengers and in passenger belongings," according to the solicitation on FedBizOpps. "TSA is very interested in those solutions that facilitate adaptive image interpretation and provide object recognition capabilities that recognize and adapt to changes in objects, materials and other aspects of passenger property."
The call also has a secondary intent: quietly resolving alarm scenarios with minimal intrusion to the passenger or the screening process.
TSA is primarily looking for solutions focused on passengers' belongings, whether on their person, in carry-on luggage or in checked baggage.
Ideal solutions would meet five criteria:
Must be deployable to any screening hardware and must be able to be refined and improved once fielded.
Must properly display and alert human screeners to the risk elements or objects.
Should be low effort to deploy onto hundreds of machines nationwide to rapidly respond to emerging threats.
Must comply with all legal, regulatory, privacy and civil liberties requirements.
Should consider the user experience and overall cognitive burden in the identification of prohibited items, risk elements or other items.
The competition is open to small, non-traditional businesses, as is the standard for OT contracts. Specifically, that means companies that have fewer than 200 employees and whose government contracts over the last 12 months total less than $1 million.
Interested, eligible companies would be able to secure up to $800,000 to develop their product over four phases, from prototype to production.
While TSA has issued many OT contracts over the years, this is the first call the agency has done in conjunction with the Silicon Valley Innovation Program.
"TSA is excited to partner with the Silicon Valley Innovation Program for the first time and engage with the startup community," said TSA Administrator David Pekoske. "The current threat environment requires a proactive and agile agency that coordinates closely with partners in government and industry. This is key to identifying the very best ideas for increasing security while easing the passenger experience."
TSA and the Science and Technology Directorate will host an industry day on May 4 at the Silicon Valley program headquarters in Menlo Park, California.