10 Drone Programs Get Federal OK To Break The Rules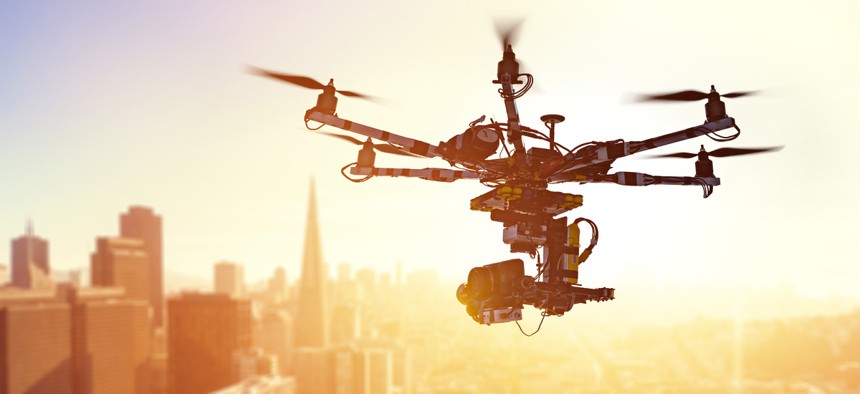 The public-private partnerships will test the use of drones in heretofore forbidden conditions, under the oversight of the Transportation Department and FAA.
Ten public-private partnerships from across the nation have been chosen to test the use of unmanned aerial vehicles—commonly known as drones—in potentially useful ways that are currently illegal under federal law without a waiver.
Last year, President Trump ordered Transportation Department and Federal Aviation Administration officials to accelerate the use of drones nationwide while ensuring safety and security. The department started the Unmanned Aircraft Systems Integration Pilot Program in an effort to help state, local and tribal governments connect with private drone operators as they find innovative ways to use the technology. The program encouraged applicants to submit proposals for test cases that would obtain data that could be applied to broader use cases, with the understanding that Transportation and FAA would waive certain restrictions to make these programs viable.
Almost 150 applications from local governments were submitted by January. Transportation Secretary Elaine Chao announced the 10 public-private partnerships during a live event Wednesday that included presentations from each of the chosen participants, with local leaders and legislators, their federal counterparts and private-sector innovators thanking the administration and touting their programs as part of the larger development of a drone ecosystem.
The pilot programs "will test the safe operation of drones in a variety of conditions currently forbidden. These include operations over the heads of people, beyond the line of sight and at night," Chao said. "Instead of a dictate from Washington, this program takes another approach. It allows interested communities to test drones in ways that they're comfortable with."
Chao also noted the program aligns with the department's top three priorities: safety, addressing and repairing infrastructure, and preparing for the future. The secretary said the last goal will be achieved by "engaging with new technologies to ensure safety without hampering innovation."
The program also addresses two major White House priorities: strengthening the economy and creating new jobs,  she added.
The program leads will now work with Transportation and FAA to refine their plans and develop memorandums of agreement on how the projects will operate. While the programs will get support from both agencies, they won't receive federal funding.
The Programs:
Choctaw Nation of Oklahoma, CNN and Green Valley Farms Living Laboratory
The partners will test the use of drones for inspecting infrastructure, agricultural uses and ensuring public safety beyond the line of sight of the drone operator and at night. The program will conduct an "aggressive" 90-day pilot. Program officials said the data they collect should be applicable to a "wide range of operations and geographical locations."
City of San Diego, California
San Diego's program will focus on the use of drones for food delivery and border security. The plan will integrate the city's indoor testing facility, AT&T's FirstNet communications network and local 4G and 5G networks to test drone tracking and interoperability issues.
Virginia Innovation and Entrepreneurship Investment Authority, Virginia Tech and NASA
The partnership between Virginia's Innovation and Entrepreneurship Investment Authority, Virginia Tech and NASA will also focus on package delivery in both rural and urban areas. The tests will gauge progress on new technologies for detecting and avoiding obstacles—such as other drones—identification and tracking and mapping systems, as well as cybersecurity.
Kansas Department of Transportation
The state of Kansas plans to test a statewide unmanned traffic management system to enable drones to be used for agricultural purposes beyond the line of sight of the operator. In a fact sheet, FAA said the program leaders have "a robust community involvement plan that supports the diverse operations that are planned."
Lee County Mosquito Control District, Fort Myers, Florida
Lee County's program will use a 1,500-pound drone to monitor and control the mosquito population and will operate under all three of the restrictions lifted by the pilot program: beyond the line of sight, at night and directly over people at low altitudes.
Memphis-Shelby County Airport Authority, FedEx and Agricenter International
In a meta example, the Memphis-Shelby County Airport Authority will use drones to surveil and support other aircraft. The program will be used to inspect FedEx shipping planes and do general security surveillance of the airport perimeter. To accomplish this, the drone control system will have to be integrated with the manned air traffic control system. "Data collected would not only serve UAS but work with normal air traffic, truly advancing integration," the fact sheet states.
North Carolina Department of Transportation
North Carolina plans to install drone delivery stations in communities in order to test their viability in such settings and enable local businesses to try out the delivery system. The program will include drones flying beyond the line of sight, at night and over people.
North Dakota Department of Transportation
In perhaps the broadest application, North Dakota's program will test beyond-line-of-sight and nighttime capabilities in rural and urban areas, with a focus on external systems, aircraft system technologies, training requirements and processes and procedures. The current plan incorporates several industries, including infrastructure inspection, agricultural monitoring, media reporting and emergency response.
City of Reno, Nevada
Reno officials said their program could save 28 to 34 lives per year by using drones to deliver defibrillators and other time-sensitive, life-saving devices during emergencies. Once the pilot is completed, officials expect the model to be easily scalable to other cities.
University of Alaska-Fairbanks
University of Alaska-Fairbanks researchers plan to use drones to monitor oil pipelines in harsh and remote locations that would be too difficult or too dangerous for people. The program will also have a secondary focus on more traditional uses, such as public safety. Program leaders noted Alaska's unique environment will give them a chance to test the environmental limits of current drone technologies.