SpaceX's Rocket Videos Are Technically Against the Law. The U.S. Government Just Noticed.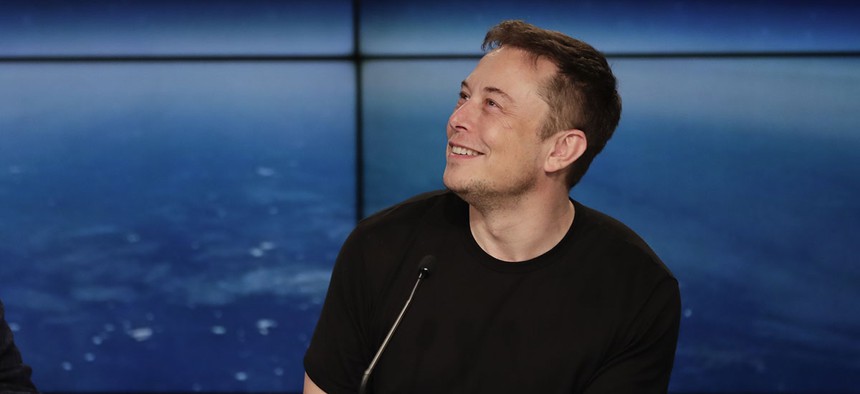 Since 2010, millions of space fans have devoured video shot from SpaceX's Falcon 9 rocket—but not the U.S. government agency charged with regulating videos shot from space.
The National Oceanic and Atmospheric Administration licenses surveillance systems launched into space by Americans. An agency spokesperson explained to Quartz that the agency had "only recently" noticed the immensely popular space videos broadcast by SpaceX for the past eight years. Other companies like United Launch Alliance, Orbital ATK, and Rocket Lab have published similar footage.
The rocket-makers did not seek licenses for their broadcasts because they didn't consider their vehicles, which operate in orbit for just hours before being abandoned, in the same category as dedicated earth-imaging satellites launched by companies like Planet or DigitalGlobe.
Sometime this year, NOAA decided that SpaceX's short-lived second-stage rocket required the same licenses as satellite platforms intended to orbit the earth for years, and instructed the company that it needed a license to share imagery from any launches not flown for government clients.
SpaceX submitted its first application to share video during a March 30 launch for satellite-operator Iridium. It only received a provisional license to the mission, and the host of SpaceX's broadcast announced that NOAA had forbidden broadcasting the latter stages of the flight, which would have shown the gentle ejection of ten satellites from the rocket and into orbit.
Reporters called NOAA, whose spokespeople said they were unaware of any involvement in the launch. Six hours later, the agency said it had changed its interpretation of the law and instructed SpaceX to obtain a license.
Three days later, a NOAA employee reversed course again, claiming that the agency hadn't chosen to impose the requirement on SpaceX: "It was SpaceX that came to us," Tahara Dawkins, the head of NOAA's satellite regulatory office, said at a public meeting. "It wasn't NOAA that went out to them and said, 'Hey, stop, you're going to need a license.'"
That account belies NOAA's own statements. "NOAA has only recently been made aware of private-sector efforts to live-stream footage from stage 2, while on orbit, to the public," Christopher Vaccaro, a NOAA spokesperson, wrote to Quartz in an e-mail when asked to clear up the discrepancy. "Now, that NOAA has been made aware, it is obligated to enforce the provisions of the law and work with individual companies to ensure that they are properly licensed."
Vaccaro did not say how NOAA finally became aware of the popular videos; many industry observers point to the spectacle of a Tesla roadster launched by SpaceX on the maiden flight of the Falcon Heavy,which broadcast images of earth for several hours before signal was lost.
Like the recent launch of four unauthorized satellites, this episode shows how the system for regulating the business of space is straining under new capabilities pioneered by private companies. A SpaceX spokesperson said the company is committed to working with NOAA to come up with a solution to resume the regular broadcast of footage from the second stage of commercial flights.
SpaceX normally uses the footage of its rocket to understand how it behaves in orbit, but broadcasting it has proven a popular enhancement for SpaceX's image—and a powerful recruitment tool targeting young aerospace engineers highly sought after throughout the space industry.
SpaceX and other space companies are working with the Trump administration's National Space Council in a highly-touted effort to streamline space regulations. Secretary of Commerce Wilbur Ross, the cabinet official responsible for NOAA, praised the new space companies earlier this year, saying that "the rate of innovation is extraordinary, so we need an adaptable and relatively permissive regulatory system for space commerce."
For that reason, NOAA's move to require SpaceX license its broadcast perplexed industry observers. "I think this reaffirms in clear resolution why these outdated and arcane regulations need to be updated," Eric Stallmer, the president of the Commercial Spaceflight Federation, told Quartz.