U.S. Customs Wants to Use Your Face As a Boarding Pass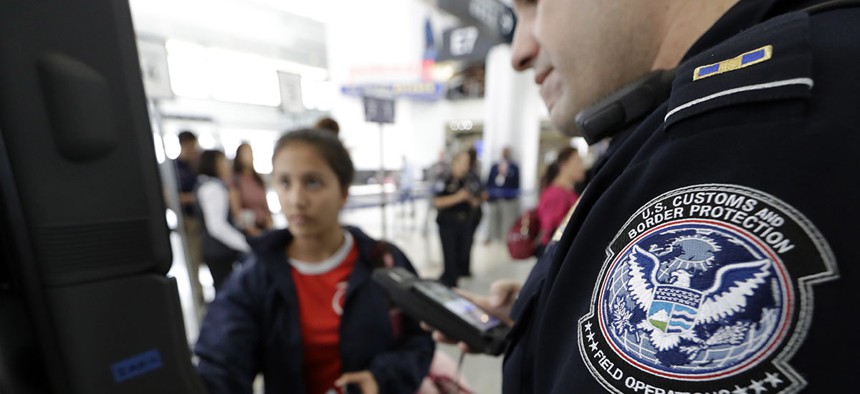 By 2022, the agency plans to use biometrics to identify 97 percent of travelers flying out of the country.
Getting through an airport without a passport or boarding pass may only seem possible in the nostalgic memories of 20th-century travelers, but an initiative at Customs and Border Protection could make that bygone convenience a modern reality.
CBP is testing biometric facial recognition at airports across the country in the hopes that a simple photo shoot will one day replace the process of verifying travel documents, which can often be time-consuming and susceptible to human error. The agency recently kicked off a joint facial recognition initiative with the Transportation Security Administration at Los Angeles International Airport.
The facial recognition technology would streamline the travel process and increase security at the border by matching passengers' photos with the documents they present, said Colleen Manaher, the executive director of planning, program analysis and evaluation at CBP's Office of Field Operations.
"The future of travel is going to be transformed by biometrics," she said in a conversation with Nextgov.
As head of the agency's biometric entry and exit initiative, Manaher envisions a future when "you could go from reservation to destination and back home again" without ever using a passport, RFID document or boarding pass. Your face, fingerprint or even voice would do the trick, she said.
In 2016, CBP partnered with Delta Airlines to launch its first facial recognition pilot at Hartsfield-Jackson Atlanta International Airport, an experiment Manaher called "a complete success." The agency already had photos for more than 98 percent of passengers logged in its internal databases, allowing them to confirm identities with exceptional speed and accuracy, she said.
Since then, CBP has rolled out facial recognition tools to identify international travelers leaving from seven other major travel hubs, including John F. Kennedy International, Chicago O'Hare and Washington Dulles international airports. Manaher said the agency plans to use biometrics to verify more than 97 percent of departing international passengers within the next four years.
To meet that goal, CBP must not only refine its facial recognition algorithms but more importantly build partnerships with agencies like TSA as well as airports and airlines nationwide, Manaher said. "This is a complete transformation of border security," she added, and will require every group involved in the travel process to coordinate their efforts.
CBP is already working closely with JetBlue and Delta at a handful of airports, and Manaher said expanding these relationships and rolling out more pilots programs will be her top priority over the next 18 months.
Down the line, facial recognition may not only reshape air travel but also speed up travel at every point of entry, including the country's borders with Canada and Mexico, she said. The vast majority of people crossing land borders are repeat travellers, so building a database of faces would be relatively easy, Mahaner added.
By the end of the summer, CBP plans to deploy facial recognition tools to check pedestrians crossing the border at Arizona's Mariposa-Nogales point of entry, according to Manaher, and this year the agency is scheduled to start experimenting with biometrics to identify passengers in moving vehicles at the Anzalduas border checkpoint in Texas.